The first half of the 2022 MLB season featured no-hitters, mammoth home runs, and of course the permanent addition of designated hitters in the NL. What will the second half have in store for baseball fans? Aaron Judge and the New York Yankees headline the contenders hoping to end the year with a World Series parade. Other superstars, including Los Angeles Angels teammates Mike Trout and Shohei Ohtani, look to continue their individual greatness as their teams struggle through disappointing seasons.
Read on for all the ways to watch MLB games live online, including new streaming options for the 2022 season.
Watch baseball games without MLB.TV blackouts
The easiest way to watch every MLB game is with an MLB.TV subscription. MLB.TV is available globally, and ExpressVPN works seamlessly with MLB.TV to ensure you can stream the action privately and securely. But while MLB.TV is great and fantastically comprehensive, you still have to worry about blackouts.
What are MLB blackouts?
In baseball, regional markets have sole broadcasting rights in the United States. For example, most Red Sox games are only available to stream on the New England TV channel NESN, so they would not be available for live streaming on the MLB.tv app in the Boston area. In Chicago, which has two teams, nationally-broadcast games with either the Cubs or the White Sox (on Fox or TBS, for example) might also be blacked out. Some games may not be available online in your area until 48 hours after a game is televised. (Find MLB blackouts by zip code here.)
How to avoid MLB blackouts? Connect to a secure VPN server location where games are not being aired. If you're in Los Angeles, for example, and Dodger games are being broadcast on TV, connect to a VPN server location in another city or country, and watch the MLB.tv stream privately, securely, and free from bandwidth throttling by your ISP. If a game is on the national blackouts list, connect instead through an international server in a country like the Netherlands, Japan, or the UK.
How to watch MLB blackout games with a VPN
MLB.tv
Price: 140 USD for the entire season
The MLB.tv app is the most comprehensive and affordable option for streaming the entire MLB season. By connecting to a VPN server location where games are not being broadcast, you can avoid MLB blackouts and even choose which broadcast you want to watch (from the home or visiting team). The service comes with a seven-day free trial, and also offers a monthly option.
To privately and securely stream MLB games live in blazing-fast HD with unlimited bandwidth:
Download the ExpressVPN app to your smart TV, mobile phone, tablet, or other preferred streaming device.
Connect to your preferred secure server location where games are not being aired; to ensure you never encounter any blackouts, we recommend purchasing your subscription in an international location like the Netherlands or Japan.
Head to MLB.TV and sign up for the free trial.
Batter up!
MLB.tv will also offer a number of new key features for the 2022 season. Fans of select clubs—including the Cubs, Red Sox, Dodgers, Cardinals, and Blue Jays—will now be able to stream pre- and post-game coverage, with plans to add more teams as the season continues. The app will also offer improved playback controls along with real-time in-game details and stats. Fans can also look forward to an expanded content library with new original series, and the popular "MLB Big Inning" show will now air nightly. For the first time it will also be available to stream on Apple TV+.
Other ways to watch 2022 MLB games online
With ExpressVPN, you can stream many MLB games all season long on various cable channels—such as TBS, Fox, and FS1—that are available through cord-cutting services. Some platforms, such as DirecTV Stream, even carry regional sports networks like YES and NESN. To watch 2022 MLB games all season long with improved speeds, privacy, and security:
Connect to a server location in the U.S.
Go to Sling TV (50 USD/month), DirecTV Stream (70 USD/month), fuboTV (70 USD/month), Hulu+Live TV (70 USD/month), or YouTube TV (65 USD/month) and use a free trial.
Play ball!
Watching on a computer? For the best streaming experience, be sure to use the ExpressVPN browser extension for Chrome, Firefox, or Edge.
Sling TV
Price: 50 USD/month and up
Channels: TBS, Fox, FS1, and MLB Network
Sling TV includes channels that carry MLB games, such as MLB Network, TBS, Fox, and FS1.
To get all of these channels, you'll need to get Sling Orange as well as Sling Blue (a combined package costs 50 USD). Use the "Sports Extra" add-on for Sling TV in order to watch MLB Network for an extra 10 USD/month.
A three-day free trial is available. You will need a U.S. card or PayPal in order to subscribe.
[get_expressvp n title="How to Watch Sling With a VPN" link="/vpn-service/sling-vpn" position="center"]
fuboTV
Price: 70 USD/month and up
Channels: Fox, FS1, MLB Network, some regional sports networks
On the downside, fubo does not offer TBS, which airs national games on Tuesdays. But on the plus side, it's one of the few cord-cutting services to offer select regional sports networks like Marquee Sports Network (Cubs), NBC Sports Bay Area (Giants), NESN (Red Sox), and Root Sports Northwest (Mariners). Note that for games on regional sports networks, the teams available to you will be determined by the home zip code on your billing account. In addition, the "Sports Plus" package that includes MLB Network costs an additional 11 USD per month. fuboTV comes with a 7-day free trial.
DirecTV Stream
Price: 70 USD/month
Channels: TBS, Fox, FS1, and MLB Network, plus regional sports networks with the "Choice" package
DirecTV Stream is on the pricier side but if you prefer a cord-cutting service over an additional streaming app, it's the best option as the "Choice" package (90 USD/month) includes regional sports networks like YES, NESN, and the Dodgers' Spectrum SportsNet LA. DirecTV offers a 5-day free trial.
YouTube TV
Price: 65 USD/month and up
Channels: TBS, Fox, FS1, and MLB Network
YouTube and MLB are expanding their partnership and will offer 15 game of the week streams that are free to viewers in 182 countries. The series will kick off on May 5 with the Washington Nationals at Colorado Rockies. Check out the first half of the schedule here, and simply visit MLB's YouTube channel to watch the games live.
For comprehensive coverage across the season, YouTube TV offers channels that cover MLB games and the subscription costs 65 USD/month. If you don't feel like committing to YouTube TV, use the 5-day free trial.
Want it on the big screen? Learn about all the ways to get ExpressVPN on your TV.
Amazon Prime Video
Price: 25 USD/month for the MLB.tv add-on
Amazon Prime offers MLB.tv as an add-on for 25 USD/month (on top of the regular 139 USD annual membership). There's a 30-day free trial available.
In addition, Amazon Prime Video will also stream 21 New York Yankees games over the course of the season to Prime Video subscribers in the New York region (including New York, Connecticut, northeast Pennsylvania, and north and central New Jersey). For viewers in these areas, these games will only be available to stream on Amazon Prime (and not local TV). The slate begins with a Friday night tilt vs. the Cleveland Guardians on April 22, and will also include three games against the Red Sox, two games against the Tampa Bay Rays, and a cross-city matchup with the Mets.
Hulu+Live TV
Price: 70 USD/month
Channels: TBS, Fox, and FS1
Hulu+Live TV offers most of the national channels broadcasting MLB except for the MLB Network and regional sports networks. A seven-day free trial is available.
Sky Sports
Price: 22 GBP/month and up
Channels: Sky Sports
Living in the UK? Sky Sports is your best bet for catching live streams of the games. You will also need to provide a valid postal code and a UK/Ireland credit or debit card.
If you have a Sky subscription, you can stream content with Sky Go by connecting to a secure server location in the UK and then logging in to your Sky Go account.
Apple TV+
Price: 5 USD/month
Apple TV+ will carry two Friday Night Baseball games each week and the subscription costs just 5 USD/month. If you don't feel like committing to Apple TV+ or only want to watch a specific game, there's a seven-day free trial. Games will be available to Apple TV+ customers in the U.S., Canada, Australia, Brazil, Japan, Mexico, Puerto Rico, South Korea, and the United Kingdom.
Peacock
Price: 5 USD/month and up
Starting in May NBC's streaming app Peacock will air early Sunday games that start at either 11:30 a.m. or 12 p.m. on the East Coast. The schedule will run for 18 weeks from May 8 (White Sox at Red Sox) through September 4 (Blue Jays at Pirates). Find the full schedule here. The platform will also have classic MLB games and a selection of documentaries from the MLB Film & Video Archive. Peacock offers a 7-day free trial with no credit card required, but is well-priced at just 5 USD per month and also includes sports like EPL soccer and Rugby Sevens. To securely watch baseball on Peacock:
Connect to a server location in the U.S.
Go to www.peacocktv.com and log in or sign up.
Play ball!
2022 MLB second-half storylines
The first half of the 2022 MLB season featured historic starts, no-hitters, surprising firings, and plenty of memorable moments. What do the season's final months have in store for fans?
Here come the Yankees: After going a disappointing 92-70 in 2021 and losing in the AL Wild Card Game last October, the New York Yankees won only seven of their first 13 games in 2022. Then, a 7-6 start turned into a 64-28 midseason record and a 13-game lead in the AL East at the All-Star Break. The Bronx Bombers entered the second half as odds-on favorites to win their 28th World Series. 
Hot summer, hotter seats: The Philadelphia Phillies fired Joe Girardi on June 3 and the Los Angeles Angels dismissed Joe Maddon three days later. The Toronto Blue Jays gave Charlie Montoyo his walking papers shortly before the All-Star Break—despite being in playoff contention. The Texas Rangers dismissed Chris Woodward on August 15 amid his fourth straight losing season. Miami Marlins manager Don Mattingly confirmed in September he won't be back in 2023. Don't be surprised to see Chicago White Sox skipper Tony La Russa potentially be forced back into retirement at age 78 amid health issues.
Polar Pete Alonso and the breakout Mets: Recent history has seen the New York Mets jump out to strong starts in the early going before fading in June and July. The Amazins avoided a June swoon and finished the month with a 13-12 record in large part because of Alonso, who entered the break with an MLB-high 78 RBIs. Can the Mets finish the job and return to the playoffs for the first time since 2016?
Shohei Ohtani trade watch: In large part because of star hitters Mike Trout and Shohei Ohtani, the Los Angeles Angels resembled a playoff team during the 2022 season's first six weeks. Unfortunately for the Halos, a mix of injuries and poor pitching performances forced a season-altering 14-game losing streak and Maddon's firing. Although Trout is locked into a long-term deal with the Angels, Ohtani is scheduled to hit free agency following the 2023 season. Will the two-way phenom ink an extension in the coming months, or could he force his way out of California? 
The intense American League playoff picture: Barring an unprecedented collapse by either team, the Yankees and Houston Astros should win their respective divisions; one of those two teams is also on pace to earn the American League's No. 1 playoff seed. Things are far more crowded when it comes to the rest of the postseason picture. The Minnesota Twins entered the All-Star Break with a two-game lead over the Cleveland Guardians in the AL Central. Another eight teams, including the Chicago White Sox and all four of the other AL East teams, are expected to duke it out for the AL's three Wild Card spots. 
Will Aaron Judge become Mr. 62? After turning down a contract extension ahead of Opening Day, Judge mashed 33 home runs in the season's first half. The 2017 AL Rookie of the Year joined the 60-home run club in September. Now, his eyes are set on the highest single-season total of any player in American League history. Not bad for someone seeking a lucrative contract in free agency.
This week's top MLB games
The 2022 MLB season is in full swing, and there is no shortage of great games this week. Here are the games you need to strongly consider watching:
Toronto Blue Jays vs. New York Yankees – Monday, September 26, 7:07 p.m. EDT / 12:07 a.m. BST: The Yankees can clinch the AL East this week, but more importantly: Aaron Judge is only two homers shy of setting the American League home run record. That alone is reason enough to stay tuned to this three-game series, especially seeing as all games are available through MLB.TV. 
Milwaukee Brewers vs. St. Louis Cardinals – Wednesday, September 28, 7:40 p.m. EDT / 12:40 p.m. BST: Don't count the Brewers out of the postseason just yet. Milwaukee entered the week only 1.5 games back of the National League's third and final Wild Card spot, and the Philadelphia Phillies are fading fast. Can the Cardinals spoil their rival's playoff hopes? Fans can watch the NL Central bout through MLB.TV or ESPN+.
Atlanta Braves vs. New York Mets – Friday, September 30, 7:20 p.m. EDT / 12:20 a.m. BST: The NL East is really the only division still in play, and the Mets entered the week with a 1.5-game lead. Can the Mets hold off the rival Braves and continue working towards clinching their first division title since 2015? Although fans can watch the entire series through MLB.TV, note that ESPN will also air the Sunday night showdown.
MLB Awards races
Although plenty of time remains in the 2022 MLB season, let's start looking ahead to who might win this year's major awards.
AL MVP: Aaron Judge, OF, New York Yankees
Judge had an MLB-high 60 home runs through September 25 and is still vying to become the first MLB player with 60 homers in a season since Barry Bonds (73) and Sammy Sosa (64) last crossed the threshold in 2001. That'll do. After turning down a contract extension ahead of the 2022 season, Judge has the Yankees on pace to win only their second AL East title since 2012. Will the fan-favorite slugger finally win both an MVP and a World Series ring?
Other candidates: José Ramírez, 3B, Cleveland Guardians; Shohei Ohtani, DH/P, Los Angeles Angels
NL MVP: Paul Goldschmidt, 1B, St. Louis Cardinals
Goldschmidt entered play on September 26 with a .317 average, 35 home runs, 112 RBI, and a stellar .404 on-base percentage. With the Cardinals closing in on winning the NL Central, it'll be hard not seeing Goldy take home his first NL MVP Award.
Other candidates: Manny Machado, 3B, San Diego Padres; Mookie Betts, RF, Los Angeles Dodgers; Nolan Arenado, 3B, St. Louis Cardinals
AL Cy Young winner: Justin Verlander, Houston Astros
What Verlander lacks in advanced stats, he more than makes up for in narratives. After making just one start from 2020-21 following Tommy John surgery, the 39-year-old owned a 17-4 record and a sparkling 1.82 ERA through September 25. Verlander, who already owns two Cy Youngs, is well on pace to add a third despite his recent calf injury.
Other candidates: Alek Manoah, Toronto Blue Jays; Dylan Cease, Chicago White Sox; Framber Valdez, Houston Astros
NL Cy Young: Sandy Alcantara, Miami Marlins
Don't blame the Marlins' dismal play on Alcantara, who entered September 19 with a 14-8 record, a 2.32 ERA, and 199 strikeouts in 220.2 innings. The Dominican-born right-hander reached his second career All-Star Game in large part because of his improved control. Is an NL Cy Young Award next?
Other candidates: Julio Urías, Los Angeles Dodgers; Max Fried, Atlanta Braves; Spencer Strider, Atlanta Braves; Zac Gallen, Arizona Diamondbacks
AL Rookie of the Year: Julio Rodríguez, CF, Seattle Mariners
The young outfielder nicknamed J-Rod is running away with American League Rookie of the Year. Rodríguez, who doesn't turn 22 until December 29, hit .280 with 27 home runs and 73 RBI through September 25. He's added 81 runs and 25 stolen bases while quickly living up to the hype following an ugly start to his MLB career. Seattle awarded the young phenom with a massive contract extension that could keep him in a Mariners uniform until 2039.
Other candidates: Adley Rutschman, C, Baltimore Orioles; Steven Kwan, LF, Cleveland Guardians
NL Rookie of the Year: Michael Harris II, CF, Atlanta Braves
Despite not playing a game above Double-A, the 21-year-old Harris quickly acclimated to the majors. He entered play on September 26 with a .305 average, 19 home runs, 62 RBI, 72 runs scored, and 19 stolen bases in nearly 400 at-bats. The Braves already saw enough to give Harris an eight-year, $72 million contract extension.
Other candidates: Spencer Strider, SP, Atlanta Braves
AL Comeback Player of the Year: Justin Verlander, SP, Houston Astros
Despite missing nearly two full seasons, Verlander has been one of baseball's top pitchers this year. His stellar stats, coupled with his comeback from Tommy John surgery, could make him a shoo-in for Comeback Player of the Year.
Other candidates: Martín Pérez (owned a sparkling 2.52 ERA through first 20 starts after going 7-8 with a 4.74 ERA for the Boston Red Sox in 2021); Matt Carpenter, New York Yankees (hit .321 with 15 home runs in his first 41 games for the Bronx Bombers after totaling a .203 average and 22 homers from 2019-21)
NL Comeback Player of the Year: Francisco Lindor, SS, New York Mets
Where would the Mets be without Lindor? The 28-year-old shortstop entered play on September 12 with a .275 average, 25 home runs, 103 RBI, and 95 runs scored. After a frustrating first season in Queens, the four-time All-Star has won Mets fans over thanks to a steady approach at the plate.
Other candidates: Carlos Carrasco, SP, New York Mets (injuries limited "Cookie" to 12 starts and a 6.04 ERA in 2021); Joc Pederson, OF, San Francisco Giants (bounced around for various teams between 2020-21 but earned an All-Star nod with the Giants); Jurickson Profar, LF, San Diego Padres (struggled throughout 2021 but is putting together career season in San Diego)
AL Manager of the Year: Scott Servais, Seattle Mariners
Barring an unexpected collapse in the final weeks, the Mariners will make the postseason for the first time since 2001. That feat should make Servais a shoo-in for Manager of the Year, even with other strong contenders in the AL.
Other candidates: Aaron Boone, New York Yankees; Dusty Baker, Houston Astros; Kevin Cash, Tampa Bay Rays
NL Manager of the Year: Buck Showalter, New York Mets
Narratives often win out when it comes to awards, and Showalter returning from a four-year exile to help the Mets meet their expectations could be enough to net him Manager of the Year. The 66-year-old has already earned the honor thrice, doing so most recently when he led the Baltimore Orioles to an AL East title in 2014.
Other candidates: Bob Melvin, San Diego Padres; Dave Roberts, Los Angeles Dodgers; Oliver Marmol, St. Louis Cardinals
2022 MLB Playoffs schedule
What's new for MLB 2022?
We don't blame you if couldn't keep up with all the momentous changes that took place this offseason. Here's what's new for MLB 2022:
A universal designated hitter: For nearly 150 years, pitchers have batted in baseball. It's been 49 years since the American League adopted the designated hitter, and the distinction always made for fun novelty matchups during interleague play and the World Series. But in 2021, NL pitchers hit just .110, which wasn't much fun for anyone—fans or players. The National League officially adopted the DH for 2022 following the lockout.
Electronic pitch-calling: Sign-stealing is almost as old as baseball itself, but it's become increasingly problematic in the electronic age (see: the 2017 Houston Astros). Now MLB is aiming to put an end to sign-stealing once and for all with a new device called PitchCom, which will allow catchers to signal pitch speed and location to the pitcher via an electronic wrist pad and listening device. Other infielders can access it, too, and it's available in both English and Spanish.
Hello, Guardians: After 128 years—but decades of mounting protest over its name and mascot—Cleveland's baseball team has a new name: The Guardians, named after the Art Deco Guardians of Traffic statues that adorn the Hope Memorial Bridge near the team's stadium. The decision to change the team's name was announced in late 2020, following widespread protests across the U.S. over racism and inequality, and the team revealed its new name last summer in a video narrated by Tom Hanks.
Expanded playoffs: There will now be a third wild card in each league, meaning no more 1-game playoffs and the total number of playoff teams will expand from 10 to 12. Now, the top two division winners will each receive a first-round bye, while the division winner with the worst record and the three wild card teams will play a best-of-three series (followed by a best-of-five divisional series and the standard best-of-seven LCS). The entire wild card round will air on ESPN, while TBS and Fox will split the subsequent rounds. Notably absent from the MLB postseason for the first time since 1996? Joe Buck, who called the last 23 World Series but departed Fox for ESPN in the offseason.
Speaking of where to watch baseball games…
More streaming options: We've covered this above, but this is the first season that a number of national streaming platforms will be airing live baseball at no additional cost (for now, anyway). Apple TV+ will air Friday night baseball doubleheaders throughout the season, Amazon Prime Video will stream 21 Yankees games (in the tri-state area), and Peacock began airing Sunday morning games starting in May.
Let's play two! Thanks to the lockout pushing the start of the season back from March 31 to April 7, a total of 91 games have had to be rescheduled. This means there are now 30 doubleheaders scheduled for the 2022 season (and that's before the typical additions for rainouts). In practical terms, this means fewer rest days and—in combination with a shortened Spring Training—more risk for injury.
Who will win the 2022 World Series?
Here are the most recent World Series odds according to Sports Betting Dime.
| | |
| --- | --- |
| Team | Odds |
| Los Angeles Dodgers | +315 |
| Houston Astros | +385 |
| Atlanta Braves | +575 |
| New York Mets | +575 |
| New York Yankees | +600 |
| St. Louis Cardinals | +2000 |
| Tampa Bay Rays | +2000 |
| Seattle Mariners | +2200 |
| Toronto Blue Jays | +2200 |
2022 MLB regular season schedule
| | |
| --- | --- |
| Event | Date |
| Opening Day | April 7, 2022 |
| Jackie Robinson Day | April 15, 2022 |
| All-Star Game | July 19, 2022 |
| Field of Dreams Game | August 11, 2022 |
| Roberto Clemente Day | September 15, 2022 |
| Last day of regular season | October 4, 2022 |
ExpressVPN is a VPN service not intended to be used as a means of copyright circumvention. Please read the ExpressVPN Terms of Service and your content provider's Terms of Use for more details.
FAQ for streaming baseball
Can I watch MLB.tv internationally?
Absolutely! MLB.tv is available to customers all over the world for the exact same price regardless of country. Plus there's the added bonus of no blackout games! With ExpressVPN you can always stream baseball games securely and in HD with unlimited bandwidth, just connect to one of our secure, high-speed servers before launching the MLB.tv app.
Can I stream sports on my computer?
Definitely. If you're accessing the streaming service from a web browser, be sure to also install the ExpressVPN extension for Chrome, Firefox, or Edge. The extension has a few features under the hood that can smooth out common streaming issues.
Can I stream sports on my phone or tablet?
Yes. ExpressVPN has apps for every major mobile device, including iOS and Android.
Does ExpressVPN come with an MLB.tv account?
No, you'll still have to purchase a subscription or create a separate account. But, ExpressVPN ensures you can stream safely and at top speeds, without having to compromise your security or picture quality, and it works seamlessly with all the most popular streaming apps from around the world. Using a VPN for streaming ensures you watch securely in blazing-fast HD with unlimited bandwidth, free from ISP throttling (which can sometimes slow down speeds).
If you want to watch your favorite team from anywhere—even while traveling or on unsecured networks like public Wi-Fi—ExpressVPN is a great way to enhance your sports streaming experience.
How can I stream on my TV with a VPN?
In brief there are five different ways to stream sports on your TV with ExpressVPN:
-With the native app for a smart TV or streaming device
-By streaming on your computer and connecting to the TV with an HDMI cable
-By mirroring or casting wirelessly to your TV or streaming device from your computer or mobile device
-By connecting to an ExpressVPN-enabled router, which allows for unlimited devices and makes it super simple to connect to different server locations simultaneously
-With MediaStreamer, ExpressVPN's solution for devices that cannot install a VPN, such as Apple TV or gaming consoles. MediaStreamer only needs to be set up once, although it does not provide the full security benefits of a VPN. (Note that by connecting your Apple TV or gaming console to a router, you can get the best of both worlds!)
For more information on all the ways to get ExpressVPN on your big-screen TV, click below, or just contact a 24/7 Support agent for step-by-step instructions.
I connected to the VPN but my internet speed is slow
If your internet speed is slow or your streaming seems to lag, there are a few possible reasons:
-The distance of your selected VPN server location from your physical location
-Your connection type (wired connections are more reliable than wireless connections)
-Suboptimal interconnectivity between the VPN and your ISP
-Slow internet connection speed at your location
-Your device type and processing power
Try each of the following steps to troubleshoot:
-Download the latest version of ExpressVPN
-Connect to a different VPN server location
-Change your VPN protocol
If you try each of the above and are still experiencing issues with your streaming speed, contact the ExpressVPN Support Team 24/7 and someone will be with you in seconds.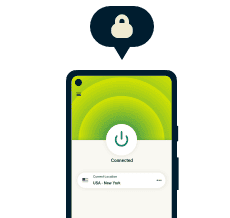 Need step-by-step streaming help?
24-HOUR LIVE CHAT SUPPORT