The 2023 MLB postseason has officially arrived! Despite a late-season slump, Jose Altuve and the Houston Astros look to become baseball's first repeat champions since the 1998-2000 New York Yankees. Over in the National League, Ronald Acuña Jr.'s Braves and Freddie Freeman's Dodgers seek returns to the Fall Classic. The expanded Wild Card Round begins Tuesday, October 3, as four best-of-three series get underway. Who will survive and advance to the Divisional Round?
Whether you're looking to find the best way to watch the MLB using MLB.TV, or test cord-cutting services that include MLB action, you can do it all with the help of a VPN. Read on for all the ways to watch MLB games live online.
How to watch MLB postseason games in 2023 without blackouts
The easiest way to watch every MLB postseason game is with an MLB.TV subscription. MLB.TV is available globally, and ExpressVPN works seamlessly with MLB.TV to ensure you can stream the action privately and securely.
MLB.tv
Price: 25 USD/month or 95 USD/season
The MLB.tv app is the most comprehensive and affordable option for streaming the entire MLB season. By connecting to a VPN server location where games are not being broadcast, you can avoid MLB blackouts and even choose which broadcast you want to watch (from the home or visiting team). The service comes with a seven-day free trial, and also offers a monthly option. New to 2023 is the ability to stream minor-league games, including all 60 Triple-A and Double-A clubs.
MLB.TV International users can live stream the Home Run Derby, All-Star Game, and postseason without blackouts.
To privately and securely stream MLB games live in blazing-fast HD with unlimited bandwidth:
Download the ExpressVPN app to your smart TV, mobile phone, tablet, or other preferred streaming device.
Connect to a server location that matches the broadcaster you want to watch. For example, Americans can connect to a U.S. server such as Los Angeles, Seattle, or Denver to stream the live coverage on MLB.TV.
Head to MLB.TV and sign up for the free trial.
Batter up!
Can I use a VPN to watch MLB games from another country?
While you can watch baseball all season long by connecting to a VPN server location in a country other than your own, doing so may violate copyright or infringe upon your streaming service's Terms of Use and the ExpressVPN Terms of Service. As a security and privacy tool, ExpressVPN is designed so that no one can see or control what you do when connected to our VPN service—not even us. So you are responsible for verifying that your use complies with all relevant terms and laws.
Why do you need a VPN to watch MLB games online?
You'll want to add ExpressVPN to your MLB viewing experience. Not only does ExpressVPN offer servers in 94 countries across the globe, all of which are optimized for speed and security, but you can stream every game, from spring training through the World Series, on computers, smartphones, and even smart TVs and gaming consoles. You can have up to eight simultaneous connections, allowing you to watch your favorite teams—and track your fantasy team along the way—in blazing-fast HD.
Best VPN for watching MLB games in 2023
ExpressVPN is the best VPN for safely and securely streaming the entire 2023 MLB season. Our high-speed servers allow you to enjoy every pitch without missing a single second regardless of your device. ExpressVPN offers easy-to-use apps for Windows, Mac, Android, and iOS, as well as platforms that other VPN companies don't support, like Linux, Android TV, Amazon Fire TV, and routers, plus browser extensions for Chrome, Firefox, and Edge. If you need help along the way, ExpressVPN offers 24/7 live chat support and a risk-free 30-day money-back guarantee!
Why is my VPN not working with MLB.tv?
ExpressVPN's advanced server network is optimized for compatibility with MLB.tv, and most users can stream without any issues. But if you should ever encounter a problem, our dedicated Support Team is available via live chat 24/7 to help you overcome any obstacles in trying to watch your favorite baseball team. All ExpressVPN plans are covered by a risk-free 30-day money-back guarantee.
Should I use a free VPN to watch MLB.tv?
Rather than use a free VPN to watch MLB games, baseball fans should instead use ExpressVPN all season long. ExpressVPN offers high-speed servers in 94 countries and easy-to-use apps for Windows, Mac, Android, and iOS. Additionally, ExpressVPN is available on platforms that other VPN companies may not support, like Linux, Android TV, Amazon Fire TV, and routers, plus browser extensions for Chrome, Firefox, and Edge. If you need help along the way, ExpressVPN offers 24/7 live chat support and a risk-free 30-day money-back guarantee!
Key Features:
High-speed servers in 94 countries across the globe, all optimized for speed and security
Up to 8 simultaneous connections
5-star customer service with 24/7 live chat support
Strict privacy policy: No activity logs and no connection logs
Comprehensive support site filled with DIY troubleshooting articles, handy video tutorials, and more
The industry's most advanced VPN server technology, TrustedServer, wipes data on every reboot
Our innovative Threat Manager protects your phone from malware and other suspicious tracking apps
Next-gen Lightway protocol offers greater speeds, security, and reliability, especially on mobile
How to watch 2023 MLB games without blackouts
MLB.TV is great and fantastically comprehensive, you still have to worry about blackouts. To avoid MLB blackouts, you need to connect to a secure VPN server location where games are not being aired.
If you're in Boston, for example, and Red Sox games are being broadcast on TV, connect to a VPN server location in another city or country, and watch the MLB.tv stream privately, securely, and free from bandwidth throttling by your ISP. If a game is on the national blackouts list, connect instead through an international server in a country like the Netherlands, Japan, or the UK.
Best VPN for MLB blackout games
ExpressVPN allows you to safely and securely stream every MLB game. You can use MLB.TV and ExpressVPN on various devices, including tablets and gaming consoles.
To set up ExpressVPN on your device, follow the corresponding link below:
Note that MLB.TV will allow you to stream the All-Star Game and every playoff game through the World Series so long as you can authenticate a TV service provider.
Where to watch MLB games online without cable
With ExpressVPN, you can stream MLB games on both national broadcasters—including ESPN, TBS, FS1, and Fox—as well as regional sports networks. All national channels are available through cord-cutting services. Some platforms, such as DirecTV Stream, also carry regional sports networks like YES and NESN.
Watching on a computer? For the best streaming experience, be sure to use the ExpressVPN browser extension for Chrome, Firefox, or Edge.
Sling TV
Price: Varies
Sling TV includes channels that carry MLB games, such as ESPN, MLB Network, TBS, Fox, and FS1, as well as some regional sports networks. To get all of these channels, American subscribers need to get Sling Orange as well as Sling Blue (a combined package currently costs 30 USD). Use the "Sports Extra" add-on for Sling TV in order to watch MLB Network for an extra 10 USD/month. Please note that Sling no longer offers a free trial as of June 2023.
Fubo
Price: 75 USD/month
Channels: TBS, ESPN
Country: U.S.
On the downside, Fubo does not offer TBS, which airs national games on Tuesdays and select postseason games. But on the plus side, it's one of the few cord-cutting services to offer select regional sports networks for U.S. viewers, such as Marquee Sports Network (Cubs), NBC Sports Bay Area (Giants), NESN (Red Sox), and Root Sports Northwest (Mariners). Note that for games on regional sports networks, the teams available to you will be determined by the home zip code on your billing account. In addition, the "Sports Plus" package that includes MLB Network costs an additional 11 USD per month. Fubo also announced that it will include MLB.TV as an add-on for 25 USD/month, though standard bloackout rules still apply. Fubo comes with a 7-day free trial.
Note: You will need a U.S. credit/debit card to subscribe. The billing address used may determine which local channels are available, and you may be unable to change your location.
DirecTV Stream
Price: 70 USD/month
DirecTV Stream is often on the pricier side, especially if you want the MLB Network, but it's a great option for U.S. fans to stream MLB games if you prefer a cord-cutting service over an additional streaming app. DirecTV's lowest package starts at 65 USD/month (before jumping to its normal price of 75 USD/month after three months), and the service offers a 5-day free trial.
YouTube TV
Price: 73 USD/month and up
YouTube TV offers Americans a variety of channels that carry MLB games, and the subscription costs 73 USD/month. You may need to submit a U.S. ZIP code (e.g., 10022, 48104, etc.), but it accepts a wide array of payment options. If you don't feel like committing to YouTube TV, use the free trial. However, note that YouTube TV dropped MLB Network in January 2023 amid a carriage dispute, and the two sides still have not reached an agreement as of September 2023.
Want it on the big screen? Learn about all the ways to get ExpressVPN on your TV.
Amazon Prime Video
Price: 25 USD/month for the MLB.tv add-on
Amazon Prime offers MLB.tv as an add-on for 25 USD/month (on top of the regular 139 USD annual membership). There's a 30-day free trial available. Note as of June 12, you can pay 45 USD for the rest of the season for a single-team plan through Prime Video channels.
Hulu+Live TV
Price: 70 USD/month
Hulu+Live TV offers most of the national channels broadcasting MLB for American fans, except for the MLB Network and regional sports networks. A free trial is not available.
Sky Sports
Price: 22 GBP/month and up
Channels: Sky Sports
Living in the UK? Sky Sports is your best bet for catching live streams of the games. You will also need to provide a valid postal code and a UK/Ireland credit or debit card.
If you have a Sky subscription, you can stream content with Sky Go by connecting to a secure server location in the UK and then logging in to your Sky Go account.
2023 MLB postseason schedule
The 2023 MLB postseason officially begins Tuesday, October 3, with the expanded Wild Card round. You can find the complete schedule below. Please know that all games will be available on MLB.TV International.
Wild Card Round
| | | |
| --- | --- | --- |
| Series | Date and time | TV |
| American League No. 4 Tampa Bay Rays vs. American League No. 5 Texas Rangers | Series begins Tuesday, October 3, at 3:08 p.m. ET / 8:08 p.m. BST | ABC |
| American League No. 3 Minnesota Twins vs. American League No. 6 Toronto Blue Jays | Series begins Tuesday, October 3, at 4:38 p.m. ET / 9:38 p.m. BST | ESPN, Sportsnet |
| National League No. 3 Milwaukee Brewers vs. National League No. 6 Arizona Diamondbacks | Series begins Tuesday, October 3, at 7:08 p.m. ET / 12:08 a.m. BST | ESPN 2 |
| National League No. 4 Philadelphia Phillies vs. National League No. 5 Miami Marlins | Series begins Tuesday, October 3, at 8:08 p.m. ET / 1:08 a.m. BST | ESPN |
How will the MLB playoffs work in 2023?
What is the new MLB playoff format?
Major League Baseball introduced a new expanded playoff format in 2022. Twelve teams (six from each league) make the postseason, with the top two division winners receiving playoff byes. The winning teams in each Wild Card round will begin the Division Series on the road. The Division Series remains a best-of-five series, while the League Championship Series and World Series are still best-of-seven. 
As has been the case since 2017, whichever team had a better regular-season record will have home-field advantage in the World Series. For example, suppose the Los Angeles Dodgers meet the Minnesota Twins in the 2023 World Series. The Dodgers would host Games 1, 2, 6, and 7 (if necessary) because they finished the regular season with more victories.
How do the MLB wild card playoffs work?
The 2023 MLB Wild Card Round features eight total teams, four in each league. The No. 3 seed in each league (the division winner with the worst record, so the Minnesota Twins in the American League and the Milwaukee Brewers in the National League) will host the No. 6 seed (Toronto Blue Jays and Arizona Diamondbacks, respectively) in a best-of-three series. The No. 4-seeded Tampa Bay Rays and Philadelphia Phillies will respectively host the No. 5-seeded Texas Rangers and Miami Marlins in a different best-of-three series.  If two or more teams are tied for a playoff spot at the end of the regular season, their rankings will be determined by a mathematical tiebreaker system, with head-to-head record being the first tiebreaker.
2023 World Series odds
Will Jose Altuve and the Houston Astros repeat as World Series champions? Here are the latest odds according to the FanDuel Sportsbook.
| | |
| --- | --- |
| Team | Odds |
| Atlanta Braves | +250 |
| Los Angeles Dodgers | +410 |
| Houston Astros | +480 |
| Baltimore Orioles | +700 |
| Tampa Bay Rays | +1200 |
| Philadelphia Phillies | +1200 |
| Texas Rangers | +1800 |
| Minnesota Twins | +1800 |
| Toronto Blue Jays | +2000 |
| Milwaukee Brewers | +2000 |
| Arizona Diamondbacks | +4000 |
| Miami Marlins | +5000 |
2023 MLB rule changes
Baseball games in 2023 will look far different than they have in recent years. Here's a full guide featuring every significant change, from rules to scheduling, that fans must know about ahead of the postseason.
MLB games have averaged at least three hours every year since 2012, topping out at 3:11 in 2021 before dropping to 3:06 a year ago.The

pitch clock

is arguably the most significant rule change, especially for those hoping to catch an entire

Yankees-Red Sox

game. There will be a 15-second timer between pitches with the bases empty and a 20-second clock with runners on base. Like the minors, there is a 30-second timer between batters. Pitchers who violate the timer are charged with an automatic ball, and batters who violate the timer receive an automatic strike. In the case of hitters, they must be in the box and alert to the pitcher by the 8-second mark.

Additionally,

pitchers are now limited to two "disengagements

,

"

which refers to either stepping off or attempting to pick off a batter per

plate appearance

. Keep an eye on baserunners who rely more on vision than speed, such as the

Yankees' Aaron Judge

. 

Speaking of hitters, you know those

shifts

that turned a base hit up the middle into an easy groundout to second? Those days could be on the way out, as a defense is now required to have at least four players on the infield and at least two infielders entirely on either side of second base. As with the pitch timer, violating that rule means an automatic ball for the pitcher.

Texas Rangers

shortstop

Corey Seager

and

Philadelphia Phillies

outfielder

Kyle Schwarber

are among those who stand to immediately benefit.

Bases are now 18 inches square, up from 15 inches square, while home plate will remain unchanged. You'll likely see

more stolen base attempts

and fewer potential collisions on the basepaths. 

As the

NBA

and

NHL

have previously done, Major League Baseball has finally adopted a

balanced schedule

. Gone are the days of the

Pittsburgh Pirates

and

Cincinnati Reds

playing 19 times a year. Instead, each divisional team will play 13 games against their division rivals and 64 games against teams in the same league. Each team will also play 46 interleague games—assuming, of course, that no games are canceled.

Pirates

fans are now guaranteed to see the

Tampa Bay Rays

,

Kansas City Royals

, and

Oakland Athletics

every year instead of every 3-4 years. 
Watch 2023 MLB games on Apple TV+
Price: 7 USD/month (seven-day free trial)
MLB games are back on AppleTV+ for the 2023 season! You can catch Friday Night Baseball throughout the year on Apple TV+. Although the games are no longer free, AppleTV+ does offer a seven-day free trial you can take advantage of. Although blackouts do not apply, please note that the games will exclusively air on Apple TV+. For example, the YES Network will not have the April 21 matchup between the New York Yankees and Toronto Blue Jays. However, you can still listen to the radio feed either via the MLB app.
Watch 2023 MLB games on Peacock
Price: 6 USD/month
Peacock will air 19 live games throughout the 2023 MLB season, some of which will start as early as 11:35 a.m. ET. As with the Apple TV+ games, all Peacock games are exclusive to the app and will not air on regional sports networks. However, International MLB.TV subscribers will have access to the live and on demand game broadcast using their MLB.TV subscription.
Key dates for the 2023 MLB season
| | | |
| --- | --- | --- |
| Event | Date | TV Network |
| First Spring Training games | February 24 | MLB Network |
| World Baseball Classic | March 7-21 | Fox, FS1, FS1, Fox Deportes, Tubi |
| Opening Day | March 30 | ESPN, MLB Network |
| MLB World Tour (Mexico City) | April 29-30 | MLB.TV |
| MLB World Tour (London) | June 24-25 | MLB.TV |
| July 4 | July 4 | ESPN, MLB Network |
| Home Run Derby | July 10 | Fox |
| All-Star Game | July 11 | Fox |
| MLB Playoffs | October 3-November 2023 | ABC, Fox, TBS, FS1 |
ExpressVPN is a VPN service not intended to be used as a means of copyright circumvention. Please read the ExpressVPN Terms of Service and your content provider's Terms of Use for more details.
FAQ for streaming baseball
Why is my MLB.TV game blacked out?
Major League Baseball's television deal feature blackouts. For example, a New York Yankees fan living in New York cannot watch a Yankees game on MLB.TV because the game is blacked out in the market. Luckily, an ExpressVPN subscription can help you get past the blackouts and enjoy every game!
How can I watch MLB blackouts for free?
If a game is blocked out locally for you, use your ExpressVPN subscription to change to a VPN server outside of the blackout territory. For example, switch to a Chicago server if a Yankees-Red Sox game is blacked out for you in the New York area.
Can I watch MLB.tv internationally?
Absolutely! MLB.tv is available to customers all over the world for the exact same price regardless of country. Plus there's the added bonus of no blackout games! With ExpressVPN you can always stream baseball games securely and in HD with unlimited bandwidth, just connect to one of our secure, high-speed servers before launching the MLB.tv app.
Can I stream sports on my computer?
Definitely. If you're accessing the streaming service from a web browser, be sure to also install the ExpressVPN extension for Chrome, Firefox, or Edge. The extension has a few features under the hood that can smooth out common streaming issues.
Can I stream sports on my phone or tablet?
Does ExpressVPN come with an MLB.tv account?
No, you'll still have to purchase a subscription or create a separate account. But, ExpressVPN ensures you can stream safely and at top speeds, without having to compromise your security or picture quality, and it works seamlessly with all the most popular streaming apps from around the world. Using a VPN for streaming ensures you watch securely in blazing-fast HD with unlimited bandwidth, free from ISP throttling (which can sometimes slow down speeds).
If you want to watch your favorite team from anywhere—even while traveling or on unsecured networks like public Wi-Fi—ExpressVPN is a great way to enhance your sports streaming experience.
How can I stream on my TV with a VPN?
In brief there are five different ways to stream sports on your TV with ExpressVPN:
-With the native app for a smart TV, Android TV device, or streaming device
-By streaming on your computer and connecting to the TV with an HDMI cable
-By mirroring or casting wirelessly to your TV or streaming device from your computer or mobile device
-By connecting to an ExpressVPN-enabled router, which allows for unlimited devices and makes it super simple to connect to different server locations simultaneously
-With MediaStreamer, ExpressVPN's solution for devices that cannot install a VPN, such as Apple TV or gaming consoles. MediaStreamer only needs to be set up once, although it does not provide the full security benefits of a VPN. (Note that by connecting your Apple TV or gaming console to a router, you can get the best of both worlds!)
For more information on all the ways to get ExpressVPN on your big-screen TV, click below, or just contact a 24/7 Support agent for step-by-step instructions.
I connected to the VPN but my internet speed is slow
If your internet speed is slow or your streaming seems to lag, there are a few possible reasons:
-The distance of your selected VPN server location from your physical location
-Your connection type (wired connections are more reliable than wireless connections)
-Suboptimal interconnectivity between the VPN and your ISP
-Slow internet connection speed at your location
-Your device type and processing power
Try each of the following steps to troubleshoot:
-Download the latest version of ExpressVPN
-Connect to a different VPN server location
-Change your VPN protocol
If you try each of the above and are still experiencing issues with your streaming speed, contact the ExpressVPN Support Team 24/7 and someone will be with you in seconds.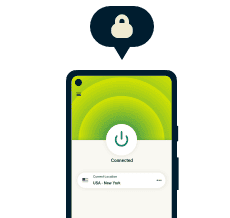 Need step-by-step streaming help?
24-HOUR LIVE CHAT SUPPORT