Watch a 2022-23 Copa del Rey final live stream for Real Madrid vs. Osasuna at Seville's Estadio de La Cartuja, on May 6, 2023. La Liga heavyweight Real Madrid has not won the domestic cup since 2014, while this occasion marks the second time Osasuna has made the final. While it looks as if Real Madrid has lost out on the La Liga title to arch-rivals Barcelona, winning the Copa del Rey would be a coup for Los Blancos. Read on to learn how to watch a 2022–23 Copa del Rey live stream securely with a VPN.
How to live stream the 2022–23 Copa del Rey final with a VPN from your country
Find out where to watch a Copa del Rey live stream with a VPN by following just a few simple steps:
Connect to the VPN server location that matches the broadcaster you want to watch. For example, if you'd like to stream a British broadcaster, connect to a secure server in London.
Check the schedule of the broadcaster you want to watch, such as Sky Sports (UK), and find the match you want to stream.
Tune in and enjoy!
Watching on a computer? For the best streaming experience, be sure to use the ExpressVPN browser extension for Chrome, Firefox, or Edge.
Watch a
2022–23
Copa del Rey final live stream in the U.S.
ESPN+
Price: 25 USD/month
You can tune in to the games live on ESPN+, which costs 10 USD/month. ESPN+ is also available in a bundle with Disney+ and Hulu's on-demand service for 70 USD/month.
Note: You may need to enter a valid U.S. postal code (e.g., 10001, 48104) to subscribe to ESPN+.
Live stream the
2022–23
Copa del Rey final in the UK
TNT Sports
Price: 25 GBP/month
If you live in the UK, you can watch a Copa del Rey final live stream on TNT Sports (previously known as BT Sport). You don't need BT broadband to stream sports online: Simply choose a Monthly Pass instead to get access to all TNT Sports contract-free. You can get set up with the TNT Sports app or web player within 15 minutes.
Note: This service is available to UK and Ireland residents only. You'll need a BT ID to watch the stream online. To get a BT ID, you will need a TV license, a valid postal code, and a UK credit/debit card.
2022–23 Copa del Rey schedule
| Round | Date |
| --- | --- |
| Round of 32 | December 16, 2022 |
| Round of 16 | January 7–19, 2023 |
| Quarterfinals | January 20 & 25-26, 2023 |
| Semifinals | January 30 & March 1-2, 2023 |
| Final | April 23, 2023 |
FAQ for streaming sports
Can I stream sports on my computer?
Can I stream sports on my phone or tablet?
How can I stream on my TV with a VPN?
In brief there are five different ways to stream sports on your TV with ExpressVPN:
With the native app for a smart TV or streaming device
By streaming on your computer and connecting to the TV with an HDMI cable
By mirroring or casting wirelessly to your TV or streaming device from your computer or mobile device
By connecting to an ExpressVPN-enabled router, which allows for unlimited devices and makes it super simple to connect to different server locations simultaneously
With MediaStreamer, ExpressVPN's solution for devices that cannot install a VPN, such as some streaming consoles and gaming consoles. MediaStreamer only needs to be set up once, although it does not provide the full security benefits of a VPN.
For more information on all the ways to get ExpressVPN on your big-screen TV, click here or contact a 24/7 Support agent for step-by-step instructions.
I connected to the suggested VPN server location but I can't log in to the streaming service!
No worries! Server load changes rapidly (especially when lots of people are trying to watch certain events), but that's exactly why ExpressVPN has high-speed servers all over the world. If you're trying to access a site in the U.S. or Germany, for instance, try connecting to a different server location in those countries.
If you're trying to connect to a country with one server location, the first step is to check your location settings. If you're on a mobile device, disconnect from the VPN, turn off location services, then connect to the VPN again. On both Windows and Mac computers, you can turn off Location Services within the Privacy & Security settings menu.
For more help, you can always talk to a member of our Support Team, available 24/7 by live chat.
I connected to the VPN but my internet speed is slow
If your internet speed is slow or your streaming seems to lag, there are a few possible reasons:
-The distance of your selected VPN server location from your physical location
-Your connection type (wired connections are more reliable than wireless connections)
-Suboptimal interconnectivity between the VPN and your ISP
-Slow internet connection speed at your location
-Your device type and processing power
Try each of the following steps to troubleshoot:
-Download the latest version of ExpressVPN
-Connect to a different VPN server location
-Change your VPN protocol
If you try each of the above and are still experiencing issues with your streaming speed, contact the ExpressVPN Support Team 24/7 and someone will be with you in seconds.
What other streaming services can I watch with ExpressVPN?
ExpressVPN works seamlessly with all the most popular streaming apps from around the world. Using a VPN for streaming ensures you watch securely in blazing-fast HD with unlimited bandwidth, free from ISP throttling (which can sometimes slow down speeds). If you want to watch your favorite team from anywhere—even while traveling or on unsecured networks like public Wi-Fi—ExpressVPN is a great way to enhance your sports streaming experience.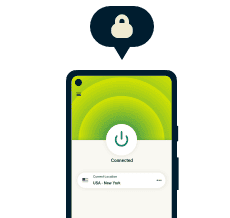 Need step-by-step streaming help?
24-HOUR LIVE CHAT SUPPORT