How to watch all major handball events online for free
Major handball events are broadcast on a variety of free services. To enjoy handball live streams:
Connect to a secure server location that matches the region of the broadcaster you want to watch. For example, handball fans in Europe can connect to a European server matching their location

to securely watch the free coverage on EHFTV.

Check the broadcaster's schedule for time and date.

Tune in and enjoy the event!
EHFTV
Price: Free
EHFTV streams matches from every EHF competition, complemented with highlights, the best goals, and saves. Watch the EHF Euro qualifiers and European qualification for the 2023 World Women's Handball Championship on EHFTV. Connect to a European server, sign up for free and enjoy the action!
YouTube
Price: Free
The IHF's official YouTube channel offers streams of some of the biggest handball matches and events. Just connect to a server location where YouTube is available to securely stream all the action in blazing-fast HD.
Ard/ZDF
Price: Free
Ard and ZDF alternately broadcast all major handball matches featuring German teams live and for free. German fans can catch the games on sportschau.de and zdf.de (be sure to check their schedules before you tune in).
Can I use a VPN to watch handball from another country?
ExpressVPN is a privacy and security service and should not be used as a means of copyright circumvention. We cannot see or control what you do while connected to our VPN, so you are responsible for complying with our Terms of Service, your content provider's terms, and any applicable laws.
Why do you need a VPN to watch handball online?
A premium VPN like ExpressVPN is the perfect way to live stream handball securely. Not only does ExpressVPN offer high-speed servers in 105 countries across the world, optimized for streaming and security, but with a VPN you can live stream every game across your devices and even on your smart TVs and gaming consoles. Securely live stream handball matches with a VPN on up to eight simultaneous connections, allowing you to watch your favorite teams at home, on the go or even abroad.
Best VPN for watching handball
ExpressVPN is the best VPN for safely and securely streaming handball matches. With next-gen 10-Gbps servers in locations around the world, you'll never miss a single minute of the action. ExpressVPN has easy-to-use apps for Windows, Mac, Android, and iOS, as well as platforms that other VPN companies may not support, like Linux, Android TV, Amazon Fire TV, and routers, plus browser extensions for Chrome, Firefox, and Edge. If you need help along the way, ExpressVPN offers 24/7 live chat support and a risk-free 30-day money-back guarantee!
Key Features:
High-speed servers in 105 countries across the globe, all optimized for speed and security
Up to 8 simultaneous connections
5-star customer service with 24/7 live chat support
Strict privacy policy: No activity logs and no connection logs
Comprehensive support site filled with DIY troubleshooting articles, handy video tutorials, and more
The industry's most advanced VPN server technology, TrustedServer, wipes data on every reboot
Our advanced protection features help you block trackers and malicious sites, hide intrusive display ads, and filter out explicit content.
Next-gen Lightway protocol offers greater speeds, security, and reliability, especially on mobile
Watch the 2024 European Men's Handball Championship
After six rounds, the EHF EURO 2024 Qualifiers are now done and dusted, with 20 teams joining the previously qualified hosts Germany, reigning champions Sweden, Spain and Denmark for the 16th edition of the competition. 32 teams competed in the EHF EURO 2024 Qualifiers, which were divided into eight groups of four teams each, with the top two sides in each group progressing, with the four best-placed teams ranked on the third place also earning their tickets to Germany.
The next milestone on the road to the Men's EHF EURO 2024 in Germany was reached in Düsseldorf on Wednesday, May 10, 2023 – exactly eight months before the start of the Championship, the six four-team groups for the preliminary round have been drawn. The 2024 EHF European Men's Handball Championship will be hosted in Germany from January 10–28, 2024.
| | | |
| --- | --- | --- |
| Group A | Group B | Group C |
| France | Spain | Iceland |
| Germany | Austria | Hungary |
| North Macedonia | Croatia | Serbia |
| Switzerland | Romania | Montenegro |
| | | |
| --- | --- | --- |
| Group D | Group E | Group F |
| Norway | Sweden | Denmark |
| Slovenia | Netherlands | Portugal |
| Poland | Bosnia and Herzegovina | Czech Republic |
| Faroe Islands | Georgia | Greece |
Other ways to watch handball
Discovery Plus / Eurosport
Price: Varies
Discovery Plus and Eurosport provide live streams of major handball tournaments for viewers in the UK and several European markets. Be sure to check the official Eurosport schedule. Eurosport offers a 7-day free trial.
Watch 2023-24 Handball-Bundesliga live streams 
Tune in for live streams of the 2023–24 Handball-Bundesliga season, spanning from August 24, 2023, to June 2, 2024. Watch to see if THW Kiel can hold onto their title or if contenders like SC Magdeburg and Füchse Berlin will rise to the occasion. Discover how to watch Handball-Bundesliga live streams securely with ExpressVPN and catch every match without missing a beat!
ExpressVPN is a VPN service not intended to be used as a means of copyright circumvention. Please read the ExpressVPN Terms of Service and your content provider's Terms of Use for more details.
FAQ: About Handball
Who are the current world champions in Handball?
Veteran goalkeeper Niklas Landin Jacobsen and Denmark defeated Niclas Ekberg's Sweden squad to win the 2021 World Men's Handball Championship. That victory marked Denmark's second straight championship after winning in 2019. If Denmark wins the 2023 world championship, they'll join France, Romania, Sweden, Germany, and Russia as the only countries to win at least three world titles.
Where is the next handball World Cup?
Poland and Sweden will co-host the 2023 World Men's Handball Championship. Croatia, Denmark, and Norway will each serve as the host nations in 2025; that will mark the third time Denmark has hosted, the second time for Croatia, and the first instance for Norway.
What is the best handball club in the world?
France enters the 2023 World Men's Handball Championship with a record six World Men's Handball Championship titles, the last one coming in 2017. Romania and Sweden are the only other nations to win at least four titles.
Can I stream sports on my computer?
Definitely. If you're accessing the streaming service from a web browser, be sure to also install the ExpressVPN extension for Chrome, Firefox, or Edge. The extension has a few features under the hood that can smooth out common streaming issues.
Can I stream sports on my phone or tablet?
How can I stream on my TV with a VPN?
In brief there are five different ways to stream sports on your TV with ExpressVPN:
-With the native app for a smart TV or streaming device
-By streaming on your computer and connecting to the TV with an HDMI cable
-By mirroring or casting wirelessly to your TV or streaming device from your computer or mobile device
-By connecting to an ExpressVPN-enabled router, which allows for unlimited devices and makes it super simple to connect to different server locations simultaneously
-With MediaStreamer, ExpressVPN's solution for devices that cannot install a VPN, such as some streaming consoles and gaming consoles. MediaStreamer only needs to be set up once, although it does not provide the full security benefits of a VPN.
For more information on all the ways to get ExpressVPN on your big-screen TV, click here or contact a 24/7 Support agent for step-by-step instructions.
I connected to the VPN but my internet speed is slow
If your internet speed is slow or your streaming seems to lag, there are a few possible reasons:
-The distance of your selected VPN server location from your physical location
-Your connection type (wired connections are more reliable than wireless connections)
-Suboptimal interconnectivity between the VPN and your ISP
-Slow internet connection speed at your location
-Your device type and processing power
Try each of the following steps to troubleshoot:
-Download the latest version of ExpressVPN
-Connect to a different VPN server location
-Change your VPN protocol
If you try each of the above and are still experiencing issues with your streaming speed, contact the ExpressVPN Support Team 24/7 and someone will be with you in seconds.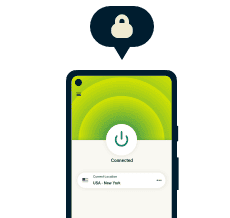 Need step-by-step streaming help?
24-HOUR LIVE CHAT SUPPORT