On June 28, Tata Martino, who previously coached Lionel Messi during their time at Barcelona and the Argentina national team, was appointed as the new coach of Inter Miami, offering up the tantalising chance that the two Argentinians could conjure up some magic together in Miami. There's a possibility that World Cup winner Messi may make his debut as early as this Friday, July 21, when Inter Miami kicks off its 2023 Leagues Cup campaign at home against Liga MX's Cruz Azul.
The 2023 Major League Soccer season is the 28th season of the top professional soccer league in the United States and Canada. The regular season began on February 25, 2023, and ends on October 21. It will then be followed by the playoffs. Los Angeles FC is the reigning MLS Cup and Supporters' Shield champion, while Philadelphia Union is the reigning Eastern Conference champion. If you're looking to live stream MLS games during the 2023 season, you've come to the right place.
This page will provide you with information about how to stream North America's top soccer league so that you can watch the sport you're passionate about.
How to live stream the 2023 MLS season with a VPN from your country
You can stream 2023 MLS season with a VPN by following just a few simple steps:
Connect to the VPN server location that matches the broadcaster you want to watch. For example, American fans should connect to a secure server in the U.S to stream their local broadcasters.

Check the schedule of the broadcaster you want to watch, such as

Fubo

, and find the match you want to stream.

Tune in and enjoy!
Watching on a computer? For the best streaming experience, use the ExpressVPN browser extension for Chrome, Firefox, or Edge.
Can I use a VPN to watch MLS matches from another country?
ExpressVPN is a privacy and security service and should not be used as a means of copyright circumvention. We cannot see or control what you do while connected to our VPN, so you are responsible for complying with our Terms of Service, your content provider's terms, and any applicable laws.
Why do you need a VPN to watch the MLS online?
If you plan on watching MLS matches this season, you'll want to do so with ExpressVPN protecting you along the way. Not only does ExpressVPN offer servers in 105 countries across the globe, all of which are optimized for speed and security, but you can stream many soccer events on computers, smartphones, and even smart TVs and gaming consoles. You can have up to eight simultaneous connections, allowing you to watch your favorite players—and track your fantasy team along the way—in blazing-fast HD.
Best VPN for watching MLS matches in 2023
ExpressVPN is the best VPN for safely and securely streaming the entire 2023-24 MLS season. Our high-speed servers allow you to enjoy every second regardless of your device. ExpressVPN offers easy-to-use apps for Windows, Mac, Android, and iOS, as well as platforms that other VPN companies may not support, like Linux, Android TV, Amazon Fire TV, and routers, plus browser extensions for Chrome, Firefox, and Edge. If you need help along the way, ExpressVPN offers 24/7 live chat support and a risk-free 30-day money-back guarantee!
Key Features:
High-speed servers in 105 countries across the globe, all optimized for speed and security
Up to 8 simultaneous connections
5-star customer service with 24/7 live chat support
Strict privacy policy: No activity logs and no connection logs
Comprehensive support site filled with DIY troubleshooting articles, handy video tutorials, and more
The industry's most advanced VPN server technology, TrustedServer, wipes data on every reboot
Our advanced protection features help you block trackers and malicious sites, hide intrusive display ads, and filter out explicit content.
Next-gen Lightway protocol offers greater speeds, security, and reliability, especially on mobile
Watch the 2023 MLS season on AppleTV+
Price: 50 USD/year
Countries: Worldwide
Soccer fans can catch the entire soccer season on AppleTV+, which offers MLS Season Pass, a new subscription service that will feature every live regular-season and playoff match, along with the Leagues Cup (a competition featuring MLS teams against Mexico's Liga MX teams). With an MLS Season Pass subscription, fans won't need to worry about blackouts! Season Pass is currently available for 50 USD, down from 100 USD when the season started. Make sure you take advantage of Apple TV's Multiview function to watch multiple matches at the same time!
How to stream the 2023 MLS season on cord-cutting services
Fox also holds MLS broadcasting rights for the 2023 season. Your best bet for finding every game is signing up for a cord-cutting service such as Sling TV Orange and Blue, Hulu+Live TV, Fubo, or YouTube TV (each of which comes with a free trial), and find games on Fox.
Learn more about watching Sling TV, YouTube TV, Fubo, and Hulu+Live TV with ExpressVPN.
How to watch MLS online for free
If you're eager to watch MLS matches online without any cost, you're in for a treat. Fortunately, fuboTV provides a generous seven-day free trial, allowing you to enjoy numerous MLS games before the payment requirement for the live TV streaming service comes into effect.
Where to watch MLS 2023 outside the U.S.
Stream with TSN+
Price: 20 CAD/month or 200 CAD/year
Country: Canada
TSN+ provides coverage in Canada for MLS games featuring Canadian teams Toronto FC, CF Montréal, and Vancouver Whitecaps.
Note: You may need a Canadian payment method to subscribe to TSN+. If you don't have one, subscribe with PayPal instead.
Miami's full slate of games in 2023 MLS
| Date | Match | Venue |
| --- | --- | --- |
| 6/10 | New England Revolution vs. Inter Miami | Gillette Stadium |
| 6/24 | Philadelphia Union vs. Inter Miami | Subaru Park |
| 7/1 | Inter Miami vs. Austin FC | DRV PNK Stadium |
| 7/4 | Inter Miami vs. Columbus Crew | DRV PNK Stadium |
| 7/8 | D.C. United vs. Inter Miami | Audi Field |
| 7/15 | St. Louis City SC vs. Inter Miami | Citypark |
| 7/21 | Inter Miami vs. Cruz Azul | DRV PNK Stadium |
| 7/25 | Inter Miami vs. Atlanta United | DRV PNK Stadium |
| 8/20 | Inter Miami vs. Charlotte FC | DRV PNK Stadium |
| 8/26 | New York Red Bulls vs. Inter Miami | Red Bull Arena |
| 8/30 | Inter Miami vs. Nashville SC | DRV PNK Stadium |
| 9/3 | Los Angeles FC vs. Inter Miami | BMO Stadium |
| 9/9 | Inter Miami vs. Sporting Kansas City | DRV PNK Stadium |
| 9/16 | Atlanta United FC vs. Inter Miami | Mercedes-Benz Stadium |
| 9/20 | Inter Miami vs. Toronto FC | DRV PNK Stadium |
| 9/24 | Orlando City SC vs. Inter Miami | Exploria Stadium |
| 9/30 | Inter Miami vs. New York City FC | DRV PNK Stadium |
| 10/4 | Chicago Fire FC vs. Inter Miami | Soldier Field |
| 10/7 | Inter Miami vs. FC Cincinnati | DRV PNK Stadium |
| 10/21 | Charlotte FC vs. Inter Miami | Bank of America Stadium |
Why did Lionel Messi choose MLS?
Despite having various options available, such as a potential return to Barcelona or a lucrative 1 billion USD offer from a Saudi Arabian club, Messi expressed in recent interviews with Mundo Deportivo and Sport that MLS held the greatest appeal for him and his family.
"After winning the World Cup and not being able to return to Barcelona, it was my turn to go to the league of the United States to live football in another way," Messi said.
Where can I find the 2023 MLS regular season schedule?
The 2023 MLS season commences on February 25th and extends until the final matchday on October 21st. Following that, the MLS Playoffs will ensue, culminating in one of the league's 34 teams winning the prestigious MLS Cup.
If you want to know what games are going on each week, you can find a complete schedule on MLS's website.
The MLS season is more than eight months long. The regular season began on February 25, 2023, and runs until October 21, 2023. At the end of the regular season, the top teams from each conference will qualify for the 2023 MLS Cup Playoffs, which will culminate with MLS Cup Final game.
2023 MLS season calendar
Here's the 2023 MLS calendar. Check your streaming site of choice for times. Dates listed here may be subject to change.
| | |
| --- | --- |
| Date | Event |
| February 25–26, 2023 | Opening Weekend |
| May 13–20, 2023 | Rivalry Week |
| October 21, 2023 | Decision Day |
| TBA | MLS Cup Playoffs |
| TBA | MLS Cup Final |
Who won the 2022 MLS Cup?
Los Angeles FC won their first MLS Cup title in a penalty shootout following a 3–3 draw in extra time.
What is the MLS app?
Although you cannot live stream games with the MLS app, it's a one-stop shop for most of your other needs as a fan. You can use the app to watch highlights, curate a customized feed of MLS content, and participate in fantasy games—as well as free-to-play contests.
ExpressVPN is a VPN service not intended to be used as a means of copyright circumvention. Please read the ExpressVPN Terms of Service and your content provider's Terms of Use for more details.
FAQ for streaming sports
Can I stream sports on my computer?
Can I stream sports on my phone or tablet?
How can I stream on my TV with a VPN?
In brief there are five different ways to stream sports on your TV with ExpressVPN:
With the native app for a smart TV or streaming device
By streaming on your computer and connecting to the TV with an HDMI cable
By mirroring or casting wirelessly to your TV or streaming device from your computer or mobile device
By connecting to an ExpressVPN-enabled router, which allows for unlimited devices and makes it super simple to connect to different server locations simultaneously
With MediaStreamer, ExpressVPN's solution for devices that cannot install a VPN, such as some streaming consoles and gaming consoles. MediaStreamer only needs to be set up once, although it does not provide the full security benefits of a VPN.
For more information on all the ways to get ExpressVPN on your big-screen TV, click here or contact a 24/7 Support agent for step-by-step instructions.
I connected to the suggested VPN server location but I can't log in to the streaming service!
No worries! Server load changes rapidly (especially when lots of people are trying to watch certain events), but that's exactly why ExpressVPN has high-speed servers all over the world. If you're trying to access a site in the U.S. or Germany, for instance, try connecting to a different server location in those countries.
If you're trying to connect to a country with one server location, the first step is to check your location settings. If you're on a mobile device, disconnect from the VPN, turn off location services, then connect to the VPN again. On both Windows and Mac computers, you can turn off Location Services within the Privacy & Security settings menu.
For more help, you can always talk to a member of our Support Team, available 24/7 by live chat.
I connected to the VPN but my internet speed is slow
If your internet speed is slow or your streaming seems to lag, there are a few possible reasons:
-The distance of your selected VPN server location from your physical location
-Your connection type (wired connections are more reliable than wireless connections)
-Suboptimal interconnectivity between the VPN and your ISP
-Slow internet connection speed at your location
-Your device type and processing power
Try each of the following steps to troubleshoot:
-Download the latest version of ExpressVPN
-Connect to a different VPN server location
-Change your VPN protocol
If you try each of the above and are still experiencing issues with your streaming speed, contact the ExpressVPN Support Team 24/7 and someone will be with you in seconds.
What other streaming services can I watch with ExpressVPN?
ExpressVPN works seamlessly with all the most popular streaming apps from around the world. Using a VPN for streaming ensures you watch securely in blazing-fast HD with unlimited bandwidth, free from ISP throttling (which can sometimes slow down speeds). If you want to watch your favorite team from anywhere—even while traveling or on unsecured networks like public Wi-Fi—ExpressVPN is a great way to enhance your sports streaming experience.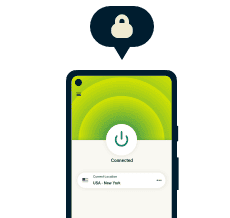 Need step-by-step streaming help?
24-HOUR LIVE CHAT SUPPORT