Stream football games online with a VPN
Football. Soccer. The Beautiful Game. Whatever you call it, it's in full swing—and just as exciting as ever! Find out how to watch Lionel Messi lining up for David Beckham's Inter Miami in the MLS, plus every Premier League game, El Classico, and Champions League showdown. Don't miss a minute as you securely stream with ExpressVPN!
For die-hard fans, the weekends just aren't the same without the thrills and spills of watching your favorite team, heated local derbies, and showdowns between the best players. So let's take a look at the biggest storylines shaping up in the major football leagues around Europe and the world. 
Top upcoming games to stream
Bayern Munich vs. Manchester United – Wednesday, September 20, 3 p.m. ET
Arsenal vs. PSV – Wednesday, September 20, 3 p.m. ET
Wolves vs. Liverpool – Saturday, September 16, 12:30 p.m. BST / 7:30 a.m. ET
Manchester United vs. Brighton – Sunday, September 17, 3 p.m. BST / 10 a.m. ET
West Ham vs. Manchester City – Sunday, September 17, 3 p.m. BST / 10 a.m. ET
PSG vs. Nice – Friday, September 15, 3 p.m. ET / 9 p.m. local
Barcelona vs. Real Betis – Saturday, September 16, 3 p.m. ET / 9 p.m. local
Real Madrid vs. Real Sociedad – Sunday, September 17, 3 p.m. ET / 9 p.m. local
Inter Milan vs. AC Milan – Saturday, September 16, 12:00 p.m. ET / 6 p.m. local
Bayern Munich vs. Bayern Leverkusen – Friday, September 15, 2:30 p.m. ET / 8:30 p.m. local
Arsenal Women vs. Liverpool Women – Sunday, October 1, 2023, 2 p.m. BST / 9 a.m. ET
Chelsea Women vs. Tottenham Hotspur Women – Sunday, October 1, 2023, 5:30 p.m. BST / 12:30 p.m. ET
England
Premier League
Current champion: Manchester City
The fierce competition in the Premier League is what makes it one of the world's most exciting leagues. This season's title race looks wide open—Chelsea, Manchester United, and Liverpool all have a decent shot at dethroning the current champion, Manchester City. With Mikel Arteta's young Arsenal side just missing out on the title last season and firing on all cylinders, there's a genuine title race on this year! 
FA Cup
Current champion: Manchester City 
England's top knockout competition never fails to entertain, with several underdogs beating the more prominent teams at various stages.  
Carabao Cup (EFL Cup)
Current champion: Manchester United 
The Carabao Cup (EFL Cup) represents another excellent knockout competition and chance for silverware for teams across England.   
France
Ligue 1
Current champion: PSG
Kylian Mbappé and PSG aim to win a third consecutive Ligue 1 title, though this time without the likes of Lionel Messi (now at Inter Miami in the MLS), and Neymar (playing at Al Hilal in the Saudi Pro League)—and it's hard to look past the Parisians for the title again this season.
Coupe de France
Current champion: Lyon
While PSG is France's dominant team, it was Lyon who took the domestic cup last season, beating Metz 2-1 in the final. However, don't discount wild cards like Monaco, Marseille, or Lille to make deep runs in the competition. 
Germany
Bundesliga
Current champion: Bayern Munich
Can anyone beat Bayern Munich to lift the Meisterschale? It's hard to look past the German champions, but Borussia Dortmund is lethal on its day, while the likes of RB Leipzig are also one of Germany's best attacking teams. 
DFB-Pokal
Current champion: RB Leipzig
Bayern Munich is naturally the favorite for the German domestic knockout cup. Still, Bayern Leverkusen, and Eintracht Frankfurt have reached the finals in recent years—and the current champion is RB Leipzig, who beat Eintracht Frankfurt 2-0 in the 2023 final to win its second DFB-Pokal title. 
Italy
Serie A
Current champions: Napoli
The Italians are known for their flair and passion, and Serie A is no different this season. Napoli won its first Serie A title in 33 years, ending years of stagnation since the glamorous Maradona era. But Massimiliano Allegri's Juventus, Jose Mourinho's AS Roma and Simone Inzaghi's Inter Milan, and Stefano Pioli's AC Milan all have eyes on the title. 
Coppa Italia
Current champions: Inter Milan
Inter Milan may not have won the Serie A title, but it did secure the Coppa Italia. Juventus is the competition's most successful club with 14 wins.
Spain
Copa del Rey
Current champions: Real Madrid
Real Madrid beat Osasuna 2-1 to claim its 20th Copa del Rey title. The beauty of the domestic cup is that there's always a chance for a plucky underdog to create an upset and take all the glory, so who knows who could claim the crown next season.
Brazil
Brasileirão Série A
Current champions: Palmeiras
Joga bonito—"the beautiful game"—is at the heart of Brazilian football, where style, flair, and individual brilliance are almost as important as the final result. Going into the 2023 season, Palmeiras, Atlético Mineiro, and Flamengo—the three most recent champions—were the betting favorites for the Série A title. 
Major European competitions 
UEFA Champions League
Current champions: Manchester City
Europe's premier mid-week competition has produced truly unforgettable games and moments as the best teams across the continent go head to head.
UEFA Europa League
Current holders: Sevilla
After the Champions League, the Europa League is the continent's next-best mid-week fix of top teams competing for silverware. 
UEFA Europa Conference League
Current holders: West Ham United
The Europa Conference League is the continent's third-tier competition. West Ham won its first European title in over 40 years with a 90th-minute winner to beat Fiorentina 2-1 in the 2023 final. 
UEFA Nations League
Current champion: Spain
Europe's newest cup competition is a chance to see new national rivalries emerge, so make sure you know how to securely stream all the best games. Portugal was the inaugural Nations League champion, followed by France, and current holder Spain.
Africa 
Africa Cup of Nations
Current champions: Senegal
Africa's premier competition takes place every two years, pitting the best talent from across the continent against each other. Egypt is the tournament's most successful team, with seven African Cup of Nations (AFCON) titles and has Liverpool's Mohamed Salah among its ranks. The Pharaohs were defeated by Senegal in last year's final. Algeria, Nigeria, and Ghana are always teams to watch, with several players plying their trade for Europe's top clubs.
Don't forget to use your VPN to securely stream the games from broadcasters including beIN Sports and fuboTV.
Asia
Asia Cup Qatar 2023
Current champions: Qatar
Japan and Saudi Arabia may be the more successful teams of recent years, with four and three titles, respectively, but defending champion Qatar will have the chance to establish its dominance on home soil for the next edition during the Asia Cup Qatar 2023 (confusingly being held in January 2024 in the Gulf nation). Fans can live stream the draw ceremony for free on May 11 in Doha via the official Asia Cup YouTube channel.
FIFA Women's World Cup 2023
Current champion: United States
The summer's most exciting soccer event has arrived! Alex Morgan, Megan Rapinoe, and the United States women's national soccer team are ready to go for gold once again when the 2023 FIFA Women's World Cup kicks off on Thursday, July 20. The United States, England, and Germany headline the 32 teams that will take the pitch in Australia and New Zealand this summer. Could this year mark the first time a host nation wins the Women's World Cup, or are we likely to see the U.S. do the unthinkable and become the first team (of any gender) in history to three-peat?
FIFA World Cup 2026
Current champion: Argentina
The very first winter World Cup took place in Qatar from November 20–December 18, 2022, and delivered one of the finest World Cup final performances of all time. Even a hat-trick from Kylian Mbappe couldn't keep France's hopes of winning back-to-back World Cup titles alive as two-goal hero Lionel Messi and Argentina lifted the trophy after winning the penalty shootout when the match ended 3-3 after extra time. The next tournament will be jointly held across 16 cities in the USA, Canada, and Mexico from June–July 2026, with an extended format to accommodate the increase to 48 teams.
FIFA Club World Cup
Current champion: Read Madrid
Spanish champions Real Madrid aim for a record fifth FIFA Club World Cup when the tournament kicks off from February 1-11, 2023, in Morocco. Brazilian side Flamengo is the favorite to challenge them for honors, which would make them the first non-European side to win it since the tournament started. FIFA has proposed to expand the format to a 32-team men's Club World Cup in 2025, which will then take place every four years. Viewers can watch FIFA Club World Cup live streams for free on the UK's All 4 streaming platform and Australia's SBS On Demand, while viewers in certain regions can also live stream the games online for free on FIFA+.
FIFA U-20 World Cup Argentina 2023
Current champion: Uruguay
Check out some of the world's top youth talent as the biennial tournament gets underway in Argentina from May 20–June 11, 2023. Viewers in certain regions can watch FIFA U-20 World Cup live streams for free online on FIFA+.
Women's football
England
FA Women's Super League
Current champions: Chelsea
Not to be outdone by their male counterparts, women's soccer has plenty of excitement for fans of the Beautiful Game. In England's Women's Super League, Chelsea won its sixth title last season, but expect Arsenal, Manchester United, and Manchester City to push them this season.
United States
National Women's Soccer League
Current champions: Portland Thorns
The success of the US women's national soccer team (four Women's World Cups, four Olympic gold medals) is predicated on the talent nurtured in its national competition, where past stars like Mia Hamm inspired a generation of players like OL Reign captain Megan Rapinoe and San Diego Wave's Alex Morgan. Washington Spirit won its first title in 2021, with forward Trinity Rodman (daughter of NBA star Dennis Rodman) among its ranks. 
Paramount Plus lets you stream the National Women's Soccer League—including the Challenge Cup—and offers a seven-day free trial.
Major European competitions
UEFA Women's Euro 2022
Current champions: England
Five years on from the last edition of the tournament, the UEFA Women's Euro is back to live stream this summer. England's Lionesses their first major trophy on home soil in the summer of 2022. Germany holds the record with eight titles.
2022-23 football seasons
League
Date
FIFA Women's World Cup 2023
July 20–August 20, 2023
Premier League (UK)
August 6, 2022 – May 28, 2023
Bundesliga (DE)
August 5, 2022 – May 27, 2023
UEFA Champions League (EU)
September 6, 2022 – June 10, 2023
La Liga (ES)
August 12, 2022 – June 4, 2023
Serie A (IT)
August 13, 2022 – June 4, 2023
Ligue 1 (FR)
August 5, 2022 – June 4, 2023
Eredivisie (NL)
August 5, 2022 – May 28, 2023
Brasileiro Série A (BR)
April 9, 2022 – November 13, 2022
UEFA Europa League (EU)
September 8, 2022 – May 31, 2023
UEFA Europa Conference League (EU)
September 8, 2022 – June 7, 2023
Cups
EFL Cup (UK)
August 9, 2022 – February 26, 2023
FA Cup (UK)
November 5, 2022 – June 3, 2023
DFB-Pokal (DE)
July 29, 2022 – June 3, 2023
Coppa Italia (IT)
July 30, 2022 – May 24, 2023
KNVB Cup (NL)
August 13, 2022 – August 14, 2022
Coupe de France (FR)
September 11, 2022 – October 16, 2022
Copa del Rey (ES)
October 19, 2022 – May 6, 2023
FAQ for streaming sports
Can I stream sports on my computer?
Can I stream sports on my phone or tablet?
How can I stream on my TV with a VPN?
In brief there are five different ways to stream sports on your TV with ExpressVPN:
-With the native app for a smart TV, Android TV device, or other streaming device
-By streaming on your computer and connecting to the TV with an HDMI cable
-By mirroring or casting wirelessly to your TV or streaming device from your computer or mobile device
-By connecting to an ExpressVPN-enabled router, which allows for unlimited devices and makes it super simple to connect to different server locations simultaneously
-With MediaStreamer, ExpressVPN's solution for devices that cannot install a VPN, such as Apple TV or gaming consoles. MediaStreamer only needs to be set up once, although it does not provide the full security benefits of a VPN. (Note that by connecting your Apple TV or gaming console to a router, you can get the best of both worlds!)
For more information on all the ways to get ExpressVPN on your big-screen TV, click below, or just contact a 24/7 Support agent for step-by-step instructions.
I connected to the suggested VPN server location but I can't log in to the streaming service!
No worries! Server load changes rapidly (especially when lots of people are trying to watch certain events), but that's exactly why ExpressVPN has high-speed servers all over the world. If you're trying to access a site in the U.S. or Germany, for instance, try connecting to a different server location in those countries.
If you're trying to connect to a country with one server location, the first step is to check your location settings. If you're on a mobile device, disconnect from the VPN, turn off location services, then connect to the VPN again. On both Windows and Mac computers, you can turn off Location Services within the Privacy & Security settings menu.
For more help, you can always talk to a member of our Support Team, available 24/7 by live chat.
I connected to the VPN but my internet speed is slow
If your internet speed is slow or your streaming seems to lag, there are a few possible reasons:
-The distance of your selected VPN server location from your physical location
-Your connection type (wired connections are more reliable than wireless connections)
-Suboptimal interconnectivity between the VPN and your ISP
-Slow internet connection speed at your location
-Your device type and processing power
Try each of the following steps to troubleshoot:
-Download the latest version of ExpressVPN
-Connect to a different VPN server location
-Change your VPN protocol
If you try each of the above and are still experiencing issues with your streaming speed, contact the ExpressVPN Support Team 24/7 and someone will be with you in seconds.
What other streaming services can I watch with ExpressVPN?
ExpressVPN works seamlessly with all the most popular streaming apps from around the world. Using a VPN for streaming ensures you watch securely in blazing-fast HD with unlimited bandwidth, free from ISP throttling (which can sometimes slow down speeds). If you want to watch your favorite team from anywhere—even while traveling or on unsecured networks like public Wi-Fi—ExpressVPN is a great way to enhance your sports streaming experience.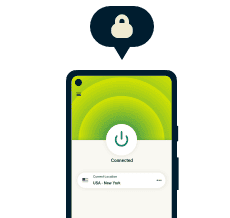 Need step-by-step streaming help?
24-HOUR LIVE CHAT SUPPORT