2016 Summer Olympics sports streaming guide
The Olympic Games are fun to watch, but it can be hard to follow your favorite events. In order to make the most of this year's games, you're going to want a VPN.
A VPN is a virtual private network. It works by masking your IP address with an IP from another country. When you connect to a VPN DNS proxy server, you're able to encrypt your traffic and access content that may not have been available before.
You can use a VPN to secure your connection and stream your favorite Olympic events from any country around the world! Watch your home teams compete abroad, and choose which events to follow by using a VPN to watch different broadcasts.
Use a VPN to stream the 2016 Olympics
The Olympics are streamed globally, which means different countries will air various events. That also means games may be limited per country. So you want to watch UK athletes on an American broadcaster? No way.
Luckily, you can use a VPN DNS proxy server to secure your connection and unblock Olympic streams from anywhere around the world. Wanna see if 18-time gold medalist Michael Phelps can win even more medals? Use a VPN. Wanna watch as Usain Bolt defends his title and tries to break even more records this year? Easy. Use a VPN.
Here's how:
1. Get an ExpressVPN account and install the app on your preferred device.
2. Connect to an ExpressVPN server location in the region of your choice.
3. Stream the 2016 Olympics from any of the sites below!
*For a full list of Olympic broadcasters (and there are a lot) check here.
**Dates and times are subject to change, so click here for a full schedule of games and events
Stream even more Rio Olympic Games on NBC
For the best all-around coverage this year, NBC Sports has to be our top pick. In the past, NBC's delayed streams meant online viewers had to wait hours—sometimes days—before they were able to view a particular event online.
But not this year! For the first time in Olympic history, NBC is giving viewers the opportunity to live stream the Games on their TV and online at nbcolmypics.com. With more than 4,500 hours of live streaming coverage, this year's games mark the first time in Olympic history where viewers can watch simultaneously on TV and online.
Simply connect to a VPN server location in the U.S. and start streaming! (Note: You'll need to verify your U.S. cable provider's information in order to live stream.)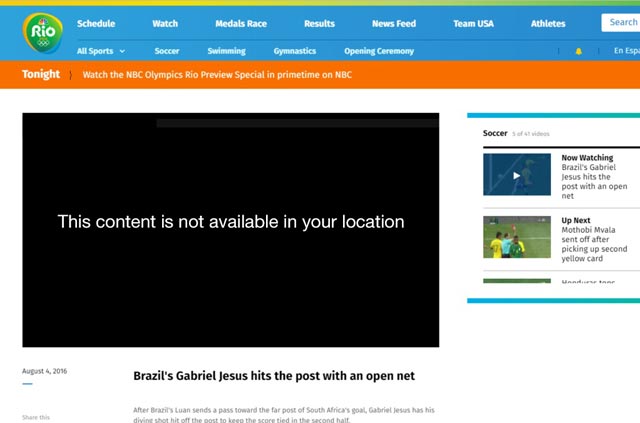 Without ExpressVPN…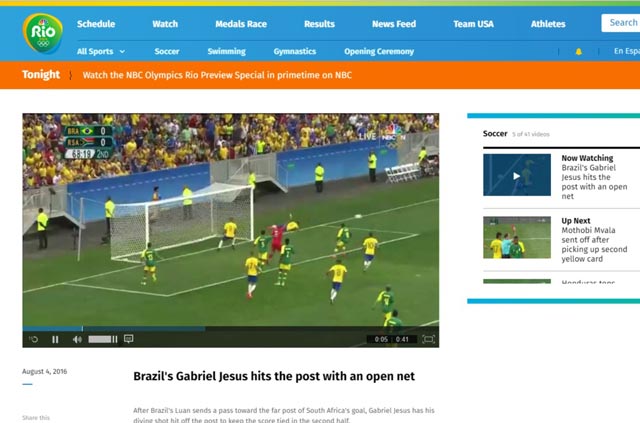 With ExpressVPN…
The opening ceremony starts at 7PM EST, but NBC will be airing it a few hours later. Stay up to date on all the games with NBC's 2016 Olympics streaming schedule.
Trivia time!
It's no surprise Team USA holds the record for bringing home the gold. But how do other countries stack up?
USA: 976
Russia: 440
Great Britain: 233.5
Germany: 201.5
China: 201
Did you know…
That the 2016 Summer Olympics is the first time an Olympic event will be held in South America? Or that the youngest Olympic Gold Medalist was little Miss Marjorie Gestring from California, a springboard diver who took home the gold at the 1936 Olympics when she was only 13?
And we can't forget Oscar Swahn, a Swedish shooter who was the oldest Olympian to ever win gold at the 1912 Olympics when he was 64 years old!
Watch the Olympics live with a VPN
Let us know if the above guide helped you watch the Olympics live. And leave this year's predictions in the comments.
And remember. If you have any questions, our live chat service is available 24 hours a day, seven days a week!