The countdown to March Madness is on after Division I men's and women's basketball returned on November 8, 2022. Heavyweights like Baylor, Duke, and North Carolina look to seal their eventual spots in next spring's tournaments with stellar regular season showings.
There are a number of streaming options for the games, depending on which conference you want to watch. Here's how to stream the 2022-23 NCAA basketball season, including top games, players to watch, and more.
How to watch college basketball live with VPN
Can't get enough college hoops? Here's how to make sure you don't miss a minute of the action:
Connect to a server location in the U.S.
Go to Sling TV Blue (35 USD/month), DirecTV Stream (70 USD/month), Hulu+Live TV (70 USD/month), or YouTube TV (65 USD/month) and use a free trial.
Tune in and enjoy!
Watching on a computer? For the best streaming experience, be sure to use the ExpressVPN browser extension for Chrome, Firefox, or Edge.
Where to watch NCAA basketball live in 2022
Because the broadcasting rights for college basketball are spread across many different channels, if you want to watch every game, you need a comprehensive service that includes all of them. Sling TV Orange, YouTube TV, and Hulu+Live TV are the top cord-cutting services, and all come with a free trial.
This is how each service breaks down in terms of the channels offered:
Sling TV Orange
Price: 35 USD/month
Channels: ESPN, TBS, TNT, TruTV
Sling TV is a good all-around option for college basketball live streams as it will carry all games except those on CBS, and is significantly cheaper than the other cord-cutting options. Note that you may need a U.S. credit card or PayPal to subscribe.
DirecTV Stream
Price: 70 USD/month and up
Channels: ESPN, TBS, TNT, TruTV
DirecTV Stream is on the pricier side but if you prefer a cord-cutting service over an additional streaming app, it's a great option as the "Choice" package (90 USD/month) includes college networks from the ACC, Big 10, and SEC. DirecTV offers a 5-day free trial. Note that you may need a U.S. credit card and ZIP code (e.g., 90210 or 10011) to sign up.
Hulu
Price: 65 USD/month
Channels: CBS, ESPN, TBS, TNT, TruTV
With Hulu+Live TV you'll be able to live stream just about every NCAA hoops game. Note that you may need a U.S. credit card and ZIP code (e.g., 90210 or 10011) to subscribe.
YouTube TV
Price: 65 USD/month
Channels: CBS, ESPN, TBS, TNT, TruTV
Like Hulu, YouTube TV carries every major network that airs NCAA basketball games, and it offers a five-day free trial. One extra thing YouTube has going for it is that it's possible to subscribe to YouTube TV via Google Play, even if you don't have a U.S. credit/debit card.
Want college hoops on the big screen? Learn about all the ways to get ExpressVPN on your TV.
College basketball Top 25 rankings
The Associated Press Top 25 releases each Monday during the college basketball season. Here is the most recent AP Top 25 poll.
| | |
| --- | --- |
| Ranking | Team |
| 1. | Purdue (21-1) [62 first-place votes] |
| 2. | Tennessee (18-3) |
| 3. | Houston (20-2) |
| 4. | Alabama (18-3) |
| 5. | Arizona (19-3) |
| 6. | Virginia (16-3) |
| 7. | Kansas State (18-3) |
| 8. | Kansas (17-4) |
| 9. | UCLA (17-4) |
| 10. | Texas (17-4) |
| 11. | Baylor (16-5) |
| 12. | Gonzaga (18-4) |
| 13. | Iowa State (15-5) |
| 14. | Marquette (17-5) |
| 15. | TCU (16-5) |
| 16. | Xavier (17-5) |
| 17. | Providence (17-5) |
| 18. | Saint Mary's (19-4) |
| 19. | Florida Atlantic (21-1) |
| 20. | Clemson (18-4) |
| 21. | Indiana (15-6) |
| 22. | San Diego State (17-4) |
| 23. | Miami (FL) (16-5) |
| 24. | Connecticut (16-6) |
| 25. | Auburn (16-5) |
The following teams also received votes:Missouri (74), Charleston (68), Illinois (56), Creighton (51), New Mexico (47), North Carolina (47), North Carolina State (39), Boise State (31), Duke (24), Rutgers (17), Texas A&M (16), Northwestern (13), Memphis (10), Arkansas (9), Pittsburgh (9), West Virginia (2), Nevada (2), Oral Roberts (2), Saint Louis (1)

2022-23 NCAA basketball calendar
| | |
| --- | --- |
| Date (ET) | Event |
| November 8, 2022 – March 12, 2023 | Regular season |
| March 14, 2023 – April 3, 2023 | Tournament dates |
| April 3, 2023 | NCAA Championship game |
Bronny James: The Decision
LeBron James's oldest son, Bronny James, is in his senior year of high school, and college basketball programs have been heavily recruiting him.
 Although not quite the high school phenom that his dad was, Sierra Canyon High School's 17-year-old point guard was a role player for his first two seasons until becoming a starter last year. He made an impact this summer, though, averaging 16 points, 5.8 rebounds, and 5.3 assists in six Nike Peach Jam games.
Bronny James is currently ranked 38th in the class of 2023, and according to ESPN has received interest from storied programs including Duke, UCLA, USC, Michigan, Ohio State, and Oregon.
UCLA and USC, both in Los Angeles, might have the best chance to land the prospect considering his father's presence in L.A. LeBron James recently signed a two-year extension with the Lakers.
If you want to see the next generation in action, ESPN is expected to stream nationally-ranked Sierra Canyon's games this season, so there should be plenty more opportunities to watch Bronny and his teammates in the coming months. 
ExpressVPN is a VPN service not intended to be used as a means of copyright circumvention. Please read the ExpressVPN Terms of Service and your content provider's Terms of Use for more details.
FAQ for streaming sports
Can I stream sports on my computer?
Can I stream sports on my phone or tablet?
How can I stream on my TV with a VPN?
In brief there are five different ways to stream sports on your TV with ExpressVPN:
-With the native app for a smart TV or streaming device
-By streaming on your computer and connecting to the TV with an HDMI cable
-By mirroring or casting wirelessly to your TV or streaming device from your computer or mobile device
-By connecting to an ExpressVPN-enabled router, which allows for unlimited devices and makes it super simple to connect to different server locations simultaneously
-With MediaStreamer, ExpressVPN's solution for devices that cannot install a VPN, such as Apple TV or gaming consoles. MediaStreamer only needs to be set up once, although it does not provide the full security benefits of a VPN. (Note that by connecting your Apple TV or gaming console to a router, you can get the best of both worlds!)
For more information on all the ways to get ExpressVPN on your big-screen TV, click below, or just contact a 24/7 Support agent for step-by-step instructions.
I connected to the suggested VPN server location but I can't log in to the streaming service!
No worries! Server load changes rapidly (especially when lots of people are trying to watch certain events), but that's exactly why ExpressVPN has high-speed servers all over the world. If you're trying to access a site in the U.S. or Germany, for instance, try connecting to a different server location in those countries.
If you're trying to connect to a country with one server location, the first step is to check your location settings. If you're on a mobile device, disconnect from the VPN, turn off location services, then connect to the VPN again. On both Windows and Mac computers, you can turn off Location Services within the Privacy & Security settings menu.
For more help, you can always talk to a member of our Support Team, available 24/7 by live chat.
I connected to the VPN but my internet speed is slow
If your internet speed is slow or your streaming seems to lag, there are a few possible reasons:
-The distance of your selected VPN server location from your physical location
-Your connection type (wired connections are more reliable than wireless connections)
-Suboptimal interconnectivity between the VPN and your ISP
-Slow internet connection speed at your location
-Your device type and processing power
Try each of the following steps to troubleshoot:
-Download the latest version of ExpressVPN
-Connect to a different VPN server location
-Change your VPN protocol
If you try each of the above and are still experiencing issues with your streaming speed, contact the ExpressVPN Support Team 24/7 and someone will be with you in seconds.
What other streaming services can I watch with ExpressVPN?
ExpressVPN works seamlessly with all the most popular streaming apps from around the world. Using a VPN for streaming ensures you watch securely in blazing-fast HD with unlimited bandwidth, free from ISP throttling (which can sometimes slow down speeds). If you want to watch your favorite team from anywhere—even while traveling or on unsecured networks like public Wi-Fi—ExpressVPN is a great way to enhance your sports streaming experience.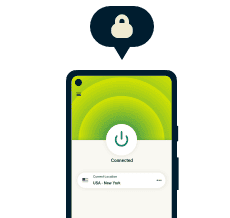 Need step-by-step streaming help?
24-HOUR LIVE CHAT SUPPORT