In this space, you'll find information on the best sports events streaming each week, get some context for the action, and find out how to stream it all securely and in blazing-fast HD.
NCAA College Basketball: March Madness
Can Princeton continue its Cinderella run into the Elite Eight?
Viewing schedule:
Weekend Sweet 16 coverage begins Friday, March 24, at 6:30 p.m. ET / 10:30 p.m. GMT
Elite Eight coverage begins Saturday, March 25, at 6:09 p.m. ET / 10:09 p.m. GMT
Why you should tune in: March Madness started with 68 teams, and 12 remain following Thursday's action; Connecticut, Florida Atlantic, Gonzaga, and Kansas State,  all punched their tickets to the Elite Eight. No. 15 Princeton headlines the programs hoping to survive and advance to Sunday's games. The upset-minded Tigers have already taken down No. 2 Arizona and No. 7 Missouri in a remarkable Cinderella run. Will their stellar run end against No. 6 Creighton, or are the Tigers truly a team of destiny? You can find the entire men's March Madness bracket here. Make sure to also check out our women's March Madness page!
Recommended reading: How do we get more mid-majors into the NCAA tournament? via ESPN.com
Sports fans love an underdog, and March Madness routinely provides opportunities for the so-called mid-major schools to embark on storybook runs. The last five NCAA tournaments have seen two No. 16 seeds upsetting No. 1 teams, and Princeton joined the 2021 Oral Roberts Golden Eagles and the 2022 Saint Peter's Peacocks among No. 15 seeds that reached the Sweet 16. One school of thought is for the selection committee to take a cue from UEFA and begin using coefficients to ensure more lesser-known schools and conferences are invited to the Big Dance.
Our favorite way to watch with a VPN: The Sweet Sixteen and Elite Eight will air across CBS and TBS. YouTube TV offers both channels and a 14-day free trial. Note that any games airing on CBS will also stream live on Paramount Plus. Although the March Madness Live app is free to download, you must have an active subscription to either a cable provider or cord-cutting service (such as YouTube TV) to stream games through the app.
MotoGP: Grand Prix of Portugal
Fabio Quartararo vies for his third straight victory in Portimão.
Viewing schedule:
Qualifying – Saturday, March 25, 10:50 a.m. local time / 6:50 a.m. ET
Race – Sunday, March 26, 3 p.m. local time / 10 a.m. ET
Why you should tune in: The 2023 MotoGP season officially kicks off in Portugal, and Francesco Bagnaia is back to defend his title. Although the Ducati Lenovo rider is the odds-on favorite to win the season's first event, he'll need to get past Fabio Quartararo, who has won the last two races at Algarve International Circuit. We also suggest keeping your eyes on 2018 champion Jorge Martin, who tends to look fast in qualifying and practice. Get ready for what should be another sensational racing season!
Recommended reading: Marc Márquez: 'Racing and testing very different', Joan Mir set for moment 'I dreamed of' via Crash
Can Honda break through after two disappointing seasons and return to challenging for a MotoGP title? Marc Márquez certainly sounds optimistic, citing his improved personal health and Honda's offseason work and study habits. The six-time champion surprisingly failed to win a race last year, his first victory-free season since 2009.
Our favorite way to watch with a VPN: You can catch every MotoGP race for free with ServusTV and RTBF, which offer live streams with German and French commentary, respectively.
NHL: Boston Bruins vs. Tampa Bay Lightning
David Pastrnak and the NHL-best Bruins continue chasing history.
Viewing schedule:
Bruins vs. Lightning – Saturday, March 25, 1 p.m. ET / 5 p.m. GMT
Panthers vs. Rangers – Saturday, March 25, 5 p.m. ET / 9 p.m. GMT
Why you should tune in: The beat goes on for the Bruins, who boast an NHL-best 55 wins and 115 points following Thursday's 4-2 win over the Montreal Canadiens. Fittingly, the Bruins have only 11 games left to earn their record 63rd victory and potentially surpass the 1976-77 Canadiens' once-unfathomable 132 points. Let's see how the B's fare against Andrei Vasilevskiy and the Lightning, who are still fighting for playoff seeding. Elsewhere in the Eastern Conference, the Rangers and Panthers meet in Florida; the Panthers entered the weekend only 1 point behind the Pittsburgh Penguins for the East's eighth and final playoff seed.
Recommended reading: Leafs' Matthews has best shoe game, Oilers' McDavid go-to win beast: NHLPA player poll via Sportsnet
At some point, every sports fan has engaged in the semi-mindless debates about top players or which rival they'd most want on their squad. It turns out the NHL's best and brightest are just like us! The NHL polled 626 players from all 32 teams and asked everything from who they believe is the top defenseman (Colorado's Cale Makar) to the league's best stick-handler (New York Rangers star Patrick Kane). Did your favorite player earn any recognition?
Our favorite way to watch with a VPN: Saturday's Bruins-Lightning game will air nationally on the NHL Network. Fubo, which offers a seven-day free trial, includes NHL Network in its elite package. You can catch Lightning-Panthers on ESPN+; subscriptions start at 10 USD.
Cycling: Volta a Catalunya
Can Primož Roglic finish the job and win his first Volta a Catalunya?
Viewing schedule:
Stage 5: Terres de l'Ebre (Tortosa – Lo Port) – Terres de l'Ebre (Tortosa – Lo Port) – Friday, March 24, 2:15 p.m. local time / 9:15 a.m. ET
Stage 6: Martorell – Molins de Rei, Saturday, March 25, 2:15 p.m. local time / 9:15 a.m. ET
Stage 7: Barcelona – Barcelona – Sunday, March 26, 12:15 p.m. local time / 6:15 a.m. ET
Why you should tune in: Get ready for what should be a sensational Volta a Catalunya finish! Primož Roglic and Remco Evenepoel entered Friday's fifth stage tied atop the standings with only three days remaining. Roglic holds a slight advantage in points, owning 22 to Evenepoel's 20 ahead of the action resuming in Tortosa. Don't rule out Giulio Ciccone, who captured the second stage and still has an outside chance at winning it all.
Recommended reading: Alberto Contador Exclusive on Tadej Pogačar's Tour de France Revenge Mission – 'He Looks Unbeatable But…' via Eurosport
As the Volta a Catalunya action winds down, cycling fans are already eying this summer's Tour de France and Tadej Pogačar's pursuit of redemption. After winning the yellow jersey in 2020 and 2021, the 24-year-old phenom finished behind Jonas Vingegaard last July. Although cycling great Alberto Contador is optimistic about Pogačar's Tour chances, the seven-time Grand Tour champion is advising caution … for now.
Our favorite way to watch with a VPN: Eurosport and Discovery+ will each air the Volta a Catalunya. A 7-day free trial is available for Discovery+.
FAQ for streaming sports
Can I stream sports on my computer?
Can I stream sports on my phone or tablet?
How can I stream on my TV with a VPN?
In brief there are five different ways to stream sports on your TV with ExpressVPN:
-With the native app for a smart TV, Android TV device, or other streaming device
-By streaming on your computer and connecting to the TV with an HDMI cable
-By mirroring or casting wirelessly to your TV or streaming device from your computer or mobile device
-By connecting to an ExpressVPN-enabled router, which allows for unlimited devices and makes it super simple to connect to different server locations simultaneously
-With MediaStreamer, ExpressVPN's solution for devices that cannot install a VPN, such as Apple TV or gaming consoles. MediaStreamer only needs to be set up once, although it does not provide the full security benefits of a VPN. (Note that by connecting your Apple TV or gaming console to a router, you can get the best of both worlds!)
For more information on all the ways to get ExpressVPN on your big-screen TV, click below, or just contact a 24/7 Support agent for step-by-step instructions.
I connected to the suggested VPN server location but I can't log in to the streaming service!
No worries! Server load changes rapidly (especially when lots of people are trying to watch certain events), but that's exactly why ExpressVPN has high-speed servers all over the world. If you're trying to access a site in the U.S. or Germany, for instance, try connecting to a different server location in those countries.
If you're trying to connect to a country with one server location, the first step is to check your location settings. If you're on a mobile device, disconnect from the VPN, turn off location services, then connect to the VPN again. On both Windows and Mac computers, you can turn off Location Services within the Privacy & Security settings menu.
For more help, you can always talk to a member of our Support Team, available 24/7 by live chat.
I connected to the VPN but my internet speed is slow
If your internet speed is slow or your streaming seems to lag, there are a few possible reasons:
-The distance of your selected VPN server location from your physical location
-Your connection type (wired connections are more reliable than wireless connections)
-Suboptimal interconnectivity between the VPN and your ISP
-Slow internet connection speed at your location
-Your device type and processing power
Try each of the following steps to troubleshoot:
-Download the latest version of ExpressVPN
-Connect to a different VPN server location
-Change your VPN protocol
If you try each of the above and are still experiencing issues with your streaming speed, contact the ExpressVPN Support Team 24/7 and someone will be with you in seconds.
What other streaming services can I watch with ExpressVPN?
ExpressVPN works seamlessly with all the most popular streaming apps from around the world. Using a VPN for streaming ensures you watch securely in blazing-fast HD with unlimited bandwidth, free from ISP throttling (which can sometimes slow down speeds). If you want to watch your favorite team from anywhere—even while traveling or on unsecured networks like public Wi-Fi—ExpressVPN is a great way to enhance your sports streaming experience.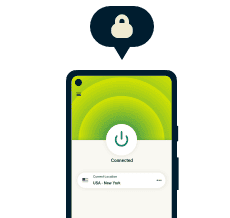 Need step-by-step streaming help?
24-HOUR LIVE CHAT SUPPORT