In this space, you'll find information on the best sports events streaming each week, get some context for the action, and find out how to stream it all securely and in blazing-fast HD.
NFL: Bills vs. Dolphins
Have Tua Tagovailoa, Tyreek Hill, and the Dolphins already established themselves as Super Bowl favorites in the AFC? We won't go that far just yet, even after an astounding 70-point output against the Broncos. It's clear the undefeated Phins are ready to win their first AFC East title since 2008. Next up in the Dolphins' path is a road test—and playoff rematch—with Josh Allen and the rival Buffalo Bills. This week also features a Monday Night Football doubleheader and a London duel between the Falcons and Jaguars. Check out our NFL hub page for more info!
Viewing schedule:
Buccaneers vs. Eagles – Monday, September 25, 7:15 p.m. ET / 12:15 a.m. BST
Bengals vs. Rams – Monday, September 25, 8:15 p.m. ET / 1:15 a.m. BST
Packers vs. Lions – Thursday, September 28, 8:15 p.m. ET / 1 a.m. BST
Jaguars vs. Falcons – Sunday, October 1, 2:30 p.m. local time (London) / 9:30 a.m. ET 
Bills vs. Dolphins – Sunday, October 1, 1 p.m. ET / 6 p.m. BST
Our favorite way to watch with a VPN: NFL Game Pass International has moved to DAZN for the 2023 season, and it remains the best option for football fans who want to stream every game without blackouts. Check out our NFL page for more information. Please note the Buccaneers-Eagles game will air on ABC, and the Bengals-Rams showdown will be on ESPN, though both games will air on ESPN+. However, keep in mind that a valid TV subscription, either to a traditional cable company or a cord-cutting service like YouTube TV, is typically required to stream traditional Monday Night Football broadcasts on ESPN+. Also, you can catch Thursday's Packers-Lions clash live for free on Twitch.tv in the United States.
AFL Grand Final
Collingwood and the Brisbane Lions have been the form teams of the 2023 season and both deserve their spots in this year's AFL Grand Final. Having suffered a heartbreaking one-point loss to Sydney in last year's final, Collingwood is out for redemption, but they'll have to overcome a Lions team built to win now and desperate to list the trophy at Melbourne Cricket Ground on Saturday. 
Viewing schedule:
Collingwood vs. Brisbane Lions – Saturday, September 30, 2:30 p.m. local time / 12:30 a.m. ET
Our favorite way to watch with a VPN: Channel 7 is the official free-to-air broadcaster of the AFL and will air the Grand Final on its streaming service, 7plus.
MLB: Mariners vs. Rangers
The 2023 MLB regular season has been unforgettable, and the action isn't quite over yet! Only six teams entered play Monday having clinched a playoff spot, and the American League West remains up for grabs between the Houston Astros, Seattle Mariners, and Texas Rangers; the Rangers opened the week with a 2.5 game division lead over the slumping Astros. Baseball fans are in for a treat this weekend as the Rangers and Mariners clash in a pivotal four-game set to determine playoff seeding—and, potentially, the division champion. Check out our MLB page for a complete guide to the season's final week.
Viewing schedule:
First pitch on Thursday, September 28, is set for 9:40 p.m. ET / 2:40 a.m. BST; first pitch on Friday, September 29, is set for 10:10 p.m. ET / 3:10 a.m. BST; first pitch on Saturday, September 30, is set for 7:15 p.m. ET / 12:15 a.m. BST; first pitch on Sunday, October 1, is set for 3:10 p.m. ET / 8:10 p.m. BST
Our favorite way to watch with a VPN: MLB.TV International users can live stream the entire 2023 season without blackouts. The service is currently priced at 30 USD for the rest of the season, and offers a seven-day free trial.
Rugby World Cup
Wales' 40-6 victory over Australia was a record humiliation for the Wallabies, who face the prospect of a group stage elimination should Fiji secure a bonus-point victory over Georgia on Saturday. Meanwhile, Italy's victory over Uruguay adds significance to the Pool A showdown between New Zealand vs. Italy on Saturday given the All Blacks determination for a fourth Rugby World Cup. What does the rest of the week have in store for rugby fans? Check out the full Rugby World Cup schedule here.
Viewing schedule:
Fiji vs. Georgia – Saturday, September 30, 5:45 p.m. local time (France) / 11:45 a.m. ET
New Zealand vs. Italy – Saturday, September 30, 9 p.m. local time (France) / 3 p.m. ET
Our favorite way to watch with a VPN: ITVX (formerly ITV Hub) offers both on-demand content and live events, including free streams of every 2023 Rugby World Cup match. Check the schedule before tuning in!
Boxing: Canelo Álvarez vs. Jermell Charlo
Canelo Álvarez (59-2-2, 39 KOs) and Jermell Charlo (35-1-1, 19 KOs) are ready to meet in the ring. Charlo will fight for the first time since his May 2022 victory over Brian Castaño, which sealed his status as the undisputed light middleweight world champion. Will Álvarez retain his undisputed super middleweight titles at T-Mobile Arena, or can Charlo pull off an incredible upset Saturday night?
Viewing schedule:
Main event begins on Sunday, September 30, at 8 p.m. ET / 1 a.m. BST
Our favorite way to watch with a VPN: You can purchase the Canelo Álvarez vs. Jermell Charlo fight via Showtime PPV for 85 USD.
Ryder Cup
Reigning FedEx Cup champion Viktor Hovland and the European team look to continue their Ryder Cup dominance when the action kicks off in Rome on Friday. Despite the U.S. team's victory last time round, Europe has defeated the United States squad (captained this year by former Masters winner Zach Johnson) seven of 10 times since 2002, a narrative that Scottie Scheffler and the Americans hope to rewrite this weekend.
Viewing schedule:
Daily coverage begins Friday, September 29, at 7:30 a.m. local time / 1:30 a.m. ET
Our favorite way to watch with a VPN: YouTube TV offers USA Network and NBC, which will have full coverage of the Ryder Cup, and the subscription costs 73 USD/month. A free trial is available. Alternatively, you can watch the tournament through Peacock, which comes in cheaper at 6 USD/month but does not offer a free trial.
ExpressVPN is a VPN service not intended to be used as a means of copyright circumvention. Please read the ExpressVPN Terms of Service and your content provider's Terms of Use for more details.
FAQ for streaming sports
Can I stream sports on my computer?
Can I stream sports on my phone or tablet?
How can I stream on my TV with a VPN?
In brief there are five different ways to stream sports on your TV with ExpressVPN:
-With the native app for a smart TV, Android TV device, or other streaming device
-By streaming on your computer and connecting to the TV with an HDMI cable
-By mirroring or casting wirelessly to your TV or streaming device from your computer or mobile device
-By connecting to an ExpressVPN-enabled router, which allows for unlimited devices and makes it super simple to connect to different server locations simultaneously
-With MediaStreamer, ExpressVPN's solution for devices that cannot install a VPN, such as Apple TV or gaming consoles. MediaStreamer only needs to be set up once, although it does not provide the full security benefits of a VPN. (Note that by connecting your Apple TV or gaming console to a router, you can get the best of both worlds!)
For more information on all the ways to get ExpressVPN on your big-screen TV, click below, or just contact a 24/7 Support agent for step-by-step instructions.
I connected to the suggested VPN server location but I can't log in to the streaming service!
No worries! Server load changes rapidly (especially when lots of people are trying to watch certain events), but that's exactly why ExpressVPN has high-speed servers all over the world. If you're trying to access a site in the U.S. or Germany, for instance, try connecting to a different server location in those countries.
If you're trying to connect to a country with one server location, the first step is to check your location settings. If you're on a mobile device, disconnect from the VPN, turn off location services, then connect to the VPN again. On both Windows and Mac computers, you can turn off Location Services within the Privacy & Security settings menu.
For more help, you can always talk to a member of our Support Team, available 24/7 by live chat.
I connected to the VPN but my internet speed is slow
If your internet speed is slow or your streaming seems to lag, there are a few possible reasons:
-The distance of your selected VPN server location from your physical location
-Your connection type (wired connections are more reliable than wireless connections)
-Suboptimal interconnectivity between the VPN and your ISP
-Slow internet connection speed at your location
-Your device type and processing power
Try each of the following steps to troubleshoot:
-Download the latest version of ExpressVPN
-Connect to a different VPN server location
-Change your VPN protocol
If you try each of the above and are still experiencing issues with your streaming speed, contact the ExpressVPN Support Team 24/7 and someone will be with you in seconds.
What other streaming services can I watch with ExpressVPN?
ExpressVPN works seamlessly with all the most popular streaming apps from around the world. Using a VPN for streaming ensures you watch securely in blazing-fast HD with unlimited bandwidth, free from ISP throttling (which can sometimes slow down speeds). If you want to watch your favorite team from anywhere—even while traveling or on unsecured networks like public Wi-Fi—ExpressVPN is a great way to enhance your sports streaming experience.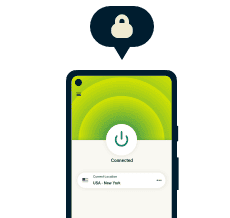 Need step-by-step streaming help?
24-HOUR LIVE CHAT SUPPORT