In this space, you'll find information on the best sports events streaming each week, get some context for the action, and find out how to stream it all securely and in blazing-fast HD.
Soccer: World Cup
The 2022 World Cup's knockout stage continues in Qatar.
Viewing schedule:
(Round of 16) Japan vs. Croatia – Monday, December 5, 5 p.m. local time / 10 a.m. ET
(Round of 16) Brazil vs. South Korea – Monday, December 5, 10 p.m. local time / 2 p.m. ET
(Round of 16) Morocco vs. Spain – Tuesday, December 6, 5 p.m. local time / 10 a.m. ET
(Round of 16) Portugal vs. Switzerland – Tuesday, December 6, 10 p.m. local time / 2 p.m. ET
Why you should tune in: The 32-team World Cup field is down to 12, and four more teams will hear their names called over the coming days. Brazil, who opened the week as +250 favorites to win their record sixth World Cup, can advance to the quarterfinals with a victory over South Korea on Monday. Keep a close eye on Granit Xhaka and Switzerland, who are eager to reach the Round of 8 for the first time since 1954. Check out our complete World Cup hub to get fully acquainted with every team's roster, schedule, and chances of bringing home the trophy.
Recommended reading: Lionel Messi keeps Argentina dreams alive after scoring in 1,000th game via the BBC
Even at his advanced age, Lionel Messi still has a flair for the dramatic. The 35-year-old forward punctuated his 1,000th professional game—and his 100th outing as Argentina's captain—with a goal, the 789th in his legendary career, in a 2-1 victory over Australia on Saturday. Clips exploded throughout social media of fans chanting Messi's name at the final whistle as they have for nearly two decades. If Messi and La Albiceleste plan on reaching the semifinals, they'll need to defeat a spirited Netherlands team on Friday.
Our favorite way to watch with a VPN: Australian broadcaster SBS is airing all 64 World Cup matches for free, with on-demand viewing options also available for all games. 
NFL: Tampa Bay Buccaneers vs. New Orleans Saints
Tom Brady and the Buccaneers look to extend their NFC South Division lead.
Viewing schedule:
Buccaneers vs. Saints – Monday, December 5, 8:15 p.m. EDT / 1:15 a.m. GMT
Raiders vs. Rams – Thursday, December 8, 8:15 p.m. EDT / 1:15 a.m. GMT
Why you should tune in: In 20 seasons as a full-time starting quarterback, Tom Brady has never played on a team with a losing record. At 5-6, with a difficult December schedule ahead, the Buccaneers officially find themselves in panic mode. But at least they still hold first place entering Monday's primetime showdown with the rival Saints. Later in the week, the Las Vegas Raiders open Week 14 with a Thursday night clash against a decimated Rams squad. Check out our NFL page for a complete guide of Week 14 games to watch, including a must-see Sunday battle between the Dolphins and Chargers.
Recommended reading: Bucs defense met for dinner Monday to air grievances, improve camaraderie via the Tampa Bay Times
Although the 45-year-old Brady has fought valiantly to overcome a decimated offensive line and Father Time, his defense has let him down throughout the fourth quarter this year. Pro Bowl linebacker Devin White and three-time All-Pro linebacker Lavonte David held a dinner party for the entire defense last week, after blowing a late road lead to the dismal Cleveland Browns, in hopes of righting the ship.
Our favorite way to watch with a VPN: Monday's Buccaneers-Saints game will exclusively air on ESPN. Similarly, Thursday's primetime bout will exclusively air on Amazon Prime Video in the U.S., although fans in the Las Vegas and Los Angeles areas can watch through local channels. NFL Game Pass is the best option for football fans who want to stream every game without blackouts. A seven-day free trial is available.
NHL: Dallas Stars vs. Toronto Maple Leafs
The Stars and Maple Leafs meet in a battle of Stanley Cup Finals hopefuls.
Viewing schedule:
Stars vs. Maple Leafs – Tuesday, December 6, 8:30 p.m. ET / 1:30 a.m. GMT
Golden Knights vs. Rangers – Wednesday, December 7, 10 p.m. ET / 3 a.m. GMT
Why you should tune in: The Dallas Stars and Toronto Maple Leafs entered the 2022-23 NHL campaign as legitimate title contenders hoping to move beyond frustrating first-round losses in last spring's Stanley Cup Playoffs. So far, so good for both clubs. Let's see who comes out on top when they meet Tuesday night in Texas. Later in the week, the surging Vegas Golden Knights host a New York Rangers squad still seeking consistency.
Recommended reading: Fact or Fiction: Which major 2022-23 NHL season narratives are for real? via Daily Faceoff

We're already two full months into the new NHL season, and it's clear the Boston Bruins could be in for a special season. Likewise, we also feel comfortable suggesting the Columbus Blue Jackets might want to start preparing for next year. However, certain storylines—including the upstart New Jersey Devils' title chances—still have hockey fans searching for answers. And we're curious to know if the Seattle Kraken can make a deep playoff run in only their second year of existence.
Our favorite way to watch with a VPN: Tuesday's Stars-Maple Leafs clash will air on ESPN+ and Hulu. TNT will air the Golden Knights-Rangers game on Wednesday night.
Golf: QBE Shootout
Harris English and Matt Kuchar team up with LPGA stars to pursue their fourth QBE Shootout victory.
Viewing schedule:
Daily coverage begins Friday, December 9, at 1 p.m. ET / 6 p.m. GMT
Why you should tune in: The final golf event of 2022 is here, and fans are in for a fun one at the QBE Shootout. Instead of 24 individual competitors, 12 two-person teams—including two LPGA players for the first time in tournament history—will hit the links at Tiburon Golf Club in Naples, Florida, beginning Thursday afternoon. Although three-time winners Harris English and Matt Kuchar are the favorites, keep a close eye on Nelly Korda and Denny McCarthy. Korda, a first-time QBE Shootout participant, is the world's top-ranked LPGA player.
Recommended reading: Tom Kim's amazing 2022 now includes 'officially' meeting Tiger Woods (and sharing the Day 1 lead at the Hero) via Golf Digest
Few golfers enjoyed a more significant rise to prominence in 2022 than Tom Kim, the 20-year-old South Korean standout who finished atop the Wyndham Championship and Shriner Children's Open this year. Kim received an early holiday present at the recent Hero World Classic when he had an opportunity to chat with tournament host Tiger Woods. Although Kim briefly met Woods—and even took a picture with the legendary golfer—in 2020, last week marked the first time the two had an opportunity to talk beyond saying "hello" and "goodbye." Unfortunately for Kim, he finished tied for 10th in his final tournament of the year.
Our favorite way to watch with a VPN: NBC, Peacock, and the Golf Channel will each air parts of the QBE Shootout. Peacock Premium is well priced at 5 USD per month. Sling TV, which offers a subscription for 35 USD, offers the Golf Channel and NBC in select locations.
FAQ for streaming sports
Can I stream sports on my computer?
Can I stream sports on my phone or tablet?
How can I stream on my TV with a VPN?
In brief there are five different ways to stream sports on your TV with ExpressVPN:
-With the native app for a smart TV or streaming device
-By streaming on your computer and connecting to the TV with an HDMI cable
-By mirroring or casting wirelessly to your TV or streaming device from your computer or mobile device
-By connecting to an ExpressVPN-enabled router, which allows for unlimited devices and makes it super simple to connect to different server locations simultaneously
-With MediaStreamer, ExpressVPN's solution for devices that cannot install a VPN, such as Apple TV or gaming consoles. MediaStreamer only needs to be set up once, although it does not provide the full security benefits of a VPN. (Note that by connecting your Apple TV or gaming console to a router, you can get the best of both worlds!)
For more information on all the ways to get ExpressVPN on your big-screen TV, click here or contact a 24/7 Support agent for step-by-step instructions.
I connected to the suggested VPN server location but I can't log in to the streaming service!
No worries! Server load changes rapidly (especially when lots of people are trying to watch certain events), but that's exactly why ExpressVPN has high-speed servers all over the world. If you're trying to access a site in the U.S. or Germany, for instance, try connecting to a different server location in those countries.
If you're trying to connect to a country with one server location, the first step is to check your location settings. If you're on a mobile device, disconnect from the VPN, turn off location services, then connect to the VPN again. On both Windows and Mac computers, you can turn off Location Services within the Privacy & Security settings menu.
For more help, you can always talk to a member of our Support Team, available 24/7 by live chat.
I connected to the VPN but my internet speed is slow
If your internet speed is slow or your streaming seems to lag, there are a few possible reasons:
-The distance of your selected VPN server location from your physical location
-Your connection type (wired connections are more reliable than wireless connections)
-Suboptimal interconnectivity between the VPN and your ISP
-Slow internet connection speed at your location
-Your device type and processing power
Try each of the following steps to troubleshoot:
-Download the latest version of ExpressVPN
-Connect to a different VPN server location
-Change your VPN protocol
If you try each of the above and are still experiencing issues with your streaming speed, contact the ExpressVPN Support Team 24/7 and someone will be with you in seconds.
What other streaming services can I watch with ExpressVPN?
ExpressVPN works seamlessly with all the most popular streaming apps from around the world. Using a VPN for streaming ensures you watch securely in blazing-fast HD with unlimited bandwidth, free from ISP throttling (which can sometimes slow down speeds). If you want to watch your favorite team from anywhere—even while traveling or on unsecured networks like public Wi-Fi—ExpressVPN is a great way to enhance your sports streaming experience.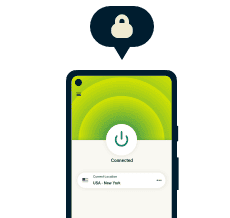 Need step-by-step streaming help?
24-HOUR LIVE CHAT SUPPORT