From basketball and cricket to Esports and chess, the 2023 Southeast Asian Games lacked no shortage of opportunities for premier athletes to shine. Competitors in nearly 40 sports flocked to Phnom Penh, Cambodia, for the 32nd SEA Games. Congratulations to Vietnam for winning its second straight SEA Games event and third all-time. We'll see you again in 2025 in Bangkok, Chonburi, and Songkhla!
Even if you can't secure a seat to watch the Southeast Asian Games, it's easy to get your fix by following the live broadcast online. Read on to learn how to live stream your favorite events securely with a VPN.
How to watch SEA Games online with a VPN
Cambodia Sports Television is offering free live streams of the 2023 Southeast Asian Games on its official YouTube channel. The Cambodia Sports Television's YouTube channel is an excellent source of free Southeast Asian Games coverage including both live streams and full events after the fact.
Get ExpressVPN.
Connect to a server location where YouTube is available.

Head to

the Southeast Asian Games' official YouTube channel.

Enjoy the action!
Want it on the big screen? Learn about all the ways to get ExpressVPN on your TV.
Where to watch the 2023 Southeast Asian Games
Although YouTube is the best way to watch the 2023 Southeast Asian Games online, the following services will broadcast the events locally:
| | |
| --- | --- |
| Country | Service |
| Cambodia | Cambodia Sports Television |
| Malaysia | RTM via TVOkey |
| Singapore | meWATCH |
| Thailand | TV Pool (3HD, 5HD, 7HD, MCOT HD, NBT2HD, GMM25, PPTV HD and T Sports) |
SEA Games schedule 2023
The 2023 Southeast Asian Games officially began with the opening ceremonies on Friday, May 5, and concluded with the closing ceremonies on Wednesday, May 17. You can find the complete schedule here.
SEA Games sports list 2023
Which sport are you most excited to see in the 2023 Southeast Asian Games? Here's the full list of events, as well as when you'll see your favorite sports.
| | |
| --- | --- |
| Sport | Dates |
| Athletics | May 6, May 8-12 |
| Badminton | May 8-16 |
| Basketball | May 6-7 (3×3); May 8-16 (5×5) |
| Beach volleyball | May 11-16 |
| Billiards | May 7-14 |
| Boxing | May 6-14 |
| Chess | May 6-9 (ouk chaktrang); May 11-16 (xiangqi) |
| Cricket | May 6-16 |
| Cycling | May 6-8 (mountain biking); May 11-13 (road race) |
| Dancesport | May 16 |
| Endurance races (aquathlon; duathlon; triathlon) | May 6-8 |
| Esports | May 6-15 |
| Fencing | May 11-16 |
| Floorball | May 11-16 |
| Football (Soccer) | May 6-16 |
| Golf | May 8-13 |
| Gymnastics | May 8-9 (artistic); May 13-14 (aerobic) |
| Hockey | May 6-7 (indoor); May 9-16 (field) |
| Indoor volleyball | May 6-14 |
| Jet ski | May 13-16 |
| Judo | May 13-16 |
| Martial arts | May 6-7 (Jujitsu); May 6-8 (Kun Bokator); May 6-9 (Vovinam); May 6-11 (Kun Khmer); May 13-16 (Arnis and kickboxing) |
| Obstacle race | May 6-7 |
| Pencak silat | May 6-10 |
| Pétanque | May 6-13 |
| Sailing | May 6-8 |
| Sepak takraw | May 6-16 |
| Soft tennis | May 6-10 |
| Table tennis | May 9-16 |
| Teqball (demonstration) | May 6-8 |
| Traditional boat race | May 14-15; May 16 |
| Weightlifting | May 13-16 |
| Wrestling | May 14-16 |
| Wushu | May 10-12 |
What are the SEA Games?
First held in 1958, the Southeast Asia Games is a biennial tournament featuring the 11 current countries of Southeast Asia: Brunei; Cambodia; Indonesia; Laos; Malaysia; Myanmar; the Philippines; Singapore; Thailand; Timor-Leste; and Vietnam. Thailand leads all countries with 2,345 gold medals and 6,472 total medals as of May 8, 2023.
When and where will the 2023 SEA Games be held?
The 2023 Southeast Games are being held in Phnom Penh, Cambodia, for the first time. Morodok Techo National Stadium serves as the SEA Games' main venue.
What is the theme of the SEA Games 2023?
The slogan of the 2023 SEA Games is "Sport: Live In Peace." We also suggest getting familiar with Borey and Rumduol, two rabbits who serve as the event's mascots.
ExpressVPN is a VPN service not intended to be used as a means of copyright circumvention. Please read the ExpressVPN Terms of Service and your content provider's Terms of Use for more details.
FAQ: About the 2023 Southeast Asian Games
Who will host the 2025 Southeast Asian Games?
Thailand is slated to host the 2025 Southeast Asia Games in December 2025. Bangkok, Chonburi, and Songkhla are expected to serve as the host cities.
Did Cambodia ever host the SEA Games?
Cambodia had never hosted the SEA Games before doing so in May 2023. Barring any unexpected schedule changes, Cambodia will not host the SEA Games again until 2035 at the earliest.
What is the aim of the Southeast Asian Games?
According to the Philippine Star, the SEA Games were founded to "promote better relations among the countries of peninsular Southeast Asia."
How many countries have covered the SEA Games in Southeast Asia?
The Southeast Asia Games currently feature 11 countries, up from six when the event began in 1959.
Can I stream sports on my computer?
Definitely. If you're accessing the streaming service from a web browser, be sure to also install the ExpressVPN extension for Chrome, Firefox, or Edge. The extension has a few features under the hood that can smooth out common streaming issues.
Can I stream sports on my phone or tablet?
How can I stream on my TV with a VPN?
In brief there are five different ways to stream sports on your TV with ExpressVPN:
-With the native app for a smart TV or streaming device
-By streaming on your computer and connecting to the TV with an HDMI cable
-By mirroring or casting wirelessly to your TV or streaming device from your computer or mobile device
-By connecting to an ExpressVPN-enabled router, which allows for unlimited devices and makes it super simple to connect to different server locations simultaneously
-With MediaStreamer, ExpressVPN's solution for devices that cannot install a VPN, such as Apple TV or gaming consoles. MediaStreamer only needs to be set up once, although it does not provide the full security benefits of a VPN. (Note that by connecting your Apple TV or gaming console to a router, you can get the best of both worlds!)
For more information on all the ways to get ExpressVPN on your big-screen TV, click here or contact a 24/7 Support agent for step-by-step instructions.
I connected to the VPN but my internet speed is slow
If your internet speed is slow or your streaming seems to lag, there are a few possible reasons:
-The distance of your selected VPN server location from your physical location
-Your connection type (wired connections are more reliable than wireless connections)
-Suboptimal interconnectivity between the VPN and your ISP
-Slow internet connection speed at your location
-Your device type and processing power
Try each of the following steps to troubleshoot:
-Download the latest version of ExpressVPN
-Connect to a different VPN server location
-Change your VPN protocol
If you try each of the above and are still experiencing issues with your streaming speed, contact the ExpressVPN Support Team 24/7 and someone will be with you in seconds.
I connected to the suggested VPN server location but I can't log in to the streaming service!
No worries! Server load changes rapidly (especially when lots of people are trying to watch certain events), but that's exactly why ExpressVPN has high-speed servers all over the world. If you're trying to access a site in the U.S. or Germany, for instance, try connecting to a different server location in those countries.
If you're trying to connect to a country with one server location, the first step is to check your location settings. If you're on a mobile device, disconnect from the VPN, turn off location services, then connect to the VPN again. On both Windows and Mac computers, you can turn off Location Services within the Privacy & Security settings menu.
For more help, you can always talk to a member of our Support Team, available 24/7 by live chat.
What other streaming services can I watch with ExpressVPN?
ExpressVPN works seamlessly with all the most popular streaming apps from around the world. Using a VPN for streaming ensures you watch securely in blazing-fast HD with unlimited bandwidth, free from ISP throttling (which can sometimes slow down speeds). If you want to watch your favorite team from anywhere—even while traveling or on unsecured networks like public Wi-Fi—ExpressVPN is a great way to enhance your sports streaming experience.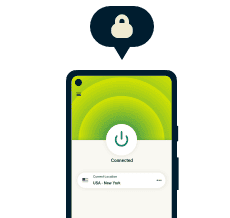 Need step-by-step streaming help?
24-HOUR LIVE CHAT SUPPORT