Congratulations to Jon Rahm, who became the fourth Spaniard to win The Masters on April 2. Rahm shot three-under-par 69 in his final round to hold off LIV Golf stars Brooks Koepka and Phil Mickelson. World No. 1 and reigning champion Scottie Scheffler finished tied for sixth. We'll see what happens in 2024, especially if Tiger Woods hits the links in search of his first major victory since 2019.
Read on to learn how to safely and securely stream The Masters for free using ExpressVPN!
How to live stream
The Masters

with a VPN from your country

You can stream The Master Tournament 2023 with a VPN by following just a few simple steps:
Connect to the VPN server location that matches the broadcaster you want to watch. For example, U.S. golf fans who want to securely live stream an American broadcaster should connect to a secure server in the U.S.

Check the schedule of the broadcaster you want to watch, such as

ESPN

, and find the event you want to stream.

Tune in and enjoy!
Watching on a computer? For the best streaming experience, use the ExpressVPN browser extension for Chrome, Firefox, or Edge.
Watch The Masters live online for free at Masters.com
Price: Free
The Masters offers comprehensive streaming from various vistas along the iconic Augusta National course. Just connect to a server location in the U.S. and watch golf in crystal clear HD.
The Masters Golf live Streaming app
You can stream the entire 2023 Masters tournament using the official The Masters Tournament app. Although the app is free to download, note that live video is only available in the United States. The app's Masters Vault also offers an exclusive video library featuring full-round replays, documentaries, and more.
Want it on the big screen? Learn about all the ways to get ExpressVPN on your TV.
Can I use a VPN to watch The Masters from another country?
ExpressVPN is a privacy and security service and should not be used as a means of copyright circumvention. We cannot see or control what you do while connected to our VPN, so you are responsible for complying with our Terms of Service, your content provider's terms, and any applicable laws.
Why do you need a VPN to watch The Masters online?
If you plan on watching The Masters, you'll want to do so with ExpressVPN protecting you along the way. Not only does ExpressVPN offer servers in 105 countries across the globe, all of which are optimized for speed and security, but you can stream The Masters on computers, smartphones, and even smart TVs and gaming consoles. You can have up to eight simultaneous connections, allowing you to watch your favorite players in blazing-fast HD.
Best VPN for watching The Masters in 2023
ExpressVPN is the best VPN for safely and securely streaming golf. Our high-speed servers allow you to enjoy every second, regardless of your device. ExpressVPN offers easy-to-use apps for Windows, Mac, Android, and iOS, as well as platforms that other VPN companies may not support, like Linux, Android TV, Amazon Fire TV, and routers, plus browser extensions for Chrome, Firefox, and Edge. If you need help along the way, ExpressVPN offers 24/7 live chat support and a risk-free 30-day money-back guarantee!
Key Features:
High-speed servers in 105 countries across the globe, all optimized for speed and security
Up to 8 simultaneous connections
5-star customer service with 24/7 live chat support
Strict privacy policy: No activity logs and no connection logs
Comprehensive support site filled with DIY troubleshooting articles, handy video tutorials, and more
The industry's most advanced VPN server technology, TrustedServer, wipes data on every reboot
Our advanced protection features help you block trackers and malicious sites, hide intrusive display ads, and filter out explicit content.
Next-gen Lightway protocol offers greater speeds, security, and reliability, especially on mobile
Where to watch The Masters 2023 live streams
ESPN and CBS 
Both ESPN and CBS are included with major U.S. cord-cutting services. ESPN provides early-round coverage and CBS provides will air the third and final rounds of the 2023 Masters Tournament in the U.S. Be sure to check the official schedule so you don't miss a single second of the action! You can watch the event with a variety of free trials.
Sling TV 
Price: 35 USD/month and up
Country: U.S.
Channels: ESPN, CBS
Sling TV provides access to both ESPN and CBS, ensuring golf fans can fully enjoy The Masters. However, please note that Sling TV no longer offers a free trial.
Watching on a computer? For the best streaming experience, be sure to use the ExpressVPN browser extension for Chrome, Firefox, or Edge.
Sky Sports
Price: 22 GBP/month and up
Country: United Kingdom
Channels: Sky Sports Golf
Living in the UK? Sky Sports remains your best bet for catching streams of The Masters. However, specialized equipment is required. You will also need to provide a valid postal code and a UK/Ireland credit or debit card.
If you're traveling abroad and you already have an existing Sky subscription (and the Sky Sports add-on), you can access Sky Go with a VPN and get set up in a minute!
Want it on the big screen? Learn about all the ways to get ExpressVPN on your TV.
YouTube TV
Price: 73 USD/month and up
Country: Worldwide (users can pay through Google Play)
Channels: ESPN, CBS
YouTube TV remains among the top options to safely and securely stream PGA Tour events, and The Masters are no exception. YouTube TV offers both CBS and ESPN. If you don't feel like committing to YouTube TV, use the 14-day free trial.
Want it on the big screen? Learn about all the ways to get ExpressVPN on your TV.
Fubo
Price: 75 USD/month
Channels: CBS, ESPN
Country: U.S.
How about another way to catch The Masters? Fubo (AKA the streaming service previously known as FuboTV) offers both CBS and ESPN, allowing golf fans to enjoy every round of The Masters. Use the seven-day free trial on Fubo to watch more golf and other sports like MLB and the NFL!
Note: You will need a U.S. credit/debit card to subscribe. The billing address used may determine which local channels are available, and you may be unable to change your location.
Watching on a computer? For the best streaming experience, use the ExpressVPN browser extension for Chrome, Firefox, or Edge.
Kayo
Price: 25 AUD/month and up
Country: Australia
Kayo Sports is an Australian sports streaming service that broadcasts The Masters (among other sports including AFL and motorsports). New customers can get a 14-day free trial. After that, the Basic plan is 25 AUD/month, and the Premium plan is 35 AUD/month. Note that you may need a valid Australian credit/debit card and phone number to use Kayo Sports.
TSN and CTV
Price: 20 CAD/month
Country: Canada
Viewers in Canada can watch The Masters live streams in English through TSN and CTV. If you're looking to catch the action in French, we suggest using RDS. Rather than use an American simulcast, TSN will have exclusive Canadian coverage with on-site analysis. 
Hulu + Live TV
Price: 77 USD/month
Country: U.S.
Channels: ESPN, CBS
Fret not, you'll be able to catch all four rounds of The Masters on Hulu! However, we must note that Hulu does not offer a free trial. 
Paramount+ 
Price: 6 USD/month and up
CBS airs some of golf's highest profile tournaments, including The Masters. While you can watch CBS on many of the cord-cutting services above, you can also stream CBS golf coverage on Paramount Plus, which is priced at just 6 USD per month and offers a 7-day free trial.
The Masters Tournament schedule
Make sure you fire up your VPN to safely and securely live stream The Masters!
| | |
| --- | --- |
| Date and time | Network and coverage |
| Thursday, April 6, 3-7:30 p.m. ET | ESPN, ESPN+ |
| Friday, April 7, 3-7:30 p.m. ET | ESPN, ESPN+ |
| Saturday, April 8, 3-7 p.m. ET | CBS, Paramount Plus |
| Sunday, April 9, 2-7 p.m. ET | CBS, Paramount Plus |
The Masters odds
Will Scottie Scheffler win The Masters? Here are the latest odds according to Action Network.
| | |
| --- | --- |
| Golfer | Odds |
| Scottie Scheffler | +700 |
| Rory McIlroy | +700 |
| Jon Rahm | +900 |
| Jordan Spieth | +1600 |
| Patrick Cantlay | +2000 |
| Justin Thomas | +2000 |
| Cameron Smith | +2200 |
ExpressVPN is a VPN service not intended to be used as a means of copyright circumvention. Please read the ExpressVPN Terms of Service and your content provider's Terms of Use for more details.
FAQ: About the 2023 Masters Tournament
Who won The Masters each year?
As of April 2023, 55 golfers have won The Masters. Horton Smith won the inaugural Masters in 1934 and finished first again two years later. Jack Nicklaus leads all golfers with six total victories at Augusta, although Tiger Woods can equal his total at this year's tournament. Woods previously won The Masters in 1997, 2001, 2002, 2005, and 2019.
Why is it called The Masters tournament?
According to the Golf Channel, the Masters was originally called the Augusta National Invitation Tournament. However, investment dealer and Augusta National Golf Club co-founder Clifford Roberts suggested the tournament be called The Masters in honor of the "masters of golf" who hit the links. After some initial pushback, Roberts got his way in 1939, and the name stuck!
How much do Masters tickets cost in 2023?
A weeklong Masters badge costs fans 450 USD, the highest price ever for tournament badges and a 75 USD increase from 2022. If you feel like justifying the cost to yourself, remember that tickets break down to roughly 112 USD per day; and who could put a price on watching history?!
Can I stream sports on my computer?
Definitely. If you're accessing the streaming service from a web browser, be sure to also install the ExpressVPN extension for Chrome, Firefox, or Edge. The extension has a few features under the hood that can smooth out common streaming issues.
Can I stream sports on my phone or tablet?
How can I stream on my TV with a VPN?
In brief there are five different ways to stream sports on your TV with ExpressVPN:
-With the native app for a smart TV or streaming device
-By streaming on your computer and connecting to the TV with an HDMI cable
-By mirroring or casting wirelessly to your TV or streaming device from your computer or mobile device
-By connecting to an ExpressVPN-enabled router, which allows for unlimited devices and makes it super simple to connect to different server locations simultaneously
-With MediaStreamer, ExpressVPN's solution for devices that cannot install a VPN, such as some streaming consoles or gaming consoles. MediaStreamer only needs to be set up once, although it does not provide the full security benefits of a VPN.
For more information on all the ways to get ExpressVPN on your big-screen TV, click here or contact a 24/7 Support agent for step-by-step instructions.
I connected to the VPN but my internet speed is slow
If your internet speed is slow or your streaming seems to lag, there are a few possible reasons:
-The distance of your selected VPN server location from your physical location
-Your connection type (wired connections are more reliable than wireless connections)
-Suboptimal interconnectivity between the VPN and your ISP
-Slow internet connection speed at your location
-Your device type and processing power
Try each of the following steps to troubleshoot:
-Download the latest version of ExpressVPN
-Connect to a different VPN server location
-Change your VPN protocol
If you try each of the above and are still experiencing issues with your streaming speed, contact the ExpressVPN Support Team 24/7 and someone will be with you in seconds.
I connected to the suggested VPN server location but I can't log in to the streaming service!
No worries! Server load changes rapidly (especially when lots of people are trying to watch certain events), but that's exactly why ExpressVPN has high-speed servers all over the world. If you're trying to access a site in the U.S. or Germany, for instance, try connecting to a different server location in those countries.
If you're trying to connect to a country with one server location, the first step is to check your location settings. If you're on a mobile device, disconnect from the VPN, turn off location services, then connect to the VPN again. On both Windows and Mac computers, you can turn off Location Services within the Privacy & Security settings menu.
For more help, you can always talk to a member of our Support Team, available 24/7 by live chat.
What other streaming services can I watch with ExpressVPN?
ExpressVPN works seamlessly with all the most popular streaming apps from around the world. Using a VPN for streaming ensures you watch securely in blazing-fast HD with unlimited bandwidth, free from ISP throttling (which can sometimes slow down speeds). If you want to watch your favorite team from anywhere—even while traveling or on unsecured networks like public Wi-Fi—ExpressVPN is a great way to enhance your sports streaming experience.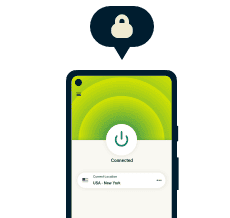 Need step-by-step streaming help?
24-HOUR LIVE CHAT SUPPORT