Note: Some websites block the IP addresses of VPN providers, including ExpressVPN. Connecting to a different ExpressVPN server location often solves the issue. Though we cannot guarantee that a specific site will always function when you connect to our service, we urge you to contact our Support Team for up-to-the-minute advice and to let us know where to concentrate our efforts.
This article is for users who have connected to ExpressVPN but have trouble accessing certain sites.
Before proceeding, make sure you're using the latest version of the ExpressVPN app.
Turn your VPN back on, then check your IP to ensure you're really connected to ExpressVPN.
Try to access the site or service you want to use. If it is still blocked, or if you encounter a proxy error, try connecting to a different VPN location. If the service is a popular one, our Support Team may be able to recommend a suitable VPN location.
Some services may also request to know your location.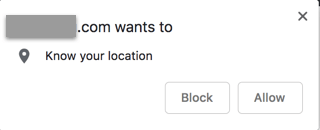 If you see this notification and are running Mac or Windows, make sure you have installed and are using the ExpressVPN browser extension.
If you're on a mobile device, make sure you have turned off your device's location setting before connecting to the VPN.