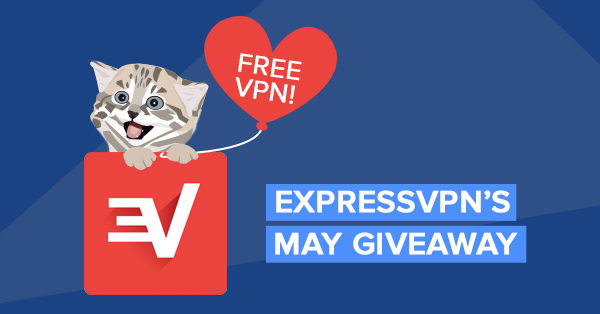 This competition is over. But you can get an ExpressVPN discount here.
After the success of our Easter Giveaway, many of you wrote us hoping for another shot at winning a year-long subscription to our service. Don't miss your chance to win this time around!
Not yet a subscriber? Enter for a chance to win a free one-year subscription worth 99.95 USD!
Existing customer? You're still eligible to enter. If you are chosen as our lucky winner, we'll add 12 FREE months to your current subscription.
How to enter
There are many ways to enter. Enter below. Increase your chance of winning by entering as many ways as you can!
ExpressVPN May giveaway – 10 FREE one-year subscriptions!
Closing date for entry will be May 25th, 2015 at 11:59 PM EST. After this date the no further entries to the competition will be permitted.  Please read the Terms & Conditions in the competition widget for more information.
About ExpressVPN
ExpressVPN is a fast, secure, and reliable VPN with easy-to-use apps for Windows, Mac, Android, iOS, and Routers (We support Linux, too!).
Use ExpressVPN with unlimited bandwidth allowance to avoid ISP throttling and enhance your Internet security and privacy.