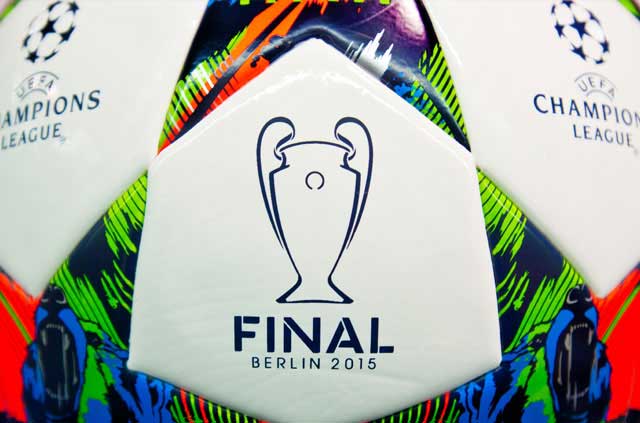 Last night Champions League title holders Real Madrid faced off against Juventus. Real Madrid came out strong in the first half, with Cristiano Ronaldo finding the side netting through a penalty won by James Rodriguez. But the Spanish giants were fighting a losing battle since losing the first leg of the draw. Juventus battled back to equalize through a goal by ex-Madrid forward Morata, which sent Real Madrid sprawling out and propelled Juventus into their first Champions League final since 2004.
This year, the final takes place in the Olympiastadion in Berlin, on June 6th, 2015. It promises to be a night full of fireworks.
For football fans, the Champions League is available to stream on many free online channels, including ITV player in the UK, TF1 in France,  TVE in Spain, ZDF in Germany, RTE in Ireland, Digisport in Romania, and TEN Sports in India/Pakistan.
You can use ExpressVPN to help secure your Internet connection and avoid ISP throttling on your laptop, tablet, or smartphone.
How does it work?
Sign up to a ExpressVPN account by clicking here.
Install ExpressVPN on your device. Enjoy easy-to-use apps for Windows, Mac, Android, iOS, Routers, and Linux.
Connect to a server in a country that's showing the game
Relax knowing your connection is secure.
The long route to the Champions League final for Barcelona and Juventus:
Juventus results
Real Madrid 2 – 3 Juventus
(Juventus win on aggregate)
Dortmund 0 – 3 Juventus
Monaco 0 – 1 Juventus
Dortmund 0 – 3 Juventus
Juventus 2 – 1 Dortmund
Juventus 0 – 0 Atletico Madrid
Malmo 0 – 2 Juventus
Juventus 3 – 2 Olympiacos
Olympiacos 1 – 0 Juventus
Atletico Madrid 1 – 0 Juventus
Juventus 2 – 0 Malmo
Barcelona results
Bayern Munich 3-5 Barcelona
(Barcelona win on aggregate)
Barcelona 2 – 0 Paris Saint Germain
Paris Saint Germain 1 – 3 Barcelona
Barcelona 1 – 0 Man City
Man City 1 – 2 Barcelona
Barcelona 3 – 1 Paris Saint Germain
Apoel Nicosia 0 – 4 Barcelona
Ajax 0 – 2 Barcelona
Barcelona 3 – 1 Ajax
Paris Saint Germain 3 – 2 Barcelona
Barcelona 1 – 0 Apoel Nicosia
This year's Champions League final takes place on 6th June and you can watch it LIVE online on the ITV Player using ExpressVPN!