There are countless ad-blockers available for your browser, so what makes uBlock Origin worthy of your attention? Well, if you've ever noticed web pages loading slower with your ad blocker enabled, uBlock Origin could be for you. It's built with efficiency in mind, so it uses up less memory and CPU time. That means you can browse faster while still blocking unwanted content.
As well as removing obtrusive ads from your favorite sites, uBlock Origin can also help protect your privacy. The program comes with filter lists for removing tracking servers, malware domains and more.
uBlock Origin is available as a simple browser extension for several of the most popular browsers. It's also free and open-source. Here's ExpressVPN's review.
How uBlock Origin works
Like any ad-blocker, uBlock Origin is essentially a content filter for your browser. It works in conjunction with filter lists, which tell the program which content to block from your browser. For that reason, there are always two important things to consider when choosing a blocker: the quality of the program itself, and the quality of the filter lists it comes packaged with.
uBlock Origin comes with several well-maintained filter lists. These include the EasyPrivacy List, Malware Domains list, AdServer List and Advanced Tracking List. uBlock Origin matches the content your browser attempts to load against your active filter lists. The program then filters out ads, tracking servers, malware sites and so on.
Solving the slow ad blocker problem
The more filter lists you include in your ad blocker, the more matching and blocking your computer has to do. That's why ad blockers slow down your browser – they're giving it a lot more work!
uBlock Origin has been praised by many tech reviewers for having a lighter CPU and memory footprint. When loading a web page, the program is able to load the filters needed by just that web page, instead of the entire universal filter list. This leads to faster browser start-up and web page loading.
Create your own filter lists
Another advantage of uBlock Origin is its ability to use more types of filter lists than other blockers. The program supports most of Adblock Plus' filter syntax. Hosts files can also be imported. This allows advanced users to create their own filters – and for everyone else, it provides access to useful lists maintained by internet communities.
The difference between uBlock Origin and uBlock
If you Google "uBlock Origin," you might see links for both it and another program simply called uBlock. Both were originally authored by Raymond Hill, but only uBlock Origin continues to be maintained by Hill.
Available for Chrome and Firefox
uBlock Origin is available as an extension for the Chrome and Firefox browsers. So if you're using Safari, Internet Explorer or something else, you're out of luck.
Installing and setting up uBlock Origin
Getting uBlock Origin is as simple as adding a Chrome extension or Firefox add-on – which is pretty darn simple. The standard ad, privacy and malware filters are enabled by default, so you're protected straight away.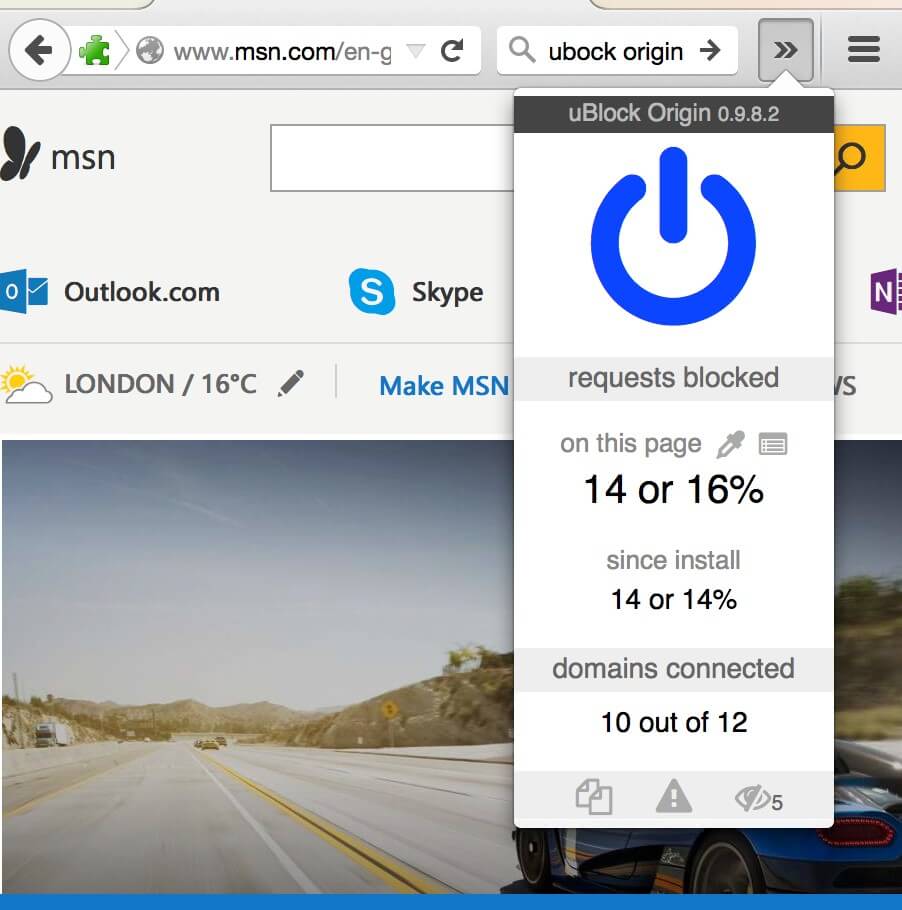 Once it's installed, you'll see the shield icon next to your address bar. Clicking the icon opens a control pop-up, with a power button that lets you switch the blocker on and off for individual sites.
Verdict: A faster blocker with privacy filters
uBlock Origin is a fast, lightweight content blocker that provides plenty of filter lists for protecting your privacy and blocking ads. If your current ad blocker is slowing you down, or it doesn't offer privacy filters, uBlock Origin could be worth checking out.
Click here to read more ExpressVPN reviews
Click here to go back to ExpressVPN's internet privacy guides