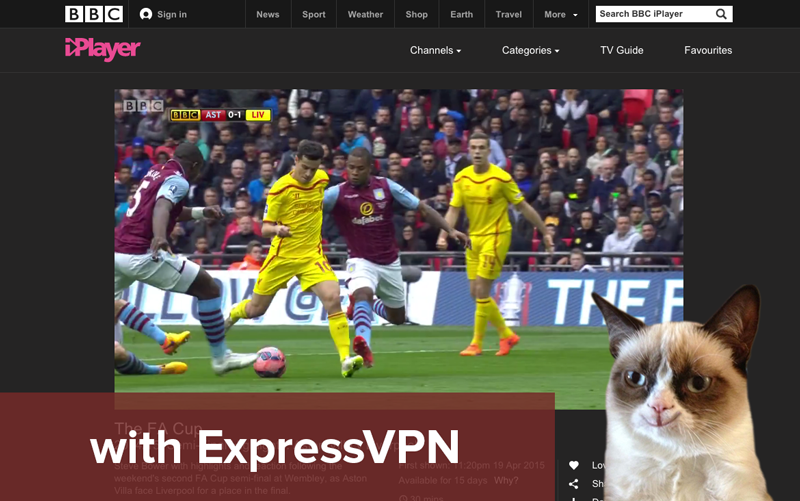 For football fans all around the globe, the FA Cup Final is one of the biggest global football events in the world.
This year, Arsenal have been paired up with Aston Villa to grace the Wembley stadium turf on May 30th 2015.
Stream the FA Cup Final with ExpressVPN to encrypt your ISP and bypass Internet throttling.
You can use a VPN to stream the FA Cup to improve load times and secure your connection!
The below screenshot shows BBC iPlayer using ExpressVPN!
How does streaming the game with ExpressVPN work?
Simply turn on ExpressVPN and connect to the server location where the event is being held. Your speeds will be fast and you can watch the game without fear of buffering.
In just 3 quick and easy steps, you can start watching the game live:
1. Sign up for an ExpressVPN account by clicking here.
2. Install ExpressVPN on your device – we have easy to use apps for most platforms such as Windows, Mac, Android, iOS, Routers, and Linux.
3. Go to BBC iPlayer and watch the game!
So how did Arsenal and Aston Villa get here?
Arsenal results
Semi-Final : Reading 1 – 2 Arsenal
6th Round  : Man Utd 1 – 2 Arsenal
5th Round : Arsenal 2 – 0 Middlesbrough
4th Round : Brighton 2 – 3 Arsenal
3rd Round : Arsenal 2 – 0 Hull
Aston Villa results
Semi-Final : Aston Villa 2 – 1 Liverpool
6th Round  : Aston Villa 2 – 0 West Brom
5th Round : Aston Villa 2 – 1 Leicester
4th Round : Aston Villa 2 – 1 Bournemouth
3rd Round : Aston Villa 1 – 0 Blackpool
The FA Cup Final takes place on 30th May. Let's hope for a great game!
So what are you waiting for? Get ExpressVPN today!