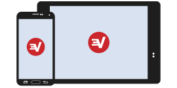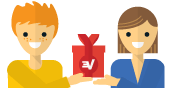 This guide will show you how to configure your Android device (running Android 4.1 and later) so you can download apps that aren't available in the Google Play store.
You can also download the ExpressVPN Android app APK via Amazon.
Note: After following the below steps, any software you choose to install can run on your device. Please exercise caution so that you don't install anything from suspicious sources or click links that add harmful files onto your system. You are responsible for ensuring the validity of applications installed.
Go to your phone's Settings screen.
In Settings, tap on Security or (for earlier versions of Android) Applications. Your device may have a slightly different name for this.
Under Security (or Applications), go to Unknown sources and check the box or toggle the switch to allow app installs outside of the Google Play store.
You will be warned that installing from unknown sources can result in harmful applications being downloaded to your device. Tap OK to proceed. ExpressVPN recommends using caution when downloading or clicking on any untrusted links.
You have now enabled downloads from outside the Google Play Store. To find an app to download, use Google Chrome or your device's stock browser to search for and download the APK of the app you want.
Once the download is complete, go to Downloads and locate the file you just downloaded.
Open the file and install the app.
Need help? Contact the ExpressVPN Support Team for immediate assistance.