How to watch horse racing events online for free
To enjoy horse racing live streams:
Connect to a secure server location that matches your desired broadcaster. For example, British fans who want to watch ITV's racing coverage should connect to a server in the UK. 
Check the broadcaster's schedule for time and date.

Tune in and enjoy the event!
ITV
Price: Free
Country: UK
Channels: ITV1 / ITV4
ITV has agreed to a new three year deal to show exclusive, free-to-air coverage for UK fans until the end of 2026. Over 100 days of live coverage will be shown across ITV1 and ITV4 each year – all simulcast on ITVX. The deal encompasses UK racing's Crown Jewel events with the Grand National, the Cheltenham Festival, Royal Ascot and the Derby all featuring.
Note: You may need to supply a valid UK postal code (e.g., WC1X 0AA).
7plus
Price: Free
Country: Australia
Channel: 7Racing
In Australia, the Seven network lets you watch live horse racing events from all over the country online for free. Australian fans can use 7plus to keep up with the highlights or catch the action as it happens in real time.
Note: You may need to provide an Australian postcode like 2001 or 3001.
RaiPlay
Price: Free
Country: Italy
Channel: Rai Sport
RaiPlay is great way for Italian fans to watch horse racing events live streams for free. The free streaming service also lets you watch other sports, as well as Italian TV and movies.
Note: The commentary is in Italian.
Can I use a VPN to watch horse racing events from another country?
ExpressVPN is a privacy and security service and should not be used as a means of copyright circumvention. We cannot see or control what you do while connected to our VPN, so you are responsible for complying with our Terms of Service, your content provider's terms, and any applicable laws.
Why do you need a VPN to watch horse racing events online?
A premium VPN like ExpressVPN is the perfect way to live stream horse racing events securely. Not only does ExpressVPN offer high-speed servers in 105 countries across the world, optimized for streaming and security, but with a VPN you can live stream every game across your devices and even on your smart TVs and gaming consoles. Securely live stream horse races with a VPN on up to eight simultaneous connections, allowing you to watch your favorite teams at home, on the go or even abroad.
Best VPN for watching horse racing events
ExpressVPN is the best VPN for safely and securely streaming horse racing events. With next-gen 10-Gbps servers in locations around the world, you'll never miss a single minute of the action. ExpressVPN has easy-to-use apps for Windows, Mac, Android, and iOS, as well as platforms that other VPN companies may not support, like Linux, Android TV, Amazon Fire TV, and routers, plus browser extensions for Chrome, Firefox, and Edge. If you need help along the way, ExpressVPN offers 24/7 live chat support and a risk-free 30-day money-back guarantee!
Key Features:
High-speed servers in 105 countries across the globe, all optimized for speed and security
Up to 8 simultaneous connections
5-star customer service with 24/7 live chat support
Strict privacy policy: No activity logs and no connection logs
Comprehensive support site filled with DIY troubleshooting articles, handy video tutorials, and more
The industry's most advanced VPN server technology, TrustedServer, wipes data on every reboot
Our advanced protection features help you block trackers and malicious sites, hide intrusive display ads, and filter out explicit content.
Next-gen Lightway protocol offers greater speeds, security, and reliability, especially on mobile
Where to watch horse racing events in your country
Peacock TV
Price: 6 USD/month and up
Country: U.S.
Peacock offers Americans coverage of the biggest horse races, including the Breeders' Cup Challenge Series and Royal Ascot. A free trial is available. You may need a valid U.S. credit/debit card to subscribe to Peacock TV. Check the official schedule to know when to tune in.
Note: You will need a valid U.S. credit/debit card to subscribe to Peacock TV.
NBC
Country: U.S.
NBC Sports is the exclusive home to the most important and prestigious events in horse racing, including the Kentucky Derby, Preakness Stakes, the Breeders' Cup World Championships, Royal Ascot, and Pegasus World Cup Championship Invitational Series. Viewers from the United States can take advantage of a variety of free trials available through cord-cutting streaming services that carry NBC, including Fubo (75 USD/month), Sling TV Orange (40 USD/month and up), and YouTube TV (73 USD/month).
Note: You may need a U.S. billing address, postal code, and credit card to subscribe to Sling TV or DirecTV Stream.
NOW
Price: 35 GBP/month or 12 GBP/day pass
Country: UK
Channel: Sky Sports Racing
NOW is the perfect way for British users to stream 11 Sky Sports channels online contract-free, including coverage of some of the biggest horse racing events. If you only want to tune in to one particular race, you can also buy a day pass or take advantage of NOW's seven-day free trial.
Sky Sports
Sky Sports Racing has the rights to 25 UK racecourses including Ascot, Chester, and Doncaster. Internationally the channel has rights to racing from France, Hong Kong, the Melbourne Cup Carnival, US Triple Crown, and the Breeders' Cup. Sky Sports is available to UK and Ireland residents only and requires a contract. However, subscribers can also watch all of the action online via the Sky Go apps for desktop, iOS, and Android.
Want it on the big screen? Learn about all the ways to get ExpressVPN on your TV.
Follow the latest horse racing updates on BBC
Looking for the latest news and expert analysis? The BBC is the premier destination for fans who want up-to-the-minute news and coverage.
Head to the BBC for the latest horse racing coverage from BBC Sport!
2023 horse racing schedule
| | | |
| --- | --- | --- |
| Event | Date | Location |
| Golden Slipper | March 18, 2023 | Sydney, Australia |
| Dubai World Cup | March 25, 2023 | Dubai, UAE |
| Country Championships Final | April 1, 2023 | Sydney, Australia |
| Grand National | April 13-15, 2023 | Liverpool, UK |
| Nakayama Grand Jump | April 15, 2023 | Funabashi, Japan |
| Kentucky Derby | May 6, 2023 | Louisville, Kentucky, U.S. |
| Preakness Stakes | May 20, 2023 | Baltimore, Maryland, U.S. |
| The Derby | June 2-3, 2023 | Surrey, UK |
| Belmont Stakes | June 11, 2023 | Elmont, New York, U.S. |
| Royal Ascot | June 20-24, 2023 | Ascot, UK |
| Prix de l'Arc de Triomphe | September 30-October 1, 2023 (provisional) | Paris, France |
| British Champions Day | October 21, 2023 | Ascot, UK |
| Caulfield Cup | October 21, 2023 | Melbourne, Australia |
| Cox Plate | October 28, 2023 (possible move to Nov 25) | Melbourne, Australia |
| Breeders' Cup | November 3-4, 2023 | Arcadia, California |
| Melbourne Cup | November 7, 2023 | Melbourne, Australia |
| Welsh Grand National | December 27, 2023 | Chepstow, UK |
ExpressVPN is a VPN service not intended to be used as a means of copyright circumvention. Please read the ExpressVPN Terms of Service and your content provider's Terms of Use for more details.
FAQ for streaming sports
Can I stream sports on my computer?
Can I stream sports on my phone or tablet?
How can I stream on my TV with a VPN?
In brief there are five different ways to stream sports on your TV with ExpressVPN:
With the native app for a smart TV or streaming device
By streaming on your computer and connecting to the TV with an HDMI cable
By mirroring or casting wirelessly to your TV or streaming device from your computer or mobile device
By connecting to an ExpressVPN-enabled router, which allows for unlimited devices and makes it super simple to connect to different server locations simultaneously
With MediaStreamer, ExpressVPN's solution for devices that cannot install a VPN, such as some streaming consoles and gaming consoles. MediaStreamer only needs to be set up once, although it does not provide the full security benefits of a VPN.
For more information on all the ways to get ExpressVPN on your big-screen TV, click here or contact a 24/7 Support agent for step-by-step instructions.
I connected to the suggested VPN server location but I can't log in to the streaming service!
No worries! Server load changes rapidly (especially when lots of people are trying to watch certain events), but that's exactly why ExpressVPN has high-speed servers all over the world. If you're trying to access a site in the U.S. or Germany, for instance, try connecting to a different server location in those countries.
If you're trying to connect to a country with one server location, the first step is to check your location settings. If you're on a mobile device, disconnect from the VPN, turn off location services, then connect to the VPN again. On both Windows and Mac computers, you can turn off Location Services within the Privacy & Security settings menu.
For more help, you can always talk to a member of our Support Team, available 24/7 by live chat.
I connected to the VPN but my internet speed is slow
If your internet speed is slow or your streaming seems to lag, there are a few possible reasons:
-The distance of your selected VPN server location from your physical location
-Your connection type (wired connections are more reliable than wireless connections)
-Suboptimal interconnectivity between the VPN and your ISP
-Slow internet connection speed at your location
-Your device type and processing power
Try each of the following steps to troubleshoot:
-Download the latest version of ExpressVPN
-Connect to a different VPN server location
-Change your VPN protocol
If you try each of the above and are still experiencing issues with your streaming speed, contact the ExpressVPN Support Team 24/7 and someone will be with you in seconds.
What other streaming services can I watch with ExpressVPN?
ExpressVPN works seamlessly with all the most popular streaming apps from around the world. Using a VPN for streaming ensures you watch securely in blazing-fast HD with unlimited bandwidth, free from ISP throttling (which can sometimes slow down speeds). If you want to watch your favorite team from anywhere—even while traveling or on unsecured networks like public Wi-Fi—ExpressVPN is a great way to enhance your sports streaming experience.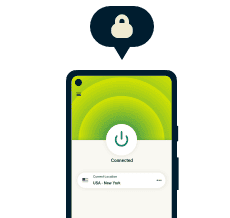 Need step-by-step streaming help?
24-HOUR LIVE CHAT SUPPORT