The truth is out there. At least it is according to U.S. Air Force officer and UFO whistleblower David Grusch. In early June, 2023, Grusch publicly announced that he had been part of a task force related to researching UAP (unidentified aerial phenomena). Among his claims were that people he worked with had confirmed the existence of craft of non-human origin built and operated by non-human intelligence.
Read more: How to stay anonymous when blowing the whistle
Over the past several years, the UAP/UFO phenomenon has slowly gained more traction. In 2019, videos were leaked showing fighter jets based aboard the aircraft carriers USS Nimitz and USS Theodore Roosevelt engaging with UFOs that resembled Tic Tacs. This started a conversation which included a fascinating interview between the Washington Post and Luis Elizondo, who is a former U.S. Army Counterintelligence Special Agent, and former employee of the Office of the Under Secretary of Defense for Intelligence.
On June 11, TV network NewsNation aired an interview between Australian investigative journalist Ross Coulthart and Grusch where the latter went into detail on particulars like recovered non-human craft, corpses of deceased non-human pilots, and information on potential non-human factions in contact with various world governments.
However, since the interview's release, many around the world have found themselves unable to access the video, due to technicalities resulting in a block on the NewsNation site in European countries.
How to watch the 2023 UFO whistleblower revelations
Sign up for ExpressVPN

and its blazing-fast service.

Select a secure VPN location in the

U.S.

Watch the

special on NewsNation
Scratch that. Maybe the truth is already here.
Read more: 5 best UFO documentaries to stream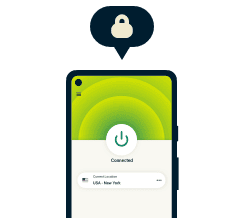 Privacy should be a choice. Choose ExpressVPN.
30-day money-back guarantee