There's a whole crowd of password managers forming on the internet, and they're all competing to be the app you trust most with your login details. They're also competing for your hard-earned money – because most of these apps aren't free. You'll generally get to use them for a month at no cost, before losing important features like syncing across devices behind the paywall.
Choosing between password managers is getting more difficult by the week too, because they all offer roughly the same features. LastPass, the focus of the latest password manager review, doesn't really stand out from the crowd with unique, must-have gimmicks. But as you're about to see, it covers the essentials really well.
And while you will need a Premium subscription to make full use of LastPass long-term, it's pretty cheap at only $12 per year.
Could this be your ideal password manager? Let's take a look.
So many apps
LastPass is a free download for Windows, Mac, Linux, iOS, and Android. It also has free apps for other mobile systems like Firefox Mobile, Windows Phone, and Surface RT. That's a pretty good spread of platform compatibility by anyone's standards.
LastPass features

LastPass doesn't really wow with unique features, but it covers most of the things you'll need from a password manager. Features include:
"Save as you go" passwords for new sites, via the browser extension
Auto-fill logins and online shopping info
Centralized login data, synced across all of your devices
Secure notes for important information like credit cards and Wi-Fi logins
Automatic strong password generation
Nice and easy setup
On desktop, LastPass has a nice and easy setup process that automates a lot of the more tedious tasks associated with installing a password manager.
It automatically finds all the browsers on your system and lets you choose which ones to install LastPass on. It then automatically downloads and installs the LastPass extension for each browser you chose. And, it finds the passwords saved in your browsers and offers to migrate them to LastPass.
It's probably the most convenient setup service of any of the password managers reviewed so far.
Save as you go passwords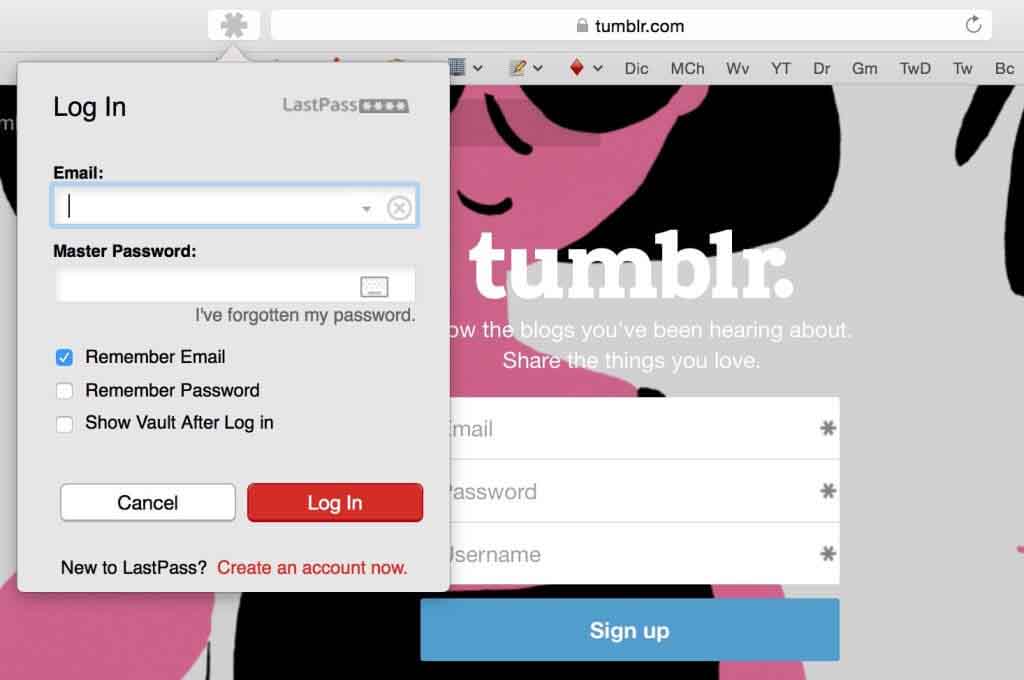 In your browser, with the LastPass extension installed you'll see a grey asterisk button added to every field in web forms. Clicking this gives you options like auto-fill and 'Save this site,' and the whole user experience is nice and smooth.
LastPass master passwords aren't 100% secure
A key feature of some other password managers, like Dashlane and 1Password, is that they don't store your master password anywhere. This means nobody can ever steal it, but it also means no password reminders. If you forget your password, you need to start over.
LastPass goes down a different route – it does store you master password, and you can get a reminder. So it's less secure and less private, but it's also a little more convenient.
Talk about pricing – $12 per year
Going premium with LastPass unlocks extra features like syncing across the full range of apps (and there are a lot), family sharing and multifactor authentication. If you use a non-Apple or Android mobile device, LastPass's range of apps could be useful. And $1 per month sounds like pretty good value.
Verdict: Cheap and easy to use, but less secure
LastPass is pretty great in terms of ease-of-use, cost and its range of apps. If security and privacy are your top priorities, you may prefer a password manager that doesn't store your master password. Otherwise, LastPass could tick all your boxes.
Click here to read more ExpressVPN reviews
Click here to go back to ExpressVPN's internet privacy guides