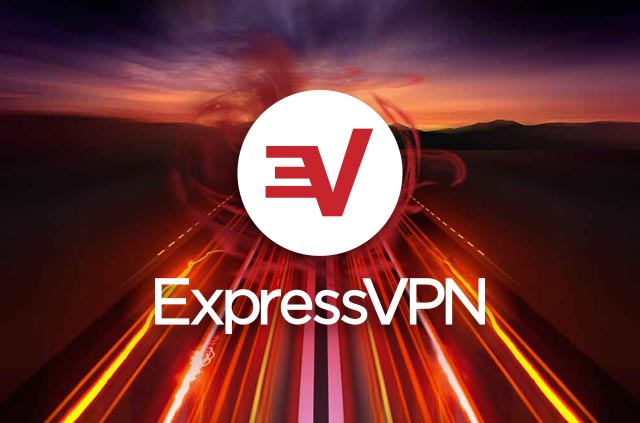 Use the VPN Speed Test for Windows
Wondering how to get the fastest speeds from your VPN? This blog post will show you how to use the Speed Test function in ExpressVPN for Windows.
What Is the Speed Test?
The Speed Test is a useful tool for helping you decide which VPN server locations will give you the fastest speeds when you connect to them.
How to Run the Speed Test
To run the Speed Test, open up ExpressVPN on your Windows computer. On the home screen, click the hamburger menu (≡), then click Speed Test.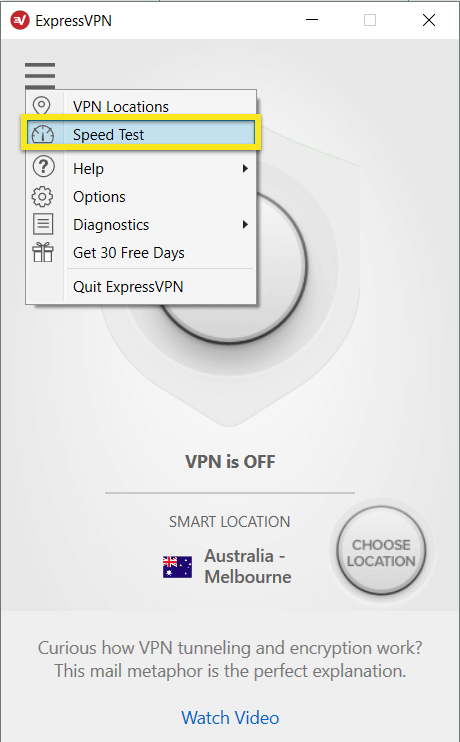 On the Speed Test screen, click Run Test. The test will take a few minutes to run. Please be patient! It's worth the wait. 🙂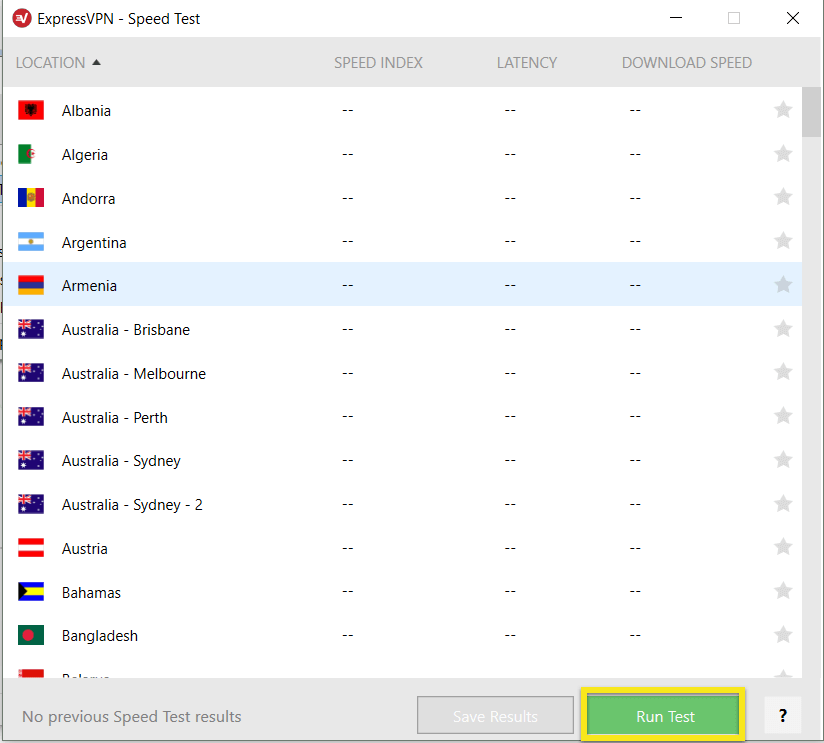 (If you don't want to wait for the test to finish, you can stop it by clicking "Stop Test.")
How to Interpret Your Speed Test Results
The Speed Test measures Latency and Download Speed, then combines these measurements into the Speed Index. You can sort your Speed Test results by clicking on the column labels.
Latency
Latency measures the amount of time it takes for data to move from your computer to the VPN server location. Latency is measured in milliseconds. The lower the Latency, the better. Generally speaking, the farther away the server location is, the higher the latency will be.
Download Speed
Download Speed measures how much data was transferred per second. Download Speed is measured in kilobits per second. The higher the Download Speed, the better.
Speed Index
Speed Index combines the Latency and Download Speed results. The higher the Speed Index, the better. The Speed Index is the most useful metric of these three.
How to Use Your Speed Test Results
The location with the highest Speed Index is the best for general web browsing.
If you're trying to access websites or content from a specific country, then choose the server location with the highest Speed Index in that country.
For example, if you want to access U.S. content, then you'll want to connect to the server location in the USA with the highest Speed Index. In the screenshot below, that would be "USA – Los Angeles".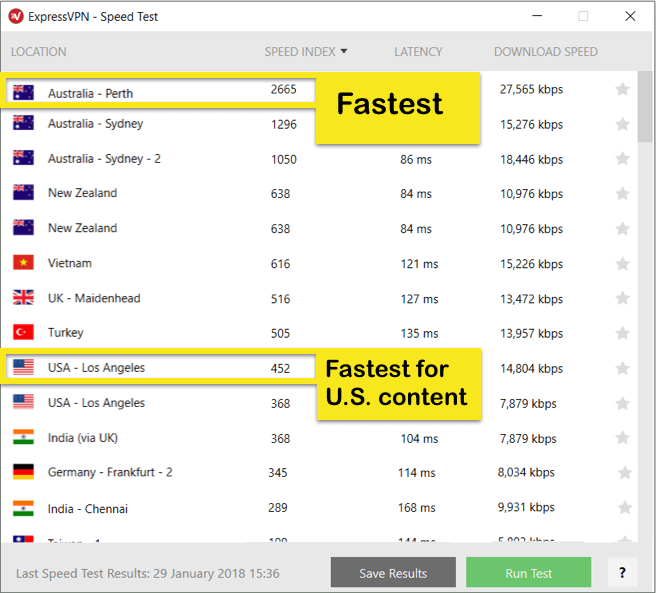 The app will remember the last few locations you've used. You can also click on the stars ⭐️ next to your favorite locations to mark them as your favorites. 😀
You can access your recent and favorite locations by opening the Location Picker and clicking on the tab labeled with a star ⭐️.
Try It Yourself!
Give it a go! Run the Speed Test and connect to the server location with the best Speed Index. Then let us know: Is it giving you better speeds?
If you have any questions, please contact us and we'll help you connect to the best location for your needs.
We hope you enjoy the new Speed Test! 🙂
Featured image: James Thew / Dollar Photo Club