Even if you've never used Grammarly, you've probably heard of it, thanks to its intensive use of ads on platforms like YouTube. 
Grammarly helps to correct your writing as you type. But have you ever wondered if it's truly safe to grant the virtual red pen access to your words? We have, which is why we've decided to delve into the inner workings of Grammarly to see which security measures it takes to protect your privacy. 
And our conclusion is that yes, you can use Grammarly with confidence in your privacy for many writing tasks—but it's not worth using the service when writing highly confidential or personal information, since under some circumstances, Grammarly does save your words on their servers. Read on to find out how it works.
Grammarly at a glance
Grammarly, an online grammar checker and proofreading tool, helps you identify spelling, punctuation, grammar, and sentence structure issues and offers real-time assistance to enhance clarity, cohesion, fluency, and vocabulary. 
Powered by AI algorithms, Grammarly's features, accessibility, user-friendliness, and accuracy have made it the go-to proofreading and writing tool for many—even seasoned content creators. 
Grammarly Features
Description

Great for 

Checking emails, business communication, academic writing, creative writing, résumés and cover letters, social media posts, and English language learners 

Languages

English only. However, it recognizes spelling, grammar, and punctuation differences in American, British, Canadian, Australian, and Indian English

English fluency 

Beginner, intermediate, and advanced

Tools

Grammar and spelling check, writing style suggestions, vocabulary enhancement, plagiarism checker, sentence structure analysis, and virtual grammar handbook 

AI techniques

Machine learning, deep learning, natural language processing

Browser extension

Chrome

,

Safari

,

Firefox

, and

Edge

Desktop app

Grammarly app for Windows and Mac

Mobile apps

Grammarly Keyboard for Android and iOS smartphones

Google Docs extension

Beta feature available for Google Chrome users (via Grammarly browser extension)

Account types

Free Account, Premium Account, Business Account

Cost

Premium: 30 USD per month; Business: 15 USD per month per user
Does Grammarly save what you type?
When you use Grammarly, it seems to be reading everything you type, offering suggestions and corrections. Does this mean Grammarly is indeed reading or possibly recording your words—which could contain private and confidential information?
The text you submit undergoes analysis by the platform's algorithms. This includes checking for grammar mistakes, spelling errors, punctuation issues, style inconsistencies, and clarity problems. The content is transmitted to Grammarly's servers, where it's processed and dissected by AI algorithms. 
Grammarly uses machine learning to continuously develop and refine its algorithms. By utilizing the text submitted by users as a training ground, Grammarly aims to improve the accuracy of its suggestions over time. While this analysis can provide valuable feedback and improvements, it has raised concerns about the privacy and security of user content.
Whether it's via the browser extension or its various desktop and mobile applications, Grammarly does retain some of your text on its servers. This is because it needs to access the text you're typing in order to provide grammar and spelling suggestions. However, according to the U.S.-based company, it doesn't save all of the text you type—only the text you have actively written in a document or email (i.e. Grammarly does not retain text that you have copied and pasted, or text that you have deleted). 
Grammarly assures its users that their words remain secure and confidential within its ecosystem. However, if you cancel your Grammarly account, the platform will delete your writing from its servers within 30 days. 
The platform also collects certain anonymous usage data to enhance its products and services. This data includes information about the number of words analyzed and the types of errors encountered.
Grammarly's privacy policy also states that it does not sell or rent personal data. Nevertheless, the retention of personal data by Grammarly has raised concerns about the extent to which user information is kept and potentially analyzed beyond the immediate scope of providing its services. Grammarly may share personal data with trusted third-party service providers for business operations such as hosting, delivery, and service improvements. Personal data may also be disclosed under specific circumstances, as outlined in the company's privacy policy.
Read more: ChatGPT and privacy: What happens to your personal data?
Understanding Grammarly's privacy practices
Grammarly employs several measures to prioritize user privacy:
1. Data encryption
Grammarly uses strong encryption methods to protect the transmission of your data. This ensures that any information you send to Grammarly's servers remains secure and inaccessible to unauthorized parties.
2. Limited access
The platform restricts access to user data to authorized personnel who require it to provide and improve their services. Strict internal policies and procedures are in place to maintain the confidentiality and integrity of your information.
3. Anonymization of data
Grammarly states that it takes precautions to remove personally identifiable information from the anonymous usage data it collects. This ensures that insights gained from analyzing the data can't be linked back to individual users.
4. Transparent privacy policy
Grammarly offers a comprehensive privacy policy that outlines its data practices and how user information is handled. It's important to review and understand this policy to have a clear understanding of how Grammarly protects your privacy. More on this below. 
How to enhance your privacy when using Grammarly
While Grammarly implements significant measures to protect your data, you can take these additional steps to enhance your privacy:
Be mindful of content:

When using Grammarly, be cautious about the type of content you submit. Avoid sharing sensitive or highly confidential information through the platform.

Review third-party services:

Grammarly may utilize third-party service providers to assist with their operations. Familiarize yourself with these providers and their data-handling practices to ensure your information remains secure throughout the service chain.

Use a VPN:

A high-quality

VPN

like ExpressVPN can create a secure and encrypted connection between your device and the internet, protecting your data from unauthorized access. Using a VPN can also enable you to bypass geographic restrictions, allowing you to access Grammarly from anywhere. 

Regularly review privacy settings:

Keep an eye on Grammarly's privacy settings and any updates they introduce. Take advantage of any options available to customize your privacy preferences and ensure they align with your comfort level.

Stay informed:

Stay updated on Grammarly's privacy practices by periodically reviewing their privacy policy. This way, you can stay informed about any changes or new developments that may affect your privacy. 
How to delete your personal data from Grammarly
If you're unhappy with Grammarly's data retention policies, you can delete your data from their servers at any time. Just follow these steps:
Log in to your Grammarly account.

Click on the

Account

tab.

Scroll down to the

Delete Account

section.

Click on the

Delete Account

button.

Enter your password and click on the

Delete Account

button again to confirm.
If you have a Grammarly Premium subscription, you'll need to cancel your subscription before you can delete your account. You can do this by following these instructions. Also, if you've used Grammarly to connect to other apps or websites, you'll need to disconnect those accounts separately.
Once you've deleted your account, Grammarly will delete all of your personal data, including settings, and feedback. This data can't be recovered.
Verdict: Should I trust Grammarly to keep my writing private?
When it comes to trusting Grammarly with your writing and personal information, it's essential to weigh the pros and cons. Here's a breakdown of the key factors to consider:
| | |
| --- | --- |
| Grammarly privacy pros | Grammarly privacy cons |
| Privacy measures: Grammarly implements data encryption, limited access, and data anonymization, prioritizing user privacy. | Data usage: While Grammarly claims not to retain user content, anonymous usage data is collected, raising concerns about the extent of data analysis. |
| Transparency: Grammarly maintains a transparent privacy policy, providing insights into its data practices and handling procedures. | Third-party sharing: Grammarly may share personal data with third-party service providers, potentially expanding the scope of data sharing. |
| User control: Grammarly provides options to customize privacy settings and allows users to delete their personal data from their servers. | Content sensitivity: Users need to exercise caution when submitting sensitive or highly confidential information through Grammarly. |
Taking the above into consideration, trusting Grammarly to keep your writing private is a personal choice. If you value the convenience and accuracy Grammarly offers, alongside the privacy measures they implement, it may be the right tool for you. However, if you have concerns about sharing any sensitive or highly confidential information, you may want to exercise caution. 
Are you concerned about the privacy of your writing when using Grammarly? Share your thoughts in the comments below.
FAQ: About Grammarly
What is Grammarly?
Grammarly is an online writing tool that helps enhance your writing by providing real-time grammar and spell checking, style suggestions, and other writing improvements. It uses advanced algorithms and natural language processing to detect and correct errors in grammar, punctuation, and spelling.
Grammarly offers feedback on sentence structure, word choice, tone, style, and readability to create polished and professional documents. It can be used as a browser extension, desktop application, or integrated into platforms like Microsoft Word and Google Docs. Grammarly has free, premium, and business versions, with the premium and business subscriptions offering additional features such as genre-specific writing style checks, vocabulary enhancement, and plagiarism detection.
What AI powers Grammarly?
Grammarly's AI is powered by a combination of machine learning, deep learning, and natural language processing techniques. It utilizes extensive data, including a wide range of writing examples, to develop advanced algorithms. These algorithms enable Grammarly to accurately detect errors and provide valuable suggestions to enhance the quality of writing. By personalizing its feedback to each user, Grammarly ensures a customized and effective writing assistance experience.
Can Grammarly be trusted?
Grammarly's trustworthiness is a matter of personal judgment and depends on your comfort level with its privacy practices. Grammarly implements several measures to protect user privacy, such as data encryption, limited access to user data, and anonymization of collected data. It states that user content is not retained within their servers, and it doesn't sell or rent personal data. However, concerns have been raised about the extent of data retention and potential analysis beyond the immediate scope of service provision.
To enhance your privacy when using Grammarly, be cautious about the content you submit, review the data-handling practices of third-party service providers used by Grammarly, consider using a VPN for added security, regularly review privacy settings, and stay informed about Grammarly's privacy practices by regularly reviewing their privacy policy.
Ultimately, the decision to trust Grammarly rests with you and your assessment of its privacy measures and policies as outlined in the provided article and privacy policy.
Is Grammarly private?
Grammarly prioritizes user privacy and takes measures to protect user data. While user content isn't retained within their servers, Grammarly does collect anonymous usage data. To find out more about Grammarly's privacy practices and data handling, read the blog post above.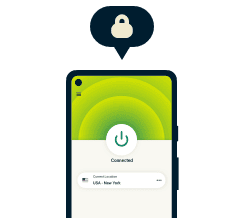 Privacy should be a choice. Choose ExpressVPN.
30-day money-back guarantee