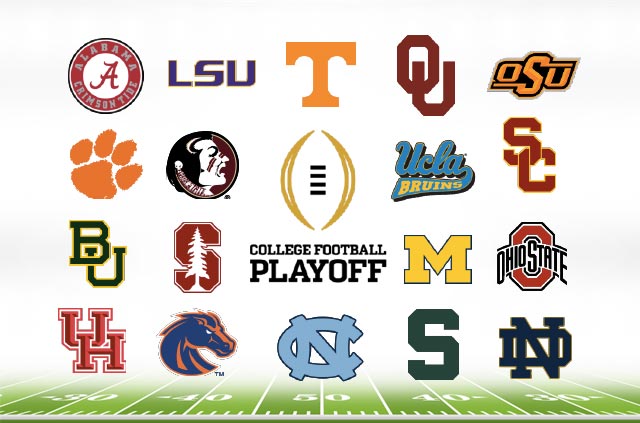 Last week, ExpressVPN looked at the top teams, players, and storylines for four of the "Power Five" conferences. But like college football itself, the second half is always better than the first!
Get ready as ExpressVPN previews the dominant SEC, the best of the non-Power Five teams, and this year's Heisman voting. Finally, fill out your playoff bracket and see if you agree with ExpressVPN's answer to the big question: Who will win the national championship this year?
SEC
Best of the pack: Alabama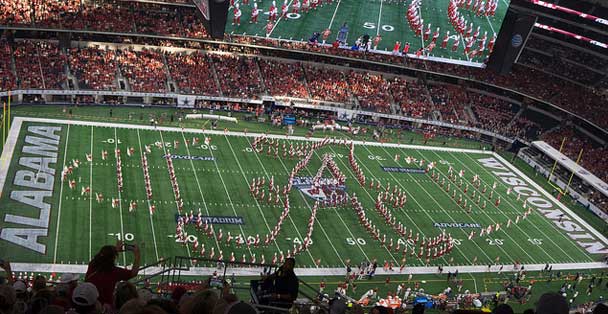 For most teams, having three starting quarterbacks in three years is a sign of trouble. Then again, Alabama is not like most teams. The Crimson Tide have won four national titles in nine seasons under the greatest college coach alive, and this year they are hungry to complete another back-to-back title run (since doing so four years ago).
Yes, 'Bama will have a new starter under center. Yes, there is a new defensive coordinator to adjust to. And yes, Heisman winner (and human tank) Derrick Henry is gone. But given offensive coordinator Lane Kiffin's ability to work magic with his quarterbacks, the impressive resume of new DC Jeremy Pruitt, and the two-headed rushing beast that is Bo Scarbrough and Damien Harris, Alabama will be just fine. Throw in (or to) a skilled receiving group led by sophomore phenom Calvin Ridley and one of the nation's best defensive lines (plus a good-enough secondary), and the Tide again has a roster befitting the no. 1 team in the country.
The schedule will be rough: An opener against USC precedes road games at Tennessee, LSU, and Ole Miss (the Rebels have beaten the Tide for two straight years). But if there's one team that can best the toughest schedules, it's the reigning champs.
Other challengers: LSU, Tennessee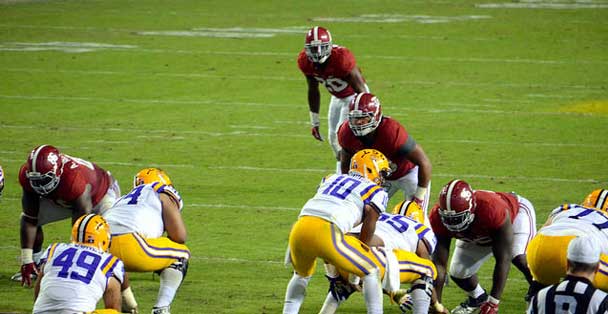 Last season was a tale of two halves for LSU. During a 7-0 start, the Tigers were basically cruising and star running back Leonard Fournette was a lock for the Heisman. Then, a 30-16 humbling at the hands of Alabama led to a 0-3 spiral and almost cost head coach Les Miles his job.
This season, the Bayou Bengals are well poised to win a national title. Malachi Dupre and Travin Dural are skilled wideouts, and Fournette is one of the most sensational college athletes ever, but it's up to QB Brandon Harris to show LSU isn't a one-trick pony. The Tiger's elite defense will only get better with new defensive coordinator (and blitz wizard) Dave Aranda, so all eyes will be on whether the offense can take the next step. Assuming they beat Ole Miss and Alabama at home and avoid an upset against Wisconsin (Aranda's old team) in the opener, LSU has a good shot to run the table.
Is this finally the year for Tennessee? After improving by two wins every season under head coach Butch Jones, fans are praying 2016 will be the season Tennessee gets over the hump and back to winning titles. They certainly won't have any excuses: With 17 returning starters, the Volunteers are one of the most experienced teams around along with LSU.
Quarterback Joshua Dobbs is back along with tailbacks Jalen Hurd and Alvin Kamara, making Tennessee a threat on the ground and through the air. On defense, stars Derek Barnett (DE), Jalen Reeves-Maybin (LB), and Cameron Sutton (CB) will make life difficult for opposing offenses.
Schedule-wise, Tennessee gets Florida and Alabama at home and doesn't play Ole Miss, LSU, or Arkansas. If the Volunteers don't go all the way this season, it'll be a while before they get as good a chance again.
Also look out for: Ole Miss, Florida, Georgia
Non-Power Five Conference Teams
Best of the pack: Notre Dame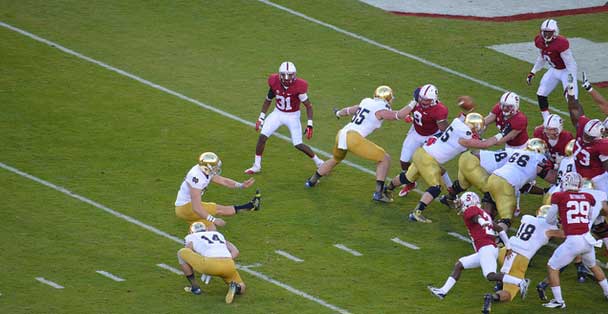 Maybe it's Touchdown Jesus, but Notre Dame shouldn't have finished 10-3 last year. After injuries took out QB Malik Zaire and numerous other starters, many viewed 2015 as a lost season for the Irish. Instead, head coach Brian Kelly's club battled to double-digit wins, sparking debate on how far Notre Dame will go now that the first team is fully healthy.
Starting at quarterback, both Zaire and DeShone Kizer will take snaps in the opener. Regardless of who ends up with the job, the Irish will likely improve from their 34.8 pts/game last season. Wide receiver could be a problem, as speed demon Will Fuller (1,258 yds, 14 TDs) and trusty playmakers Chris Brown and Amir Carlisle are gone. But with an experienced rushing corps and a defense that is due for improvement, the Irish have a chance to go undefeated. The season opener at Texas and closer at USC could spring upsets, but if Notre Dame plays with the grit it did last year and wins out, their strength of schedule and name recognition will fire them into the playoffs.
Other challengers: Houston, Boise State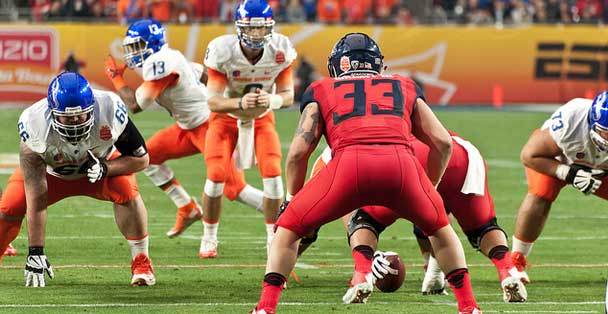 This year, Houston has to prove they aren't one-hit wonders. The Cougars overachieved in year one under Tom Herman, going 13-1 and saving their best for last: a 38:24 win over perennial power Florida State.
Quarterback Greg Ward Jr. returns to lead a team that is now a known commodity and won't be able to sneak up on opponents anymore. Unfortunately, the Cougars face a major problem for the upcoming campaign: Since they don't play in a "Power Five" conference, Houston will need to win out to even warrant playoff consideration. The Cougars open the season against mighty Oklahoma and plays at Cincinnati, Memphis, and Navy. If they can (somehow) emerge unscathed and upsets happen elsewhere, then Houston could be this year's Cinderella story.
Unlike Houston, Boise State is used to taking on (and beating) the big boys. Even since they shocked Oklahoma in the 2007 Fiesta Bowl, the Broncos are proof the best football is not necessarily played in the biggest conferences.
That said, 2016 should be another solid year for the boys on the smurf turf. Sophomore QB Brett Rypien should benefit from improved chemistry with leading receivers Thomas Sperbeck and Chaz Anderson. Add in the return of productive running back Jeremy McNichols, and the Broncos will put up a lot of points.
On defense, Boise State loses a number of starters but has linebackers Tanner Vallejo and Ben Weaver to anchor a defense that ranked 12th in the country last year. Like Houston, BSU will need a perfect regular season to even sniff the playoffs. And since they have less "showcase games" than the Cougars, the Broncos will need to be dominant against Washington State, at Oregon State, and against BYU. If that happens, expect the Broncos to take on another top team for postseason hardware again.
Also look out for: BYU
Heisman Watch 2016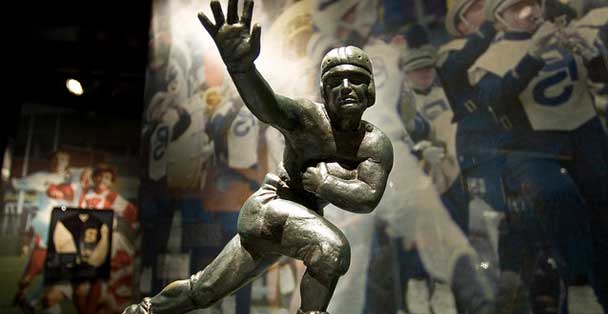 It's no secret Heisman voters love quarterbacks: eight of the last ten winners have played the position. And despite the absurd number of great running backs playing this season (Leonard Fournette, Dalvin Cook, Christian McCaffrey, Royce Freeman, Nick Chubb, Saquon Barkley….), it'd be difficult to vote against Clemson's Deshaun Watson, who's shown he can put up mind-blowing numbers, will be playing for a national title contender, and finished third place in voting last year.
This one is easy to call: Come December 2016, Watson will claim the award for the most outstanding player in college football.
1st place: Deshaun Watson (QB, Clemson)
2nd place: Dalvin Cook (RB, Florida State)
3rd place: Baker Mayfield (QB, Oklahoma)
Who Will Make the Playoffs?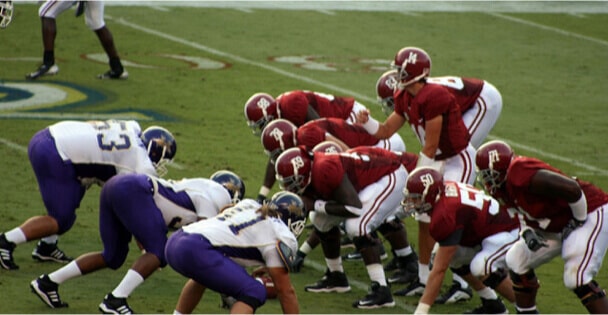 With most of their roster intact, a favorable schedule, and some guy named Deshaun Watson piloting a soul-crushing offense, Clemson (assuming they beat Florida State) will be back in the playoffs.
Alabama faces a tougher schedule but boasts so many young playmakers (Calvin Ridley, Bo Scarbrough, etc.) and is so well-coached that their spot is beyond question too.
At the risk of sounding lazy, ExpressVPN projects Oklahoma to take the third playoff spot. The Sooners will put up points in bunches and have enough statement games (Houston, Ohio State, Texas, Oklahoma State) on their schedule to impress.
The sole new participant this year will be Michigan. The Wolverines should have the best defense in the country, return a ton of talent from last year's breakthrough campaign, and have a schedule that sets them up for success (easy start plus showcase opportunities at Michigan State, Iowa, and Ohio State).
Who Will Win the National Championship?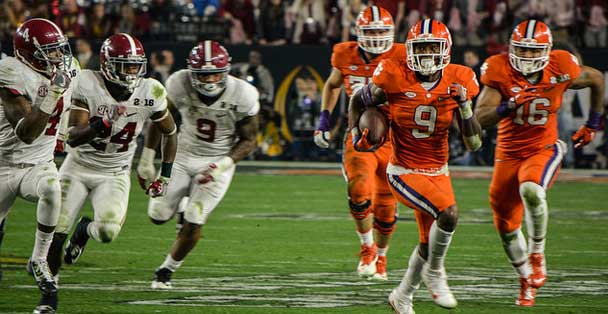 The playoffs will begin with the Chick-fil-A Peach Bowl, where Alabama will roll to a 31:17 victory over Oklahoma. The Fiesta Bowl, meanwhile, will feature an epic duel between Clemson's offense and Michigan's defense, ending in a 41:31 Tigers victory.
With the semifinals in the books, the stage is set for a rematch of last year's title game. This time, the more experienced Clemson offense will overcome a talented but rebuilding Tide defense, and Alabama won't be able to pull off any special teams surprises.
Following a late turnover forced by the ravenous Tiger defense, Clemson will taste sweet revenge as it celebrates its second-ever national championship, by a final score of 44:36.
What Do You Think?
Did ExpressVPN just predict the future? Which four teams are in your playoff bracket? And who is your national champion? Share your thoughts in the comments below, and make sure you tune in this fall for yet another unforgettable season of college football!
Alabama Football: thatlostdog– / Flickr
LSU Football: Phillip Hendon / Flickr
Notre Dame Football: Daniel Hartwig / Flickr
Boise State Football: CityofGlendaleAZ / Flickr
Heisman Trophy: Penn State / Flickr
Alabama Football 2: David Smith / Flickr
Clemson Football: Amanda Tuten / Flickr