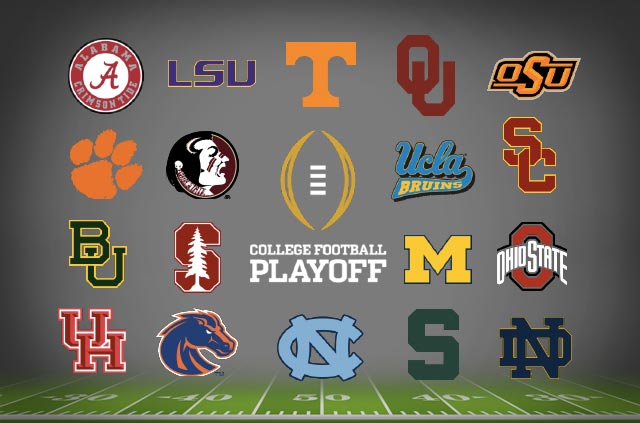 You've waited. You've prayed. Now, it's official: College football is back! With Alabama vs. USC, Notre Dame vs. Texas, and LSU vs. Wisconsin in the opening week alone, the 2016-17 NCAA football season will bring some of the best matchups in recent history, so make sure you don't miss a game!
ExpressVPN has checked out the top teams, players, and storylines for each conference in a two-part preview special. So without further ado, here's (almost) everything you need to know before the season kicks off on August 26th:
ACC
Best of the pack: Clemson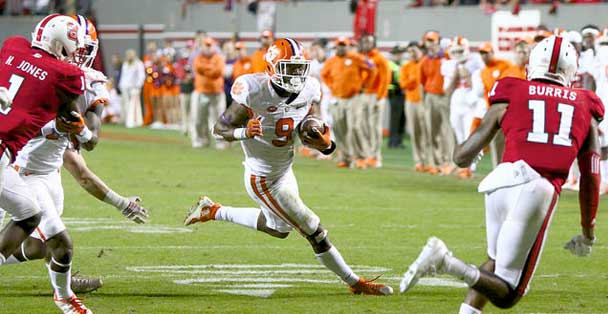 Despite coming up short against Alabama in the national championship game, Clemson had one heck of a 2015-16 season. The Tigers were 14-0 coming into the title bout and ranked no. 1 since the first playoff poll was released.
This year, Clemson is aiming to complete their national title run, and with 11 starters returning, including QB Deshaun Watson (the first player in NCAA history to pass for 4,000 yards and rush for 1,000), the Tigers are again hot favorites to win the championship. If they can take care of Florida State at Tallahassee (where the Tigers have lost in four previous tries) and Watson can stay injury-free, expect Clemson to return to the title game – and likely win it this time.
Other challengers: Florida State, North Carolina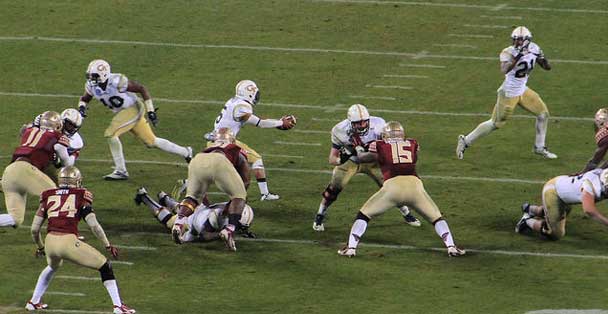 Florida State is coming off a disappointing year. For the traditional powerhouse, that equates to a 10-3 season with a Peach Bowl appearance. The Seminoles will start the 2016-17 season with redshirt freshman Deondre Francois at QB and play dangerous road games at Louisville and Miami. Fortunately, explosive tailback Dalvin Cook (1,691 yds, 19 TDs) should be at full health, and the Seminoles have one of the nation's best defensive lines, led by studs DeMarcus Walker and Josh Sweat. Clemson might be the best in the ACC, but Florida State is not far behind.
North Carolina is aiming for bigger things this year, after pulling off 11 wins and leading the nation with 7.1 yds/play in 2015. The Tar Heels will be entering the campaign with a loaded offense: Elijah Hood (1,463 yds, 17 TDs) is a criminally underrated back and Mack Hollins, Ryan Switzer, and Bug Howard make up a formidable group of receivers. If quarterback Mitch Trubisky can successfully make the leap from impressive backup to consistent full-time starter and the run defense improves, this team has the firepower to go from sleeper pick to genuine title threat.
Also look out for: Miami, Louisville
Big 12
Best of the pack: Oklahoma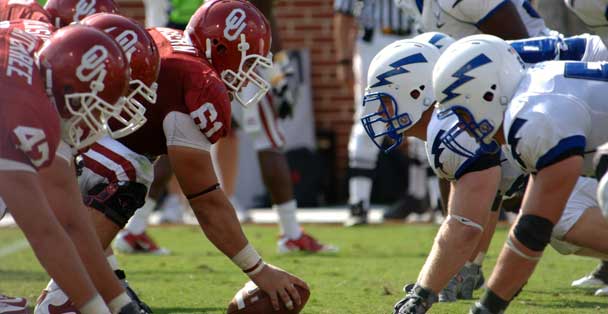 It's been 16 years since Oklahoma were national champions, but 2016 may be their best shot in some time. Led by QB Baker Mayfield (4,105 total yds, 42 TDs) and bruising tailback Samaje Perine (1,349 yds, 16 TDs), the Sooners will certainly light up scoreboards this season.
Oklahoma lost leading receiver Sterling Shepard to the NFL and are light on experience at linebacker, but dependable backup Dede Westbrook and top recruit Caleb Kelly will look to plug those respective holes. If Oklahoma can weather tough games against Houston, Ohio State, and Texas (who stunned the Sooners last year), they'll likely end up in the playoffs.
Other challengers: Oklahoma State, Baylor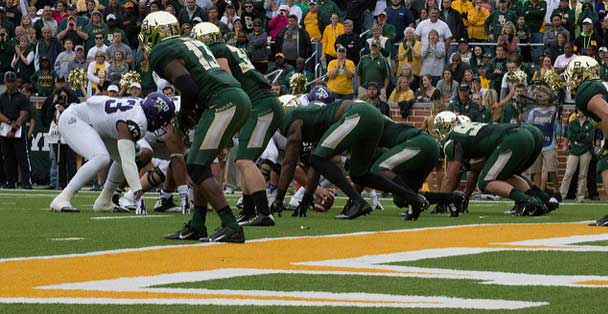 While Oklahoma is the best team in their conference (and state), OK State is certainly not to be underestimated. After starting the 2015 season 10-0 and ranking as high as sixth in the polls, the Pokes saw their playoff dreams vanish as they lost the last three games on their schedule.
Head coach Mike Gundy's teams have a knack for scoring, and this year QB Mason Rudolph (3,770 pass yds, 21 TDs) will take over the starting job and throw to a deep receiving corps. As long as the offensive line can protect their quarterback and the pass rushers and corners deliver solid seasons, Oklahoma State should finish (vs. Texas Tech, at TCU, and at Oklahoma) better than they did last year and challenge for a spot in the final four.
Over in Waco, Baylor looked like world-beaters last October. The Bears stood as high as no. 2 in the polls and were annihilating lesser opponents. Then, it all came crashing down. A neck injury ended QB Seth Russell's video game-like season after seven games, and the Bears ended the campaign with three wins and three losses. Worse, the team was hit by a sexual assault scandal that led to the firing of head coach Art Briles.
Entering this season, Baylor has lost out on numerous recruits, fields a shaky defense, and faces a schedule with tough away games at Texas, Oklahoma, Texas Tech, and West Virginia. But with the returning trio of Russell, KD Cannon (WR), and Shock Linwood (RB) and a manageable first few games, Baylor could find itself refreshed by new coach Jim Grobe and surprise a few teams along the way.
Also look out for: Texas, TCU
Big Ten
Best of the pack: Michigan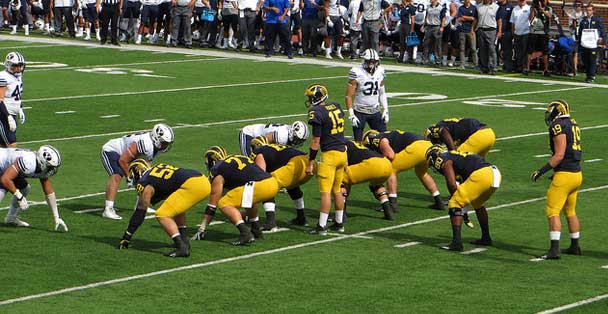 Is the hype real? Following a 5-7 season in 2014, Michigan roared back to life in 2015 under new head coach (and media sensation) Jim Harbaugh, producing a 10-3 season that included three consecutive shutouts and a 41:7 whipping of Florida. Now, pundits have Michigan at 12-1 odds to win it all.
To realize their championship dreams, the Wolverines need a solid season from whoever starts at quarterback. Michigan returns the most talent in the Big Ten, with particular strengths at wide receiver, defensive line (bolstered by no. 1 recruit Rashan Gary), and the secondary. As long as the new QB (Wilton Speight or John O'Korn) plays efficiently and the team does not take a play off, this defensively stacked Wolverines side will challenge for the national title.
Other challengers: Michigan State, Ohio State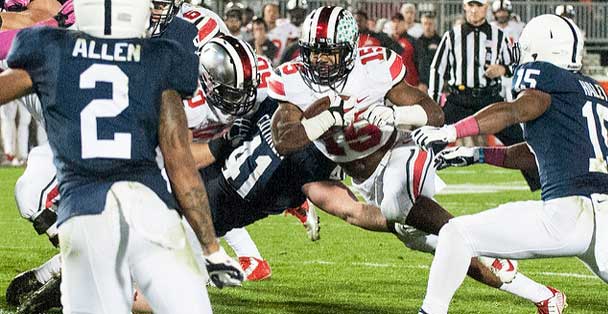 With two of the last three Big Ten titles to their name, the Spartans are not "just another challenger". Unfortunately, MSU is dealing with an exodus of key talent. QB Connor Cook (the most accomplished passer in school history), OT Jack Conklin, DE Shilique Calhoun, and WR Aaron Burbridge are just a few of the stars who have moved to the NFL.
To reach the playoffs again, MSU will rely on a formidable rushing attack led by sophomore L.J. Scott (699 yds, 11 TDs) and hope new starting QB Tyler O'Connor has more of the magic that helped them upset Ohio State last season. If the secondary can do their part and limit big plays, then the Spartans will likely find themselves in playoff contention for a second straight year.
Frankly, Ohio State shouldn't be "just another challenger" either. The Buckeyes have been incredible under Urban Meyer, going 50-4 overall (with a national title) and 31-1 in the Big Ten. However, Ohio State lost the most talent of any college team during the offseason, with 12 players taken in the 2016 NFL draft.
Thankfully, the Buckeyes still have J.T. Barrett, who is far and away the best quarterback in the Big Ten, and will field some highly-rated recruits. Schedule-wise, an early-season tilt with Oklahoma will reveal a lot about how far both teams will go, and the Buckeyes end the regular season with back-to-back games against the Michigan schools. Will younger players Nick Bosa, Mike Weber, and Michael Jordan make big enough contributions to the campaign? If OSU is looking to win another title under Meyer, they'll have to.
Also look out for: Iowa, Nebraska
Pac-12
Best of the pack: Stanford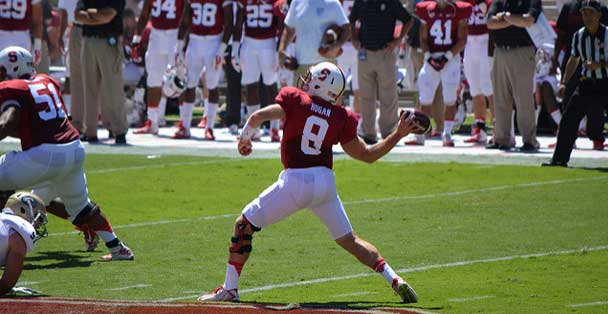 2015 was another successful year in Palo Alto. The Cardinal reached double-digit wins for the fifth time in six years, topped off with a 45:16 demolition of then-undefeated Iowa in the Rose Bowl.
Stanford's losses to Northwestern and Oregon kept them out of the playoffs, and this year they will settle for nothing less. On offense, the Cardinal will continue to feed opponents a healthy dose of Christian McCaffrey, the NCAA record holder for all-purpose yards in a season (3,864 total yds) and Heisman runner-up.
McCaffrey's electric presence will ease the pressure on whoever wins the QB job, as either Ryan Burns or Keller Chryst will try to fill the shoes of Andrew Luck (the former no. 1 NFL draft pick and the highest-paid player in professional football) and Kevin Hogan (Stanford's winningest QB). If McCaffrey can dazzle again and the offensive line can thrive with new starters, then Stanford's solid defense and favorable schedule (discounting games at Notre Dame and Oregon) should see them into playoff contention.
Other challengers: USC, UCLA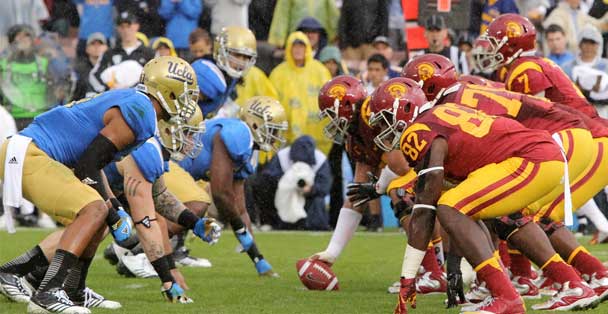 With Oregon fielding a putrid defense and Washington still somewhat unproven at key positions, the other Pac-12 playoff contenders both hail from the Southern Division.
USC, despite playing a new quarterback and facing the toughest schedule in the country, has as good a roster as any in the country. The Trojans offense will feature an underrated tailback duo in Justin Davis and Ronald Jones II, pass-catching superstar JuJu Smith-Schuster, and a talented offensive line led by OT Zach Banner. USC will also be sturdy on defense, as a stud linebacker group will be complemented by a deep secondary featuring freakish athlete (and special teams monster) Adoree Jackson.
If the retooled defensive line can perform up to standard, then the Trojans will be one step closer to their former glory days.
In many ways, UCLA faces the opposite situation of their cross-town rivals. The Bruins lost a lot of key players after the 2015 season but have a returning star at quarterback. As a freshman, Josh Rosen showed intelligence and ability beyond his years, throwing for over 3600 yards and earning Freshman All-American honors.
This year, UCLA will shift to a run-first scheme under new offensive coordinator Kennedy Polamalu. With a trio of talented rushers in Soso Jamabo, Nate Starks, and Bolu Olorunfunmi, the ground game should open up plenty of downfield passing opportunities for Rosen. The key then is to find someone to catch those passes. Top receivers Jordan Payton and Thomas Duarte are gone, so Rosen will need the less-experienced Darren Andrews, Kenny Walker, and Theo Howard to step up their game.
If the Bruins can continue to improve on defense and take advantage of inexperienced quarterback play by many of their opponents, then a double-digit campaign and playoff spot is well within reach.
Also look out for: Oregon, Washington
See You in the Second Half!
That's four of the "Power Five" conferences accounted for. But what college football preview would be complete without covering the mighty SEC (which claimed eight of the last ten national titles) and the Heisman trophy?
Will reigning champion Alabama defend their title? Will Baker Mayfield take home the stiff-arm award? Which teams will make the playoff? And who will be the college football champion for 2016?
Share your predictions below and check out part two of ExpressVPN's college football primer next week!
Clemson Football: Jerome Carpenter / Flickr
Florida State Football: Thomson20192 / Flickr
Oklahoma Football: Raymond Hoy / Wikimedia Commons
Baylor Football: Rockin'Rita / Flickr
Michigan Football: Ken Lund / Flickr
Ohio State Football: Penn State / Flickr
Stanford Football: Daniel Hartwig / Flickr
UCLA Football: Neon Tommy / Flickr