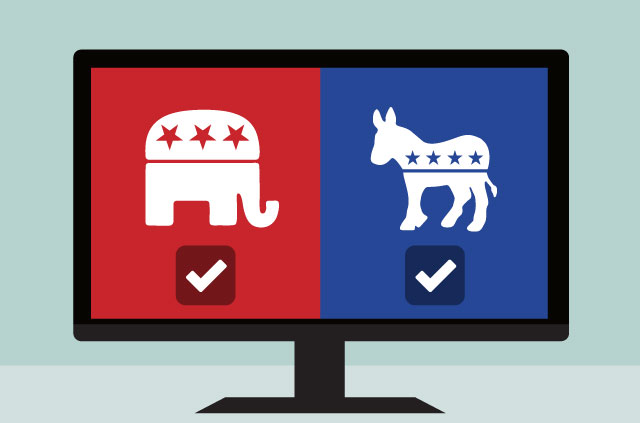 Clinton vs. Trump: Who will be the next American president and "Leader of the Free World?"
Those in the U.S. have many great options to watch live coverage of the election result, but the next U.S. President is of interest to almost everyone around the world. ExpressVPN can help you stream the 2016 U.S. presidential election online, live and securely, wherever you are.
Watch the election results live online
The American election will (finally) take place on Tuesday, November 8th. And that's where the fun starts!
Who will the swing states back? Will Trump stick to his threat of not accepting the result? Do you need to watch the result from a bar, close to alcohol? Or will you watch from bed, just in case you need a lie-down?
Luckily, there are lots of U.S. election live stream options available. These top broadcasters will all be showing the 2016 results live:
Use a VPN to watch the 2016 election online
Watching the election results live is as easy as 1-2-3 with ExpressVPN:
Sign up for ExpressVPN
Select a VPN location
Tune in to your online broadcaster of choice
That's its!
ExpressVPN can also improve your internet speed. ISPs might throttle election internet traffic due to high viewing figures and the stress that puts on their networks. Not a problem for ExpressVPN, though!
Watching the election with a VPN will bypass throttling restrictions and let you enjoy interruption-free, HD election streams online–from any location.
Who will win? Donald Trump, Hillary Clinton, or none of the above?
The presidential candidates are Donald Trump of the Republican Party, Hillary Clinton of the Democratic Party, Gary Johnson of the Libertarian Party, Jill Stein of the Green Party, and Evan McMullin, who's running as an independent.
The presidential candidates of the major parties have run highly publicized campaigns, with plenty of controversies thrown into the mix. It's sure to be a fascinating conclusion with far-reaching consequences, whoever wins.
Where will you be watching the results come in? Does anyone have an election stream party with their friends? State your plans in the comments below!