Bluetooth trackers like Apple's AirTag are a convenient way to keep track of your belongings. They've also proven their usefulness in other ways. AirTags have been used for investigative journalism and even helped track down a carjacker. And who can forget the headlines about AirTags helping travelers find their lost luggage? 
Watch our video: How to track your own luggage
There are more disturbing ways people have used them, such as stalking exes or celebrities. Despite this, an AirTag is a very useful piece of technology. But it's far from the only one on the market, with plenty of AirTag alternatives mainly targeting Android users.
Best AirTag alternatives
Jump to…
Tile Pro
Chipolo One
Samsung SmartTag
Tracki GPS Tracker
Cube Shadow
Tile Pro
Tile has led the way with Bluetooth trackers and is easily one of the best alternatives to an AirTag. The Tile Pro has an impressive range of 400 feet and a loud ring to help you locate the tracker. Being built out of metal and featuring an IP67 rating, it's probably the most durable tracker on the market.
The best thing about the Tile Pro is that they're platform agnostic, ensuring full functionality no matter your phone. However, unlike Apple and Samsung's trackers, Tile is fully dependent on app installs to build out its tracking network. Frustratingly, some features, like alerts when your Tile Pro is far from you, are locked behind a subscription service. 
| | |
| --- | --- |
| Pros | Cons |
| Works on both Android and iOS devices | Some features are locked behind a subscription service |
| Easy-to-replace CR2032 battery | Tracking network is wholly dependent on app installs |
| Covers a long range of 400 feet | |
| Incredibly durable | |
Chipolo One
A solid pick outside of heavyweights Apple, Samsung, and Tile is Chipolo. Don't be deceived by the Chipolo One's small and minimalistic design, though; the tracker is incredibly loud at 120dB, and its battery can last for two years—longer than any other tracker. It comes at the expense of a replaceable battery, but many would find the tradeoff acceptable.
Chipolo One has a tracking range of 200 feet and is also platform agnostic. Its tracking network is far more limited, though, relying on users with the Chipolo app to build it out. Opting for the Chipolo One Spot solves your tracking network concerns as it taps into Apple's Find My network. The best thing about the Chipolo One is that it is cheaper than most trackers while remaining fully featured. Nothing is locked behind a paywall. 
| | |
| --- | --- |
| Pros | Cons |
| Works with both Android and iOS devices | Smaller tracking network compared to major players |
| Two-year battery life with replaceable CR2032 battery | |
| Affordable and fully featured | |
| Might be the loudest tracker you can get | |
| Lots of color options available | |
Samsung SmartTag
If you're a Samsung smartphone user, the SmartTag is your best choice. SmartTags are tightly integrated with Samsung's ecosystem and feature integration with SmartThings, Samsung's smart home platform. For example, pressing the SmartTag's button can turn on your lights. 
Like AirTags, SmartTags are tracked by Samsung smartphones nearby. And with Samsung being the largest smartphone manufacturer in the world, chances are, you'll be able to find your missing items with a SmartTag.  
| | |
| --- | --- |
| Pros | Cons |
| Vast network of Samsung phones to help locate your SmartTag | Only compatible with Samsung phones |
| Easy-to-replace CR2032 battery | Not the smallest tracker around |
| Smart home integration | |
Tracki GPS Tracker 
As its name implies, the Tracki GPS Tracker doesn't rely on Bluetooth connection, but GPS instead. By using GPS, the tracker isn't reliant on a tracking network of devices like the other options listed here. It can provide real-time GPS tracking all by its lonesome, and it also means it has an unlimited range. You can set up geofences to receive alerts when the tracker leaves a designated area.
The tracker is very portable and also rechargeable, with battery life lasting up to 75 days on a single charge. The Tracki GPS tracker is protected from the elements via a waterproof magnetic box and is also incredibly affordable at just $17 a pop. 
| | |
| --- | --- |
| Pros | Cons |
| Unlimited range and precise locations thanks to GPS tracking | Not the nicest looking tracker |
| Not reliant on app installs for its tracking network | |
| Rechargeable battery with good battery life | |
| Works with both Android and iOS devices | |
| Much cheaper than other trackers | |
Cube Shadow
At just 2mm thin, the thinnest tracker on the market is the Cube Shadow. Its size might be the best thing about it, keeping it out of your way as you use it. The ultra-thin design comes at a price, though; battery life isn't the best around. At least it is rechargeable. 
The tracker is well protected against the elements with an IP67 rating, and its alarm is very loud at 100dB. The biggest downside to the Cube Shadow is its unintuitive software, and it's prone to false alarms—making it unreliable.
| | |
| --- | --- |
| Pros | Cons |
| Works with both Android and iOS devices | Prone to false alarms |
| Ultra-thin design | Unintuitive software |
| Rechargeable battery | |
How does AirTag tracking work?
AirTags are incredibly easy to use. Say you want to use an AirTag to keep track of your keys. All you have to do is pair an AirTag to your iPhone before putting the AirTag onto your keyring. Then, you can see where your keys are on a map in real time by looking at an app on your phone.
AirTags tap into Apple's Find My network by sending a secure Bluetooth signal that nearby Apple devices can detect. The location of your AirTag is relayed to iCloud, and you can see it displayed on a map. The AirTag will also play a sound for you to find it, if it's close enough to you.
Apple claims this whole process is anonymous and encrypted, meaning you won't be able to see the information of the phones the AirTag linked with to communicate with the Find My network. 
While these trackers are designed to help you locate your own items, people have used AirTags for nefarious purposes. From stalking, car theft, and even surveillance, many have rightfully become concerned about the safety and privacy risks associated with AirTags. It's important to note that these risks are not exclusive to Apple AirTags but affect all trackers.
Apple, Tile, and the like have safeguards to protect you from these risks. But they're not perfect. This is why you should familiarize yourself with tips to protect yourself from AirTag abuse—even if you don't use them.
Can AirTags work with Android phones?
As with all Apple products, AirTags don't play nice with devices outside the Apple ecosystem. So, if you're using an Android phone, an AirTag isn't even worth considering; they just won't work. 
Luckily, there are a number of alternatives to choose from. Below, we've compiled a list of alternatives worth considering, along with what you should look out for when picking a Bluetooth tracker.
What to look out for in AirTag alternatives
Here are some things to keep in mind when shopping for Bluetooth trackers.
Compatibility.

The phone you use could limit your options when shopping for Bluetooth trackers. AirTags are only compatible with iPhones. SmartTags are only compatible with Samsung phones. Others, like those from Tile, are platform agnostic.
Form factor.

Most Bluetooth trackers are small, but they come in a variety of colors and shapes. Some are long, some are round, and some are thick. You'll be trading battery life for a smaller form though, so it's best to weigh the tradeoffs and settle on a compromise you can live with.
Tracking ecosystem.

Bluetooth trackers are only as effective as the size of their ecosystems. Which is why the AirTag is so good at what it does. Tapping into the Find My network means millions of iPhones helping you find your AirTag. Few alternatives offer the reach of Apple's system; the closest probably is Samsung's SmartTag. The others are wholly dependent on the number of installs of their app.
Bluetooth range.

Trackers use their same-brand ecosystem to let users pinpoint their location anywhere in the world. But if you lose something that's within close proximity (say, in your home), you'll be relying on Bluetooth range to find it by making your tracker chime. The longer the range, the greater the area in which you can find something. Trackers' Bluetooth range also determines how close other devices need to be to make use of their tracking ecosystem.
Waterproofing.

Placing the tracker on the collar of your wandering cat? Or even if you're just attaching it to your keys, ensuring that it is protected from the elements with an IP rating will keep it working for longer.
Pricing.

Bluetooth trackers are pretty affordable, but more obscure brands are typically a little cheaper. Buying them in sets can net you even more savings.
FAQ: About the best AirTag alternatives
Does Google have an AirTag equivalent?
Not currently, but leaks have shown that Google is working on a tracking device. Codenamed "grogu," it is said to be compatible with Bluetooth and Ultra-wideband for more precision tracking. There's no word when Google will announce its tracking device yet. It's safe to assume that it'll be either at Google I/O in May or its Pixel event in the fall, if at all.
What are the disadvantages of Apple AirTag?
Some disadvantages of AirTags are:
• Incompatibility with devices outside of Apple's ecosystem
• You cannot use an AirTag to locate your phone
• You need to invest in accessories to attach your AirTag to items like keys
• They can be used for stalking and other privacy invasions
Can a Google phone detect an AirTag?

If you have an Android phone, downloading Apple's Tracker Detect app from the Play Store is your best bet in finding AirTags moving with you. It is less robust than Apple's Find My app and needs to be run manually.
What is better than Apple AirTag?
If you're an Apple user, there's probably no better tracker than the AirTag. If you're an Android user or simply prefer a platform-agnostic solution, check out our guide above for the best AirTag alternatives.
Can AirTag track a car?
Yes, if you place an AirTag in your car, you can track it.
Can I put an AirTag in my luggage?
Yes, you can place an AirTag in your luggage. There are no airline rules against doing so.
What are the best AirTag alternatives for luggage?
Some of the best AirTag alternatives for your luggage are:
• Tile Pro
• Chipolo One
• Tracki GPS Tracker
Check out our guide above for more AirTag alternatives.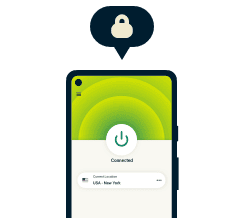 Protect your online privacy and security
30-day money-back guarantee