If TikTok, Instagram, and Facebook were physical places, most parents wouldn't let their children visit them alone. However, despite the majority of social media platforms requiring their users to be over 13 (because of laws prohibiting companies from collecting data from children), we spoke to kids as young as 4 who are frequenting social networking sites each day. 
To better understand the extent to which children are using social media and to uncover the risks of doing so, ExpressVPN surveyed over 2,000 children aged 4 to 13 in the U.S. and UK who have access to the internet, as well as their parents or guardians (over 2,000 adults). 
[Make sure your whole family stays safe online. Secure all your devices with a VPN download.]
Together, this group provides a glimpse into how often children frequent social media sites, the perils that kids face when using these platforms, and how parents handle this reality.
We list some of our findings below, along with tips on how parents can educate their kids about staying safe online.
Some 4-year-olds are spending 21 minutes per day on social media 
While only about a quarter of parents surveyed say that they allow their 4- to 13-year-old kids to have a social media account—29% in the U.S. and 21% in the UK—over half of their children admitted to using social media. 
Significantly more U.S. kids (63%) than UK kids (53%) are on social media. And these kids spend an average of 28 minutes per day on social platforms.
Not surprisingly, the older kids get, the more time they spend on social media sites. While 13-year-old American and British children averaging 45 minutes per day isn't so surprising, 4-year-olds who access social platforms are still clocking in an average of 21 minutes of social media time every single day. 
Are parents aware of what their kids are doing online? Virtually no one responded that they don't monitor their kids' internet activity at all in a year. While some check in more frequently than others, 54% said that they monitor their children's online activity daily or more than once a day. 
Their methods most likely involve checking their phones and tablets, limiting access, watching their children while online, or through the use of parental control software or apps.  
As for the online activities that parents are comfortable with, 87% say that they allow their children to watch videos on sites such as YouTube and Netflix. Over 80% also allow their kids online to play games, while 28% say they have no problem giving their children access to the internet so that they can read articles. 
With only a small percentage of parents allowing their children to have social media accounts, one can only assume that many of the kids who use social media are doing so without their parent's knowledge or supervision—accessing the platforms when they've been allowed to use the internet for other purposes. 
Biggest threats children face online
Parenthood is fraught with worry, but in the age of social media, moms and dads are faced with a new kind of powerlessness. Most parents know the potential dangers that come with social media use—cyberbullying, an invasion of privacy, depression that stems from comparing oneself to another, and—most concerningly—online predators who prey on young children.  
When we asked parents what they consider the biggest online threats to be, 59% of respondents said that they were most worried about their child being bullied. Following that were concerns about their kid being groomed by an online predator, fears that their child might come across offensive content online, and the risk of cyberstalking or harassment by other users. 
But what do young children say they actually experience online? The greatest disturbance for our child respondents is encountering someone being rude or swearing online (34%), while next in line are seeing scary videos, followed by scary images.
Confirming parents' fears, 22% of children admit to being bullied online. Disturbingly, 17% of children surveyed have had a stranger ask which school they go to, and 14% say that they've been asked for their home address. 
Some of the platforms where children say they experience these negative scenarios most frequently, include:
In the U.S.
YouTube (43%)

Facebook (35%)

TikTok (28%)

Roblox (27%)

Instagram (26%)
In the UK
Roblox (34%)

YouTube (34%)

TikTok (25%)

Fortnite (21%)

Facebook (16%)
Kids feel the need to lie when they're on social media
Not surprisingly, because social networking sites don't allow children under the age of 13 to access them, some of our child respondents (24%) admitted to lying about their age on social media. 
About one in six kids said they had lied about their address or location on social networking sites, what they were doing when asked, and their appearance.  
While we did not ask about their reasons for lying, the fact that some children lie about where they live, what they're doing, and what they look like on social media implies that they feel the need to protect themselves online, likely from strangers. It also could infer that they're trying to adhere to unrealistic societal norms/pressures that social media pushes onto them, which could ultimately be detrimental to their mental health. 
With the use of social media among young children only expected to rise as more youngsters gain access to the internet, the need to teach children about social media safety has never been more important. 
Children are taught how to stay safe online by their parents, schools, and peers
When asked, 76% of parents agree that they are the ones most responsible for teaching young children how to stay away from social media, and how to protect themselves online. This was echoed by our child respondents, with over 84% saying that their parents and guardians have taught them about internet safety. 
While only a small number of parents think schools (8%) and social media companies (5%) need to be most responsible for teaching children to be safe on social media, about half of children—57% in the UK and 40% in the U.S.—in fact report that they've learned about it from school, while 17% say friends have taught them. 
Top 5 tips to keep children safe online
Kids and teens are spending more time than ever before in front of screens. Not only do most schools encourage e-learning for school work (especially post-pandemic), but the internet has become a great way for kids to keep in touch with friends and family. 
With a child's exposure to the internet and social media platforms being inevitable, here are the steps you can take to keep them as safe online as possible: 
1. Set up parental controls
Setting up parental controls for the different devices and applications in your home can help limit the amount of screen time your child has, as well as control what they're exposed to when browsing online. 
By using parental controls, you can:
Manage the content that each family member in your household has access to 

Arrange specific content filters to block apps that feature inappropriate images, text, or videos 

Set a time when your child can access the internet for browsing 

Set a time limit for online browsing
Ensure you add parental controls to every platform your child may have access to, including:
Gaming consoles

Apps and any online

services

/games

Search engines, such as Google and Yahoo, etc.

Home broadband and Wi-Fi


2. Foster open communication with kids
Make a point of helping your kids feel comfortable enough to share anything with you. Promoting honesty is key to getting your child to trust you, and share anything inappropriate they find online, including whether or not they're being cyberbullied.
If you're finding it difficult to get your child to open up to you, here are a few methods to try:
Ask them to write it down on a piece of paper, which they can pop in a specific jar for you to read later when they're not present.

Ask your kids to text or email you about any strange occurrences they're experiencing online. 

Make your children aware they can contact

Childhelp USA

or

ChildLine UK

if they want to speak with someone entirely separate from your family, and explain that this service provides them with appropriate support and handy guidance. 
3. Remind them not to befriend online strangers
It's important to remind your child about 'stranger danger' in the online and real world. Let them know that they should be skeptical of anyone they speak to online—and that if they don't know them, they shouldn't friend them. 
Explain that online, people can make fake profiles and pretend to be someone they're not. For example, they can lie about their age or pretend to be a child or teen when they're actually an adult. 

Tell your kid to be careful about what they share online with friends—even ones they think they know. Ask them never to share where they go to school and where they meet up with their friends. This is the kind of information online strangers can use to track them. 

Talk about the dangers of sites and apps that use direct messaging and video chat. 

Have them tell you right away if an online stranger asks to meet in person. Remind them that it's not safe to meet with anyone in real life that they've met online. 
4. Consider username safety
Make sure you warn your kids about using public usernames that resemble their own. For example, if your child's name is Sarah Louise Smith and they're born in 2013, their username on a social media account or gaming app shouldn't be something like "SarahLouiseSmith13."
Usernames that contain personal information open the way for predators to track children. Instead, encourage your kids to be as creative as possible with the usernames they use online. 
5. Use a VPN
A VPN, or virtual private network, will route your online traffic through a secure tunnel. This means that not only will downloading a VPN keep your family members safe when they're online, encrypting all data, but it will increase anonymity by giving your devices a new IP address in another location.
[Keep on top of the latest privacy news and keep your family safe. Sign up for the ExpressVPN Blog Newsletter.]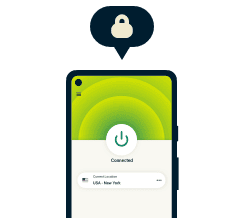 Privacy should be a choice. Choose ExpressVPN.
30-day money-back guarantee