Looking to watch Premier League football? Check out ExpressVPN's stream sports page to see how you can watch all the best footy action.
If you're an English Premier League fan, you've got to be feeling giddy about September. August gave us Arsenal-Liverpool and Tottenham-Liverpool, but September will up the ante with three of the most anticipated games of the year!
With two longstanding rivalries and a marquee matchup between two blue bloods just around the corner, you'll have good reason to stay in and stream the Premier League online!
Stream Man Utd vs. Man City online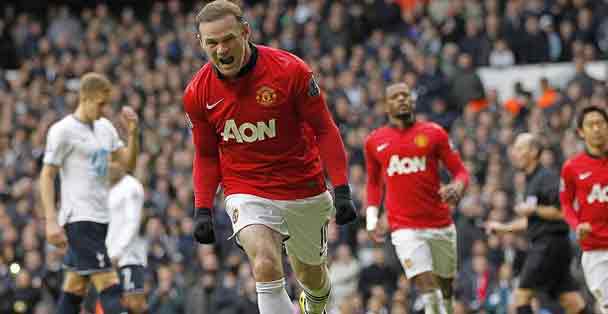 When: Saturday, September 10th. 7:30 am Eastern Time
Where: Old Trafford
Who: Manchester United vs. Manchester City
ExpressVPN Score Prediction – United 3:2 City
Both Manchester clubs have gotten off to flying starts, and anticipation for the 172nd edition of the derby cannot be higher. With supporters from both teams all over the world, many will be looking to stream this big match.
New signing Eric Bailly is one to watch for the Red Devils, impressing in his three starts and anchoring a staunch United defense that has only conceded one goal in three games. Combining strong physicality with quick feet, Bailly is perhaps the best United defender since Nemanja Vidić and is the highlight of a strong trio which also includes Luke Shaw and Daley Blind.
City, on the other hand, will be trying to improve on their shaky defense from the last few years. Their current back four, including young centre-back John Stones, is serviceable but clearly missing the sturdy presence of Vincent Kompany. While City has the firepower to beat any team in the league, it's hard to deny that their defense is behind United's.
Watch Chelsea vs. Liverpool online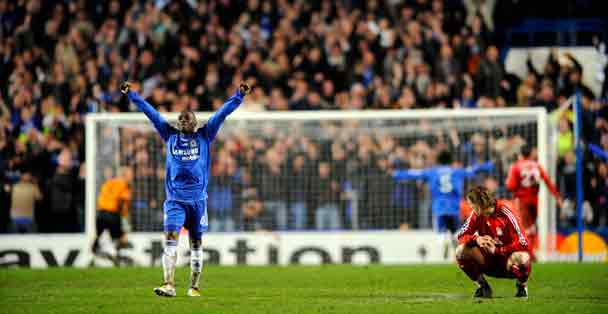 When: Saturday, September 16th, 3:00 pm Eastern Time
Where: Stamford Bridge
Who: Chelsea vs. Liverpool
ExpressVPN Score Prediction – Chelsea 2:0 Liverpool
Previously, ExpressVPN wondered if this will be a season of redemption for both Chelsea and Liverpool. So far, Chelsea has been off to a winning start, securing all nine possible points thanks to some last-minute heroics from Diego Costa. Liverpool, on the other hand, has had highs such as the incredible 3:4 comeback over Arsenal mixed with lows like the 0:2 loss at Burnley.
Expect a back-to-form Eden Hazard to wreak havoc early and often. The visitors won't go down without a fight, but Chelsea's back four will deliver a solid performance and extend their win-streak for another week.
Streaming Arsenal vs. Chelsea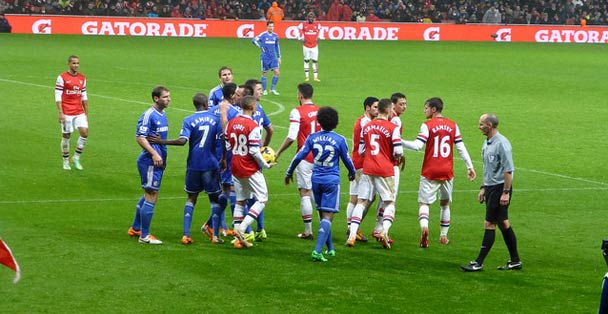 When: Saturday, September 24th, 12:30 pm Eastern Time
Where: Emirates Stadium
Who: Arsenal vs. Chelsea
ExpressVPN Score Prediction – Arsenal 2:2 Chelsea
Completing a hat trick of must-watch games this September is the London derby between Arsenal and Chelsea. The two most successful London clubs have clashed 187 times, with the Gunners holding a 72-61-54 all-time edge. While Arsenal has had a slower start to the season than their southern rivals, they will certainly be ready to host the Blues, who will likely be undefeated heading into this clash of titans.
Hazard, Costa, and Oscar will continue to terrorize defenses, but look for the Gunners to create chances of their own through Mesut Özil and Granit Xhaka, who will be feeding a hungry Alexis Sanchez up front.
Share your predictions here!
Will the games be as close and exciting as forecasted here? Or is something even wilder on the cards? Even the ExpressVPN office cannot seem to agree!
Share your predictions below for these must-watch September games and remember to tune in for what will be some of the best football action this season!
Where will you be streaming the Premier League from? Will you be watching online at home, or heading to a live pub stream?
* ExpressVPN is a VPN service not intended to be used as a means of copyright circumvention. Please read the ExpressVPN Terms of Service and Premier League Terms and Conditions for more details.
Wayne Rooney: cortexena xen / Flickr
Chelsea and Liverpool: Ryu Voelkel / Flickr
Arsenal Chelsea: wonker / Flickr