In September last year, we launched ExpressVPN Aircove—the world's first Wi-Fi 6 router with built-in VPN. Aircove also marks our first foray into the world of hardware, an endeavor that could reshape home protection for millions of our users.
Since then, Aircove has clinched How-To Geek's Editor's Choice 2022 award, with the publication dubbing it a "milestone in router development." Touted as "the best way to protect all of your home's gadgets" by Popular Mechanics, Aircove also garnered praise for its intuitive, novice-friendly interface: "Setup is exceptionally easy, you're ready to go in a few minutes, and it's good value, too," TechRadar wrote in its 4-star review.
We're incredibly heartened to see our first hardware product making waves in the wild, but we know there's always more to be done. And it starts with listening to our customers.
We regularly conduct user interviews and analyze customer-support tickets and online reviews. This input guides our roadmap, helping us understand which features and improvements to prioritize. We're spurred by a simple mission: Make Aircove better every day. Here's what it means for you.
See the full release notes for Aircove
1. No more connection interruptions with Lightway Passthrough
Previously, if users had the ExpressVPN app on their phone or computer turned on while also connected to VPN on Aircove, they might encounter an error that required turning off one of the VPN connections.
In Aircove's last update, we solved this issue by launching Lightway Passthrough, a feature that allows ExpressVPN apps on Mac, Windows, iOS, Android, and Linux devices to connect to ExpressVPN directly—even when these devices are also connected to VPN through Aircove. 
Say you're connected to ExpressVPN on your phone while you're out. Once you're back home and on Aircove's Wi-Fi, you won't need to disconnect from the ExpressVPN app on your phone anymore. Lightway Passthrough works automatically without needing any configuration and just makes your life easier.
2. Troubleshoot setup issues with our connection helper
With a simple, five-minute setup, Aircove has become the most user-friendly VPN router on the market. But we wanted to make it even more foolproof.
If you ever run into any issues establishing an internet connection, we've made it easier than ever to get connected and protected with our new built-in connection helper.
It's a step-by-step guide within the Aircove installer that launches if it can't detect an internet connection. This gets you the information you're looking for, exactly where you need it, so you don't have to go searching.
3.  WPA3 security for stronger Wi-Fi protection
As a security-first router, Aircove was built to uphold the security excellence our VPN users have come to expect. Delivering the most advanced and robust Wi-Fi security standard available is a big step in that direction.
Wireless Protected Access (WPA) is a wireless security standard developed by the Wi-Fi Alliance that uses data encryption to protect your Wi-Fi network from external threats. WPA3, the latest security standard, comes with further security improvements that offer better protection against brute-force attacks.

You can turn on WPA3 security through the Wi-Fi Settings on your Aircove dashboard, but note that once WPA3 is enabled, devices that were previously connected to the Wi-Fi network will continue to use WPA2 unless they "forget" the network and rejoin it. It's also important to note that older devices might not be compatible with WPA3, in which case they would need to use WPA2 instead.
4. Use custom DNS even when the VPN is disconnected
With Aircove, the VPN isn't the only way to protect your data and devices. We've engineered a way to provide protection even with the VPN disconnected—using custom Domain Name System (DNS) settings. 
Most routers use your internet service provider's (ISP) DNS servers. This means your DNS requests are sent to your ISP, which can then use this information to track your activity online. Some providers may even sell this data to marketing companies or use it to show you targeted ads.
A VPN protects you against all of this, but if for some reason you don't want to connect to the VPN, this feature is for you.
Aircove allows you to use alternative DNS servers when the VPN is disconnected so that your DNS queries are never visible to your ISP. This can be enabled under the Internet settings on your Aircove dashboard; you will need the IP address(es) of your DNS provider (e.g., Quad9 or OpenDNS) on hand.
5. Support for static WAN IP addresses
You asked, and we answered. We've added static IP support for users who want to connect to the internet using a static WAN IP!
DHCP, static IP, and PPPoE are different ways to connect to the internet. Your ISP should be able to tell you what your modem or router-modem combo supports.
DHCP

(most common) works by automatically assigning an IP address to your device.

Static IP

works by manually inputting an IP address, subnet mask, and default gateway provided by your ISP.

PPPoE

works by connecting to your ISP using a username and password provided by them.
For Aircove to connect to your ISP's modem or router, it must support DHCP, static IP, or PPPoE. We already support DHCP and PPPoE and have since added static IP support in response to feedback from the ground. Go to Internet settings > Connection settings on your Aircove dashboard to enter a static WAN IP address.
6. Change the Maximum Transmission Unit (MTU) size if your ISP requires it
When debugging issues customers were facing with connecting Aircove to the internet or activating ExpressVPN on their router, our engineers found that some ISPs require a different Maximum Transmission Unit (MTU) size.
In networking, MTU is a measurement that represents the largest data packet a network-connected device will accept. Imagine it as a height limit for freeway underpasses or tunnels: Cars and trucks that exceed the height limit cannot drive through, just as packets that exceed the MTU of a network cannot pass through that network.
By correcting the MTU size, the packets passing through Aircove to your ISP are able to flow freely, getting you connected to the internet.

You can change the MTU size under the Advanced settings on your Aircove dashboard.
Unless you've turned auto-update off, your Aircove will update automatically every day at 4 a.m. local time, and all the above features will be available. We recommend keeping it enabled on your router to get the latest functionality and security upgrades.
The ExpressVPN Aircove impressed me with its unparalleled ease of use compared to other VPN-enabled routers. The software makes it a breeze to activate and set up ExpressVPN… I almost forgot I was using a VPN at all.
Why use Aircove?
Aircove is a powerful, easy-to-use VPN router we built from the ground up, and launching it is only the beginning. There are tons of new features and improvements we're working to ship, so you're investing in a product that responds to your needs and gets better with time.
Learn how to join our beta program and send us feedback
With Aircove, every device on your Wi-Fi network enjoys VPN benefits automatically—and there's no limit to how many devices you can connect to Aircove. If it's connected, it's protected. All the time. Even smart home devices that normally can't install VPN software, such as game consoles, smart TVs, smart fridges, and other IoT items. This makes whole-home VPN security an easy reality for everyone.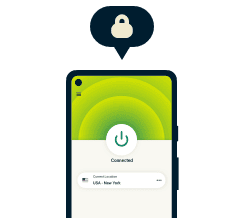 Protect your privacy with the best VPN
30-day money-back guarantee