Despite Elon Musk's acquisition sparking new interest in the platform, Twitter is predicted to lose 33 million users worldwide by 2024


. 

Over 6% of U.S. users are expected to quit the platform this year alone


. 

Twitter's headcount is currently at 1,800 employees—less than it had in 2012


. 

Twitter Blue's relaunch is getting rave reviews, despite user uptick being slow


. 

A post announcing the passing of Chadwick Boseman by the actor's family remains the most-liked tweet ahead of Twitter Day 2023
---
Twitter has been on a wild ride in the past year. From Elon Musk's acquisition of the platform in October 2022 to the subsequent shake-up of the company, the Twitterverse has been in a constant state of change. However, despite the upheavals, the social network is still staying afloat—attracting new users and keeping old ones engaged. But for how long? 
To mark Twitter Day on March 21, and the social network turning 17, we take a closer look at the Twitterverse in numbers to see how much the platform has changed in the past year, and how it's expected to evolve. From user growth and popular hashtags to banned bots and controversial blue ticks, here are the latest developments coming out of Twitter HQ.
[Access your favorite social media platforms with a VPN, no matter where you are.]
Musk's acquisition breathes new life into user growth (but it's expected to plummet) 
Is Twitter still popular in 2023? Spoiler alert: yes! The platform currently has over 354 million active users—260 million who log on every day. According to two independent research firms, Apptopia and Sensor Tower, Musk's 44 billion USD acquisition of the company garnered new interest in the social media giant.
For example, Apptopia reported that Twitter downloads in the U.S. averaged about 125,000 a day over 31 days when Musk became CEO—a figure that's 42% higher compared to the previous year. 
Sensor Tower's research also showed a slight increase in overall activity. They reported that the daily number of active users worldwide on Twitter jumped by 2% in the month following Musk's purchase, compared to the previous month. That's a 4% increase from the same time frame a year prior.
However, while Musk recently boasted that new user signups were at an "all-time high" due to his influence, social media experts predict that the spark of interest in Twitter is fleeting. Instead, they speculate that people joined the platform when Musk took over because they were curious about its future and whether it would fail under his leadership, and that many will become disinterested imminently.  
These sentiments are echoed by recent findings from Insider Intelligence that predict that Twitter will lose more than 32.7 million users worldwide by 2024 because of technical problems and controversy plaguing the platform.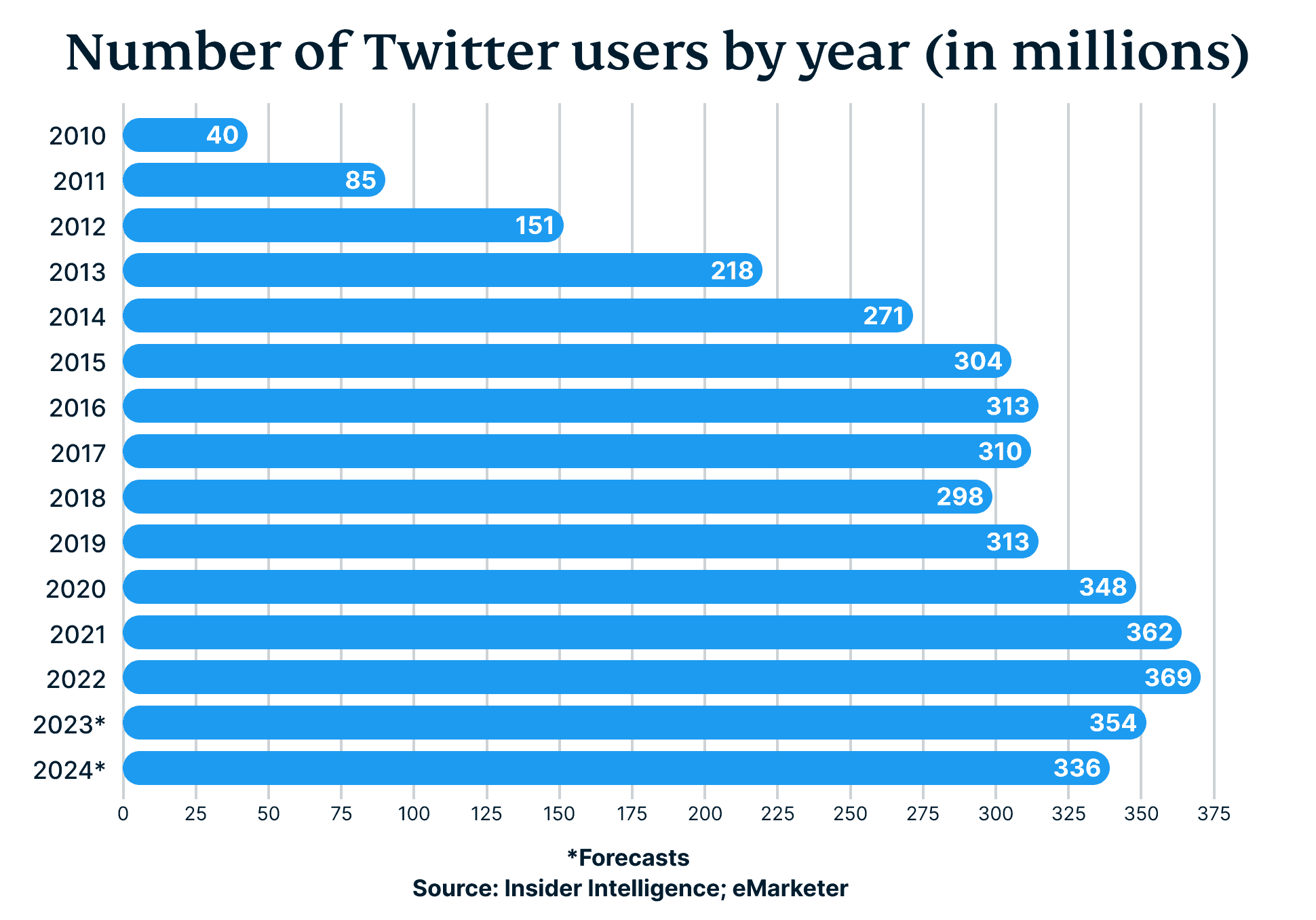 Twitter expected to lose more users in the U.S. than anywhere else 
The United States is currently home to the most Twitter users, with at least 83 million Americans signed up to the social networking site. However, if the above-mentioned projections are correct, Twitter is on track to lose a staggering 3.6 million users in the U.S. this year alone—a 6% drop compared to 2022. U.S. monthly users are also expected to fall by an additional 8% in 2024 to 51 million which is the lowest level the platform has reached since 2014. 
In the UK, Twitter usage is expected to fall drastically this year, across all age groups, dropping 5% to 13.4 million users. Insider Intelligence also predicts monthly British users will further decrease to 12.6 million in 2024, down 6.3%. 
Other key markets where Twitter could use valuable users include Japan which has close to 61 million users, India which boasts 25 million Twitter users, and Indonesia where there are 21 million users. 
A recap of Twitter's problems 
According to Jasmine Enberg, principal analyst at Insider Intelligence: "There won't be one catastrophic event that ends Twitter. Instead, users will start to leave the platform [in 2023] as they grow frustrated with technical issues and the proliferation of hateful or other unsavory content. Twitter's skeleton staff, working around the clock, won't be able to counteract the platform's infrastructure and content moderation problems."
Unless you've been avoiding the news, you'll likely know that Enberg is referring to the wave of controversy that Twitter has been embroiled in since Musk announced his plans to acquire the platform as its sole director. In case you need a recap:
Aside from Musk seesawing about buying Twitter—even being taken to court when he tried to back out of the sale—one of the biggest issues he's faced since he acquired the company is his leadership after he laid off half of Twitter's 7,500 employees. 
Whole teams vanished after Musk gave them the boot just a month after he took over the reins, bringing Twitter's headcount down to 1,800 people—less than the number of people working for Twitter in 2012. 
Also, despite reiterating that the mass firings and walkouts haven't affected Twitter's operations, with Musk saying in a recent tweet that hundreds of employees are working on the platform's trust and safety, Twitter has faced a slew of problematic security breaches and technical glitches. 
In January this year, more than 200 million Twitter users' email addresses were stolen in an alleged data hack due to a security flaw in Twitter's system. At the time, the records appeared on a breach forum for anyone to download for free. In response to the hack, Musk tweeted, "The data is likely a collection of data already publicly available online through different sources," which didn't go down well with many of the platform's users. 
Then, in February 2023, Twitter users around the globe reported that they could no longer post messages to one another in a series of glitches, with many of them getting an error message saying that they'd reached their daily tweet limit. This came after some users experienced outages in late December 2022, when the company closed down operations at one of its main data centers in Sacramento. 
In January 2023, users in Australia and New Zealand also reported Twitter outages that lasted more than half a day. 
And let's not forget Twitter's verification saga…
Chaos unchecked: A timeline of Twitter Blue
When Musk was newly installed at the helm of Twitter after completing his tumultuous takeover, he decided to fully dismantle Twitter's verification system so he could monetize a new one. This led to a lot of delays, mass confusion, and decisions being revoked around the famous blue tick. 
Pre-Musk:

The blue checkmark was used to indicate active, notable, and authentic accounts of prominent people or organizations.

1 November 2022:

Twitter announces a new paid verification model through Twitter Blue, which would allow anyone to become verified if they paid an 8 USD monthly fee. 

3 November  2022:

As advertisers threatened to pull their ads, Musk said he planned on allowing government accounts to keep their blue checks for free. 

5 November 2022:

Twitter launched its new Twitter Blue verification, which immediately backfired after parody accounts and controversial groups like the Taliban became Twitter-verified. 

6 November 2022:

Less than a day after formally rolling out paid verification, Twitter revoked its decision and pushed its debut until after the midterm elections.

8 November 2022:

Twitter announced it would display two different-colored checkmarks—one blue and one gray—to distinguish paid Twitter Blue checks from official verified accounts. 

9 November 2022:

Musk decides to pull the gray checks, labeling them an "aesthetic nightmare".

11 November 2022:

On November 11, Twitter re-rolled out the gray check marks after removing them. It also announced it was halting Twitter Blue. 

13 December 2022:

Twitter's verification ticks now appear in three colors: yellow for verified companies, gray for government accounts, and blue for individuals. 

18 January 2023:

Twitter relaunches Twitter Blue for 7 USD per month. It comes with a verified checkmark, higher-ranking replies, and 60-minute video uploads.

9 February 2023:

Twitter Blue introduces 4,000-character tweets, and reduces its ads for Blue subscribers to half. 

13 February 2023:

Musk announces that he will remove Twitter blue ticks from people who have not paid for them, including legacy accounts. 
Despite the initial problems with Twitter Blue, which were likely due to teething issues and a lighter workforce, its revised launch is now being touted as a success by many—helping Musk gain trust among real users, while filtering out fake influencers. 
Additionally, while a handful of celebrities and top influencers swore off Twitter when Musk announced his plans to strip them of their verified badges—including Elton John, Meek Mill, Jim Carrey, and Whoopi Goldberg—many have chosen to stay on the platform. 
…And continue to tweet.
In fact, climate activist Greta Thunberg ended 2022 with one of the most memorable tweets, trolling Andrew Tate, a former kickboxer and professional misogynist, after he boasted about his car collection's large amount of emissions.  
She wrote: "yes, please do enlighten me. email me at smalldickenergy@getalife.com." Her reply quickly gained traction to become one of the top 10 tweets of all time, amassing 1,958 likes per hour. 
Tate was subsequently arrested by Romanian police after another tweet directed at Thunberg helped authorities determine that he was in the country. In it, Tate responds to Thundberg by reassuring his masculinity and status, using a cigar and pizza box as props. The pizza box gave authorities an indication of his location. Not long after that, Tate and his brother were arrested for alleged sex trafficking and rape. 
Of the news, Thunberg tweeted: "this is what happens when you don't recycle your pizza boxes"—becoming the second most-liked tweet ever. The post garnered an average of 1,800 likes per hour between Twitter day 2022 and Twitter Day 2023. 
The future of Twitter 
While there are still questions about the future of Twitter under Musk's leadership, Twitter Day 2023 shows us that the platform remains a relevant and important player in the digital world. 
After losing half of Twitter's top advertisers (including Chevrolet, Chipotle Mexican Grill, Ford, and General Mills) within a month of his takeover, Musk has hinted at a new approach toward advertising. The billionaire recently proposed the creation of a super-app called X—a platform that offers multiple services such as shopping, ordering food, and ride-hailing. 
"The long-term potential for Twitter in my view is an order of magnitude greater than its current value," Musk said of the project. "Buying Twitter is an accelerant to creating X, the everything app."  
While doubts remain about the feasibility and desirability of such an ambitious project, if Musk manages to pull off X, it could be a key factor in shaping Twitter's future success.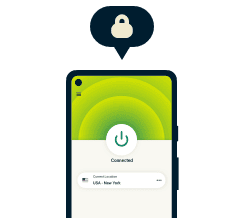 Take the first step to protect yourself online
30-day money-back guarantee