What's in a name? When it comes to Wi-Fi networks, apparently a whole lot. The names we select for our wireless networks can offer interesting insights into our personalities and sense of humor. And our Wi-Fi habits may reveal surprising details about our security practices and willingness to share passwords.
These findings emerged from a survey conducted by ExpressVPN across the U.S., UK, Germany, and France, with participation from 4,000 users from various age groups. The research provides valuable insights into the Wi-Fi names people choose, while also shedding light on significant aspects of our digital behavior. Join us as we unpack our findings. 
Learn more: Get an in-depth look into the Wi-Fi habits of the U.S., UK, Germany, and France.
From 'PrettyFlyForAWiFi' to 'MartinRouterKing': A roundup of the wittiest Wi-Fi names
When you first set up a Wi-Fi router, you're typically greeted with a long and complex default name that includes the router brand. It's no wonder that 40% of people choose to add a personalized touch to make it more memorable or interesting. 
Some individuals even take it a step further, going beyond a simple moniker or house number. In fact, an average of 12% of surveyed participants revealed their fondness for adding humor, admitting that they've seized the opportunity to transform their Wi-Fi network names into something funny and entertaining.
Here are some examples of these witty and "punny" Wi-Fi names:
These amusing Wi-Fi names not only demonstrate a fun interplay of creativity and cultural references but also highlight the subtle wit present across different countries. In the U.S., for example, Wi-Fi names like "YourMusicIsTooLoud" and "SurveillanceVan07" poke fun at neighborly cliches and movie tropes. Meanwhile, the UK embraces conspiracy theories with names like "5G Test Mast" and cheekily alludes to TV license monitoring with "TV Licensing Surveillance."
French users get meta with gems like "WiFiError404", which plays on the infamous error code, and "Connexion son" which means "good connection" in French. In Germany, the penchant for wordplay and irony shines through with Wi-Fi names like "Verbindungsfehler" ("connection error"), "MartinRouterKing," and "Obilankenobi" (a Star Wars reference combined with LAN).
15% of respondents admit to seeking someone out in person to compliment them on their Wi-Fi name
And when it comes to connecting to Wi-Fi networks, the allure of a funny name extends beyond mere humor. Our research found that a significant portion of respondents from the U.S. (27%), the UK (17%), France (21%), and Germany (21%) are more likely to join a network if its name tickles their funny bone. Furthermore, 15% of those surveyed across all four countries admit to actively seeking out the owners of amusingly named networks in person, just to personally compliment them on their efforts. 
Does your Wi-Fi have an amusing name? Let us know in the comments below. 
What does your Wi-Fi network name say about you?
Your Wi-Fi network name is one way of expressing yourself to anyone within range. However, whether it's intentionally provocative, offensive, humorous, or clever, the name you choose for your wireless router can unintentionally reveal more information than you might realize—not just to those around you, but also to potential threats.
For example, let's say you set your Wi-Fi network name as "JohnsonHomeNetwork." At first glance, this seemingly innocent name may unknowingly expose your family name to anyone nearby. When combined with other publicly available information or social media profiles, this disclosure could provide cybercriminals with insights into your personal life. They might gather information about your family members, home address, or other sensitive details, jeopardizing your privacy and security.
Hackers can also exploit router names to deceive unsuspecting users into connecting to malicious networks. For instance, imagine an unsuspecting user connecting to a Wi-Fi network named "FreePublicWifi." At first glance, it appears to be a legitimate public network, however, it could be set up by a hacker who has named it to con users.
The potential risks of revealing personal information through Wi-Fi names have become a significant concern for many individuals. According to our survey data, 29% of respondents expressed worry about the possible disclosure of personal information when changing their Wi-Fi network name. Furthermore, 18% of those surveyed reported encountering network names that made them feel uneasy about their privacy or safety.
In light of these mounting concerns, an average of 30% of Americans, Brits, Germans, and French respondents believe that there should be restrictions on the naming of Wi-Fi networks.
| | | | | |
| --- | --- | --- | --- | --- |
| | US | UK | France | Germany |
| Identity concerns | 28% | 22% | 35% | 29% |
| Raised privacy or safety concerns | 23% | 14% | 15% | 18% |
| Wants more Wi-Fi name restrictions | 30% | 30% | 33% | 28% |
Percentage of respondents expressing concerns about Wi-Fi network names, by country
No Wi-Fi password, no problem?
When it comes to allowing others access to our Wi-Fi networks, the idea of "sharing is caring" is often considered a practical approach. Whether it's providing connectivity to guests or family members, sharing the Wi-Fi password can be a reasonable gesture.
So, it's not entirely unexpected that a high percentage of people across all four countries willingly engage in this act of sharing—our survey reveals that an average of 55% of respondents admit to sharing their Wi-Fi password with others.
On the flip side, our survey data indicates a noteworthy portion of respondents have been on the requesting end of Wi-Fi sharing. Approximately 24% in the U.S., 15% in the UK, 20% in France, and 23% in Germany have sought Wi-Fi access from neighbors or nearby individuals.
However, not everyone is open to the idea of Wi-Fi sharing. Close to 57% of respondents express that they don't trust their neighbors with access to their Wi-Fi networks, and only a small fraction (9%) are willing to regularly allow their neighbors to connect. This wariness towards Wi-Fi sharing is mainly influenced by concerns over data security and privacy breaches. 
22% of respondents admit to having used someone else's private network to connect to porn sites or the dark web
It's surprisingly common for people to use their neighbors' Wi-Fi without permission, with 21% of respondents having caught their neighbors attempting to do so. This type of unauthorized access raises significant concerns about digital boundaries within local communities and the potential implications it may have on personal data security.
These encounters may also lead to disputes or confrontations, as evidenced by 13% of respondents who say they've caught someone trying to access their home Wi-Fi network to visit controversial sites, such as porn sites and the dark web.
Interestingly, while people might criticize others for accessing inappropriate content on their Wi-Fi networks, 22% admit to having used someone else's private network to connect to questionable sites themselves. This percentage is particularly high in the U.S. and Germany, where 26% and 28% of those surveyed, respectively, admitted to visiting porn sites or the dark web while using someone else's Wi-Fi connection.
| | | | | | | |
| --- | --- | --- | --- | --- | --- | --- |
| Country | Doesn't trust neighbors with Wi-Fi password | Gives neighbors regular access | Caught a neighbor trying to connect without permission | Caught someone using Wi-Fi for dodgy websites | Had a dispute with a neighbor over Wi-Fi access | Admits to using someone else's Wi-Fi for dodgy websites |
| U.S. | 57% | 12% | 24% | 25% | 14% | 26% |
| UK | 59% | 7% | 13% | 14% | 7% | 16% |
| France | 56% | 9% | 18% | 19% | 17% | 18% |
| Germany | 56% | 7% | 23% | 23% | 14% | 28% |
Wi-Fi trust issues: over 50% of respondents in the U.S., UK, France, and Germany don't trust their neighbors with access to their Wi-Fi, while only a small percentage are willing to allow regular connections. Additionally, a significant number report catching neighbors attempting unauthorized access, leading to concerns over online security and privacy.
Wi-Fi security: Are users taking the necessary precautions?
Despite the growing awareness of online security risks, our survey data reveals an unsettling reality—a considerable number of users aren't adequately safeguarding their Wi-Fi networks, making them susceptible to security breaches and data theft.
Lack of understanding of encryption protocols
One of the most fundamental security measures for Wi-Fi networks is encryption, which protects transmitted data from unauthorized interception. However, a worrying proportion of respondents in our survey said they aren't aware of different encryption protocols used for secure Wi-Fi networks.
This lack of understanding about encryption protocols is particularly pronounced in the UK, where 66% of users admit to being unaware. France follows closely with 62%, and the U.S. with 55%. Even in Germany, where the awareness is relatively higher (only 39% of respondents say they don't know about different protocols), it's still a significant concern as it increases the risk of potential security breaches and data theft for these users.
Awareness of security risks when connecting to Wi-Fi networks
On a more positive note, our survey shows that a better level of awareness exists when it comes to considering security risks before connecting to Wi-Fi networks. The U.S. leads the way, with 58% of respondents understanding the risks associated with using public Wi-Fi. The UK follows closely behind with 57%, while Germany and France show 47% and 46% understanding, respectively.
This higher level of awareness about security risks is encouraging. However, it remains unclear whether this awareness translates into cautious behavior and the prompt adoption of security measures when accessing unfamiliar networks.
Home Wi-Fi networks and password updates
Securing home Wi-Fi networks ensures no one is using your Wi-Fi, which can slow down your speeds by taking up your bandwidth and introduce security risks. Fortunately, a significant percentage of respondents in the U.S. (75%), the UK (74%), and France (66%) prioritize securing their home networks. Concerningly, only 31% of those in Germany say they do. 
Another simple yet effective measure to prevent unauthorized access is to update Wi-Fi passwords, particularly if it's been shared with others in the past. However, our data reveals that only a minority of respondents regularly do so. The U.S. leads with 38%, while the UK, France, and Germany have lower percentages at 29%, 31%, and 32%, respectively.
Read the full U.S., UK, Germany, and France reports.

11 Ways to strengthen your Wi-Fi security
While we enjoy the fun of creative Wi-Fi names and the convenience of sharing passwords with friends and family, our survey results have highlighted a significant gap when it comes to practicing comprehensive Wi-Fi security. To safeguard yourself on both home and public Wi-Fi networks, it's essential to bridge this gap and adopt the appropriate security measures.
To assist you in fortifying your Wi-Fi habits and protecting your digital world, here are our top 11 tips:
1. Change default router passwords
One of the most basic yet effective measures is to change the default login credentials of your Wi-Fi router. Default passwords can be more easily discovered than one you set yourself.
2. Enable strong encryption
Utilize strong encryption protocols, such as WPA3 (Wi-Fi Protected Access 3), to secure your home Wi-Fi network. Avoid using WEP (Wired Equivalent Privacy) or WPA (Wi-Fi Protected Access) as they're outdated and less secure.
3. Update router firmware regularly
Keep your Wi-Fi router's firmware up to date. Manufacturers release firmware updates to address security vulnerabilities, so regularly updating your router's software is crucial to stay protected.
4. Enable firewall protection
Activate the firewall feature on your router to add an extra layer of protection against potential threats and unauthorized access attempts. To do this, you'll need to log in to the router's web interface. The login information is usually printed on the router itself. Once you're logged in, look for the section that allows you to configure the firewall. You'll need to enable the firewall and then choose the level of protection that you want.
5. Implement network segmentation
Give guests access to a network that you don't use for your primary devices to limit potential damage in case of a security breach. This way, if one device is compromised, it won't grant access to your entire network. 
One way is to use a router that supports multiple SSIDs (Service Set Identifiers). SSIDs are the names of Wi-Fi networks, and each SSID can be configured with different security settings. This allows you to create separate networks for different types of devices.
6. Use a VPN
When accessing the internet from home or in public places, consider using a high-quality VPN service like ExpressVPN. A VPN encrypts your internet traffic, ensuring that even if someone intercepts it, they won't be able to decipher your data.
7. Better yet, invest in a VPN router
For comprehensive protection at home, consider using a VPN router like Aircove—the first Wi-Fi 6 router with built-in VPN protection. A VPN router encrypts all traffic passing through it, securing all connected devices with minimal configuration required.
8. Disable remote management
Unless necessary, disable remote management on your Wi-Fi router. While remote management allows you to connect to your router from anywhere in the world, it also opens a potential entry point for hackers. If someone were to gain access to your router, they could steal your network password, change your router settings, or even install malware on your network.
9. Use strong and unique passwords
Use strong, unique passwords for all your devices and online accounts. Avoid using easily guessable information like birthdays or names and consider using a reliable password manager to keep track of them.
10. Be cautious on public Wi-Fi
When connecting to public Wi-Fi networks, exercise caution. Avoid accessing sensitive information like online banking or private emails. If you need to use these services, do so through a VPN to encrypt your data.
11. Disable automatic Wi-Fi connection
When you turn off the automatic connection feature, your device will only connect to networks that you have manually entered the password for. This means that you will be less likely to connect to a malicious network by accident.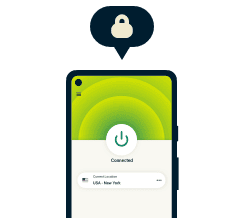 Mask your IP address with a VPN
30-day money-back guarantee