If you see the following error message in your connection log:
ExpressVPN client version :3.031000
Operating system version 10.6.8
or
Timestamp: 2013-12-01 21:42:16 +1100
Activation code: XXXXXXXXXXXXXXXXXXXXX
Cluster list file version: 20131201|1|
Cluster list download date: 2013-12-01 21:42:14 +1100
Close all VPN applications on your device, then restart ExpressVPN and connect to a server location. If that does not resolve the error, perform the following:
Open a Terminal console (Application > Utilities > Terminal).

Enter the following command: kextstat
In the resulting list of loaded drivers, look for any TUN/TAP kexts. These will have domain addresses ending in .tun or .tap and are usually at the end of the list. Viscosity and Tunnelblick are two common examples. The below is an example: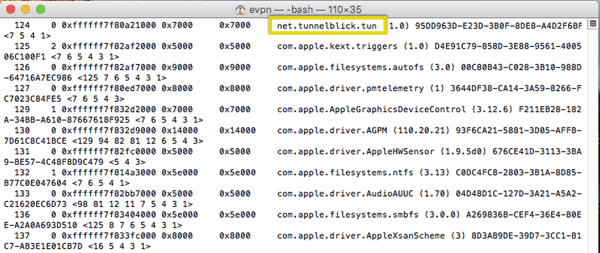 Remove these conflicting kexts by running: sudo kextunload -b <kext>
Here, <text> is the TUN/TAP kext domain name as it appeared in the driver list. In the above example, this would be sudo kextunload -b net.tunnelblick.tun
Enter your admin/sudo password into the Terminal when prompted. You may not be able to see the characters you entered so be carefully to type carefully.
Restart ExpressVPN and connect to a server location.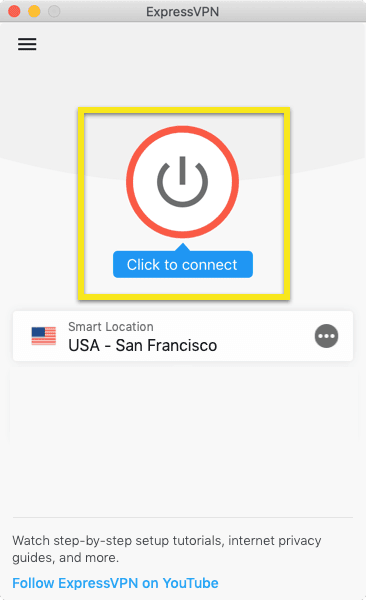 Troubleshooting
If you are still encountering issues, first restart your computer, then start ExpressVPN and connect to a server location.
If the problem persists after restarting your computer, re-install ExpressVPN. You do not need to uninstall the app first. Simply run the installation program again.