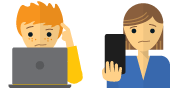 About the request for permissions
To communicate directly with Chrome, connect to VPN, and block WebRTC when connected to VPN, the ExpressVPN extension for Chrome has always required permission to:
Display notifications
Communicate with cooperative native applications
Change your privacy-related settings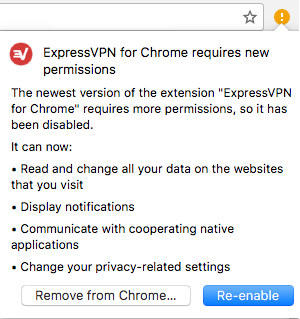 ExpressVPN for Chrome version 1.1.0 requires one additional permission:
Read and change all your data on the websites that you visit
This request is genuine and safe to approve. It allows the ExpressVPN for Chrome extension to spoof your location when connected to VPN, so that sites you visit cannot find your real location using HTML5 geolocation. It will also allow new features protecting your privacy to be added in the future.
What to do about the request for permissions
To continue using ExpressVPN for Chrome, re-enable the extension.
Click (!) in the Chrome toolbar and choose ExpressVPN for Chrome requires new permissions.
Click Re-enable.