Social media platforms like TikTok, Instagram, and YouTube are transforming the job search and career-building landscape.


.

Younger applicants are using these platforms to showcase their skills and personality in creative ways.


.

Companies are recognizing the value of social media in recruitment, leading to successful hires through casual (non-LinkedIn) social media platforms.


.

However, applicants should be cautious about the type of personal information they want living on the web.


.

Can't access your favorite social media sites? Unblock TikTok, Instagram, or YouTube anywhere with a VPN.


.

---
The landscape of job searching and career building is undergoing a dramatic transformation, where hashtags, filters, and follower counts now hold the power to captivate industry leaders and unlock a world of new opportunities.
LinkedIn has always reigned as the go-to social media site for professional networking, while platforms like TikTok, Instagram, and YouTube are primarily seen as sources of entertainment and personal connection. However, a paradigm shift led by Gen Z is challenging the notion that traditional methods of résumé submissions, online applications, and LinkedIn networking are the only paths to landing one's dream job.
We explore the rising trend of casual social media résumés and share the stories of those who've managed to make their mark in the professional world with the help of these ubiquitous platforms.
Get ready to discover how social media is reshaping the way we land our dream jobs!
The rise of social media résumés
In today's job market, job seekers face a common challenge: the struggle for attention. As the number of applicants continues to rise, résumés and cover letters often find themselves buried beneath a mountain of submissions, making it difficult for candidates to stand out. This challenge is particularly pronounced for Gen Z (those born between 1997 and 2003), who constantly compete against more experienced professionals.
Recognizing the need to be more creative and innovative in their approach, younger applicants who have grown up in the digital age are turning to social media platforms as a solution. These platforms provide an opportunity to break away from the conventional format of résumés and cover letters, allowing candidates to showcase their skills and personality in a more engaging way. Moreover, social media's growing significance in the recruitment process instills confidence in applicants that their efforts won't be lost in the digital abyss. 
Recent statistics reveal that an increasing number of companies now recognize the value of social media in recruiting. In fact, approximately 70% of hiring managers have reported successful hires through these platforms. This growing acceptance of unconventional recruitment strategies further encourages job seekers to explore the potential of social media to attract an employer's attention—even when it's not LinkedIn.
By utilizing casual social media platforms, young candidates can tap into a vast network of employers actively seeking fresh and unique talent. They have the opportunity to cast a wider net and reach potential employers who might not have discovered them through traditional avenues like LinkedIn or online job applications.
The power of social media also lies in its ability to amplify one's reach. Job hopefuls can leverage their own social media communities to drive their applications forward. Engagement metrics, such as likes, video views, and shares, can help candidates stand out in a landscape typically dominated by fluffier content.
This new wave of job seekers often relies heavily on visual media, such as video résumés, to showcase their skills. Unsurprisingly, the platform where this is happening most frequently is TikTok.
The #TikTokResumes revolution 
The rise of résumés on TikTok was a concept created by the company itself. Recognizing the challenges faced by recent graduates in securing internships and employment, the platform introduced TikTok Resumes in 2021. 
While leveraging social media platforms for recruiting isn't entirely new—in 2015, Taco Bell advertised internship opportunities on Snapchat, and in 2017, McDonald's introduced "Snaplications" that allow people to apply for jobs through the popular image-sharing app—TikTok took the concept further by incorporating video applications instead of directing users to more traditional application pages.
The initiative urges users to post a 60-second digital résumé along with the hashtag #TikTokResumes and directly apply for jobs within the app itself. Several prominent companies like Chipotle, Target, WWE, and Shopify partnered with the company, allowing job candidates to submit their video résumés via the social platform. Some colleges have even incorporated the creation of TikTok résumés into their curricula.
TikTok's immense reach, with an average of over 1.2 billion video views per day, offers a significant opportunity for job seekers to connect with potential employers and explore a wide range of job openings.
Makena Yee, a 23-year-old applicant from Seattle, is one of TikTok Resumes' success stories. After her video résumé went viral, accumulating millions of views and hundreds of comments, including phrases like "Someone hire herrrr!", Yee received more than 15 job leads.
Kalli Roberts, 25, a former student at Brigham Young University in Utah, is another candidate whose TikTok résumé landed her a gig. After posting her Legally Blonde-inspired video résumé, she managed to secure an internship at TikTok itself in their global business department.
"I didn't feel like my personality or who I actually am was captured in my paper résumé," Roberts said in an interview with The New York Times after she landed the gig. "TikTok let me showcase my skills, like video editing and public speaking, that would have been lost on a written application. I had 10 other companies outside of TikTok say, 'If they don't want you, we do.'"
Harnessing Instagram's picture power  
Iman Vellani, a Pakistani-Canadian actress, is a prime example of how Instagram can open doors to new opportunities. She landed the role of Kamala Khan in a Marvel series through her Instagram account after her passion for Marvel, evident in a few old photos, caught the attention of casting agents. 
The visual nature of Instagram makes it particularly appealing to job seekers, too. It allows individuals to feature their abilities through captivating videos and eye-catching images. Whether someone is a designer, chef, or a talented photographer, Instagram offers the ideal platform for self-expression and the demonstration of capabilities to potential employers.
For example, Ankita Chawla, a user based in India, turned her personal Instagram account into a creative showcase of her skills and abilities. She designed her résumé as a collage and posted it on her profile, leading to her being hired as a visual creator at Deloitte India.
In a recent interview with Bumppy, Chawla said, "I remember feeling terrible sitting there while my friends talked about their pre-placement job offers. In one of those boring lectures, I was scrolling through my Instagram feed and realized I needed to do something different to grab the attention of employers." She dedicated 60 hours to designing her Instagram résumé and another five hours executing it. 
Many aspiring creatives have followed suit, transforming their Instagram pages into full-blown résumés, showcasing their talents and passions to attract potential employers:
The idea of using Instagram as a channel during the job application process is also beneficial for employers who can easily navigate through posts, stories, and even the accounts followed by candidates, allowing them to get to know applicants beyond the constraints of a formal résumé.
YouTube and the visual CV
While YouTube has long been associated with content creators and viral videos, video résumés have started popping up more frequently on the platform. What began as a hilarious rap résumé by Brian David Gilbert, which secured him a position at Polygon, sparked a wave of job hopefuls utilizing the power of video to showcase their skills, personalities, and ambitions. And the response from employers has been overwhelmingly positive.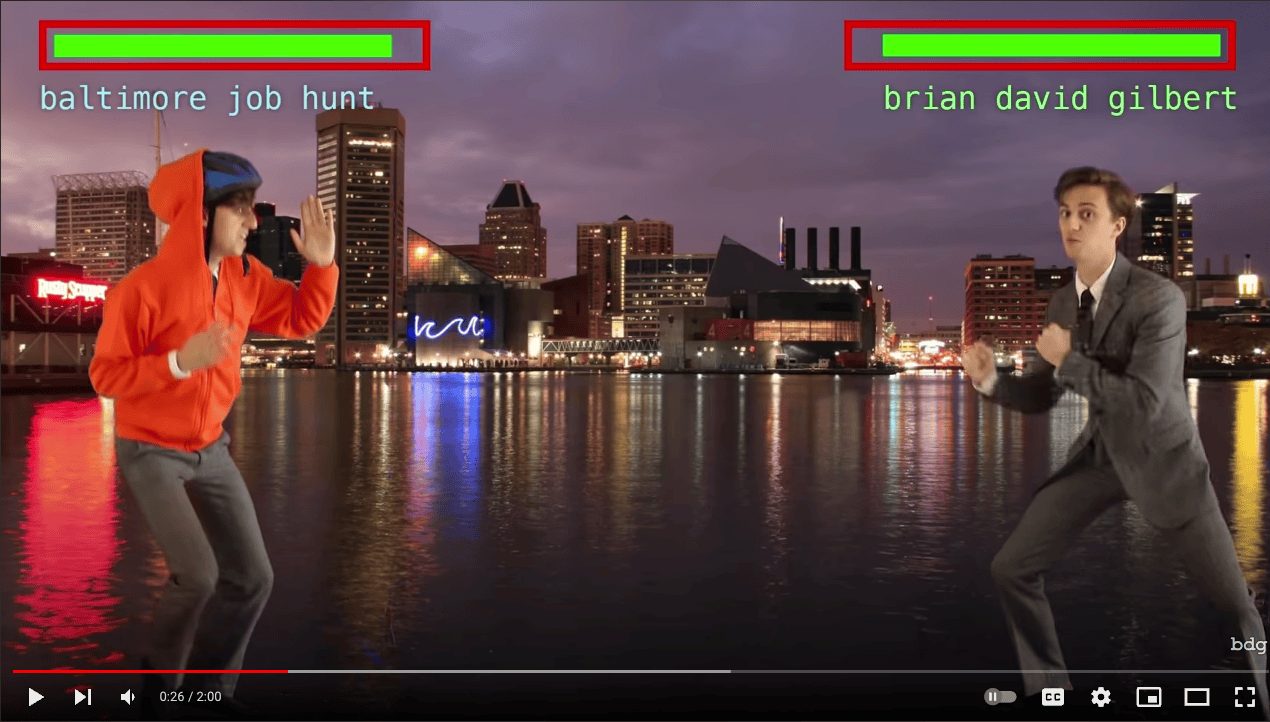 In a study involving more than 1,000 hiring managers in the U.S., 76% stated that pre-recorded videos of potential candidates provide valuable insights. They went on to say that video résumés are a complementary tool in their recruitment processes.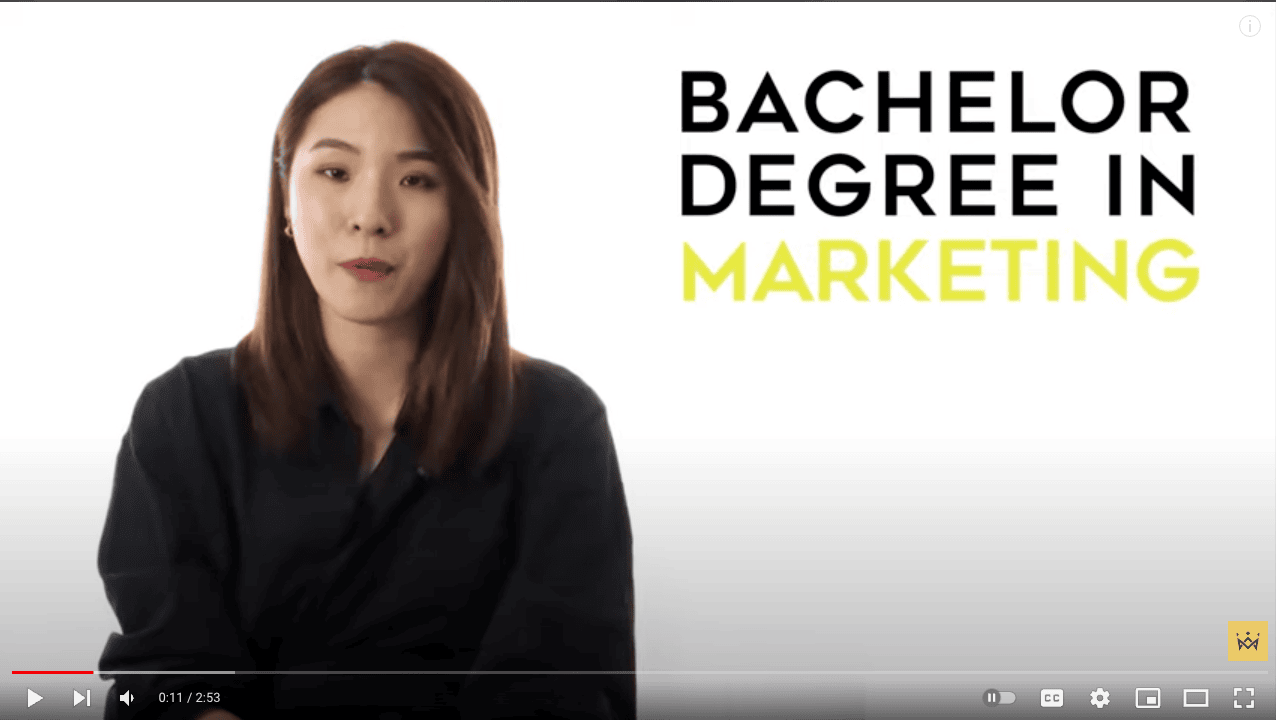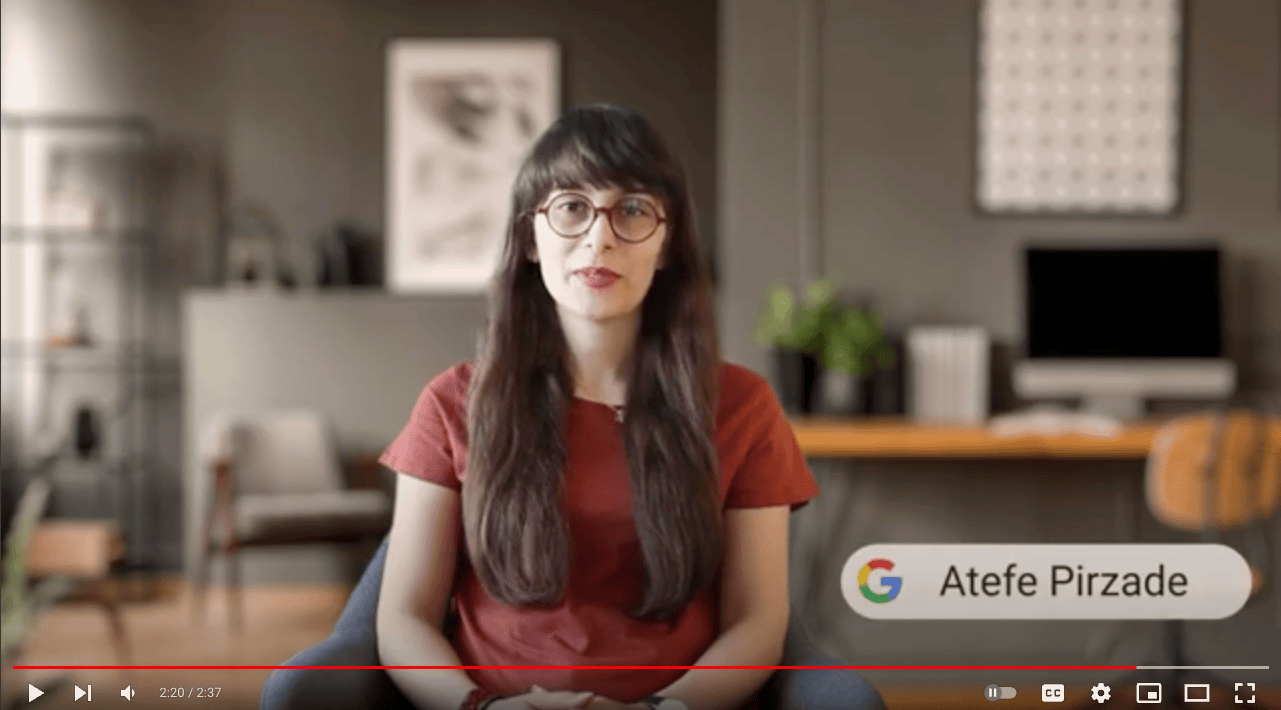 This is because one of the key advantages of video résumés is the opportunity for candidates to showcase their creativity and authenticity. While traditional résumés often struggle to convey the full spectrum of an individual's personality, a video résumé allows job seekers to use their unique storytelling abilities, humor, or even visuals to leave a lasting impression on potential employers. This creative freedom enables candidates to communicate not only their qualifications but also their passion and enthusiasm for the role they're after.
But it also comes with a downside… 
The disadvantages of posting a résumé to casual social media
While posting your résumé on casual social media platforms could be a surefire way to stand out in the job application process, there are a few drawbacks you should consider first. 
One is that user images accompanying visual or video résumés inadvertently reveal personal characteristics like age, race, weight, or attractiveness, which are typically hidden on a traditional résumé. This could lead to hiring bias. Details about political and religious affiliations, sexual orientation, or parental status that appear on social media platforms could also unfairly influence hiring decisions.
Additionally, posting résumés on casual social media platforms could raise concerns about the long-term implications and potential risks related to identity theft. Sharing personal details on these platforms leaves a digital footprint that can have lasting consequences. Once personal information is shared on the internet, it can be challenging to control its dissemination.
However, despite the potential drawbacks associated with posting résumés on casual social media platforms, the benefits may outweigh the risks if you effectively strike a balance between creativity and caution.  
8 tips for using TikTok, Instagram, or YouTube to land your dream job 
Here are a few steps you can take when posting a résumé on casual social media platforms while ensuring that your personal information remains secure and your online presence works to your advantage:
1. Be selective
While showcasing your creativity is essential if you want to stand out from the crowd, avoid giving away too much information in your video résumés or Instagram posts. Instead, opt for a teaser or highlights approach. Use compelling visuals to grab attention and generate interest in your skills and experiences—then consider directing viewers to your professional website or a secure online portfolio where you have more control over the information you share.
2. Use a VPN 
Whether it's browsing for jobs online or accessing social media, consider using a VPN. A VPN adds an extra layer of security by encrypting your internet connection and helps protect your online identity and data. Additionally, if you're in a country that limits access to certain platforms like TikTok, YouTube, or Instagram, a VPN can be a valuable tool. This can deepen your job search by allowing you to explore a wider range of content, connect with professionals, and tap into valuable resources. 
3. Strengthen your privacy settings
Regularly review and update your social media privacy settings to ensure they're robust. Limit the visibility of your details, such as your contact information, address, and date of birth, to prevent unauthorized access and protect your privacy.
4. Google yourself
Search your name online to see what information is publicly available. Clean up any inappropriate or negative content that could harm your professional image. Contact Google to have it removed from search results or reach out to website administrators directly for deletion.
5. Be professional
Maintain a professional demeanor in all your online interactions. Avoid engaging in negative or controversial discussions, and refrain from posting offensive or inappropriate content. Remember that employers often evaluate your online behavior to gauge your suitability for their organization. 
6. Be creative and original
Consider incorporating innovative elements into your résumé or online profile that align with your target industry or company. Emily Vu, who landed a job at Spotify with a Spotify-themed résumé, is a prime example. By thinking outside the box and showcasing your originality, you can capture the attention of potential employers and leave a lasting impression.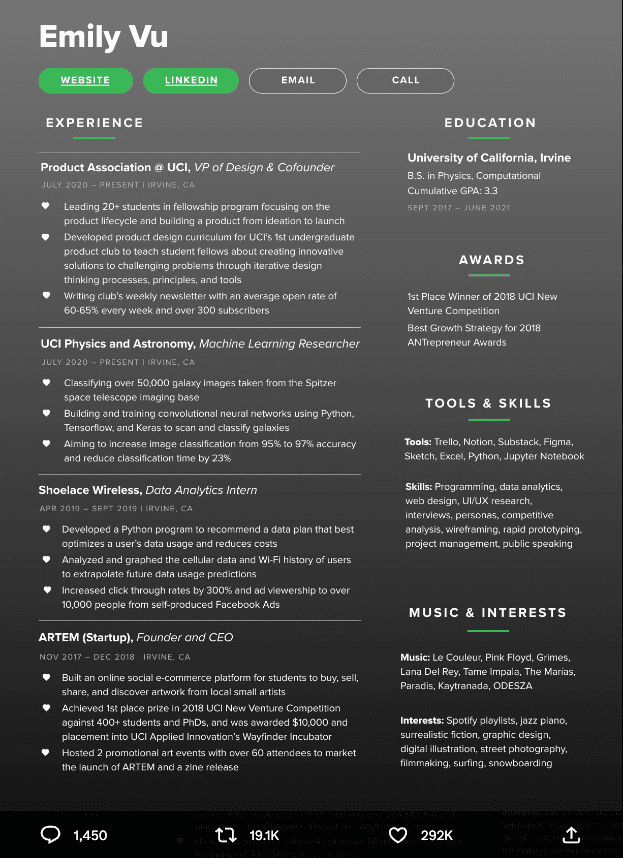 7. Use temporary posts
You likely won't want to spam your social media followers with career-based content. However, if you expect recruiters will check out your accounts, consider utilizing the temporary nature of Instagram Stories and TikTok Stories to talk about job-related content. These features allow your posts to be time-sensitive as they only last for 24 hours. 
8. Get help from AI (like ChatGPT)
Leverage the power of AI tools like ChatGPT to enhance your résumé and cover letter writing process. These tools can provide valuable suggestions, help you structure your content, and offer language assistance to make your application materials more compelling and polished. By using AI as a supportive resource, you can save time, improve the quality of your written materials, and increase your chances of creating a standout application.
FAQ: About social media résumés
What are TikTok Resumes?
TikTok Resumes are short, creative videos that job seekers can upload on TikTok to showcase their skills and experience. These videos are typically around 60 seconds long and use a combination of text, music, and visuals to tell a captivating story about the candidate. TikTok Resumes provides a unique opportunity for job seekers to stand out from the competition by demonstrating their creativity and personality.
To create a TikTok Resume, job hopefuls can leverage TikTok's built-in video editing tools. These tools allow them to add text, music, and effects to their videos, making them engaging and professional. Once the TikTok Resume is complete, users should post it along with the hashtag #TikTokResumes in the video description to help recruiters easily find the videos.
What is casual social media?
Casual social media, also known as non-professional social media, refers to a type of social media platform that is primarily designed for entertainment rather than professional networking. Unlike platforms like LinkedIn, which focuses on connecting professionals and career development, casual social media platforms prioritize fun, leisure, and lighthearted interactions. These platforms encourage users to share amusing content, engage in playful conversations, and explore various forms of entertainment, such as funny videos, memes, and casual discussions, without the pressures associated with professional networking.
Some popular examples of casual social media platforms include BeReal, Snapchat, Facebook, Instagram, TikTok, Twitter, and YouTube.
The term "casual social media" also refers to the trend of posting casually, without excessive preparation and filters.
Is there a better alternative to LinkedIn?
LinkedIn is the most popular professional networking site, but there are alternatives that offer different features and benefits. Some of the most popular alternatives to LinkedIn include:
1. Xing: Xing is a professional networking site that is similar to LinkedIn but has a larger focus on Europe. It offers a host of features that are similar to LinkedIn, such as the ability to connect with other professionals, search for jobs, and post articles.
2. Meetup: Meetup is a platform that helps people find events near them related to their interests. This can be a great way to connect with other professionals in your field or to learn about new opportunities.
3. AngelList: AngelList is a platform for startups to connect with investors and potential employees. If you are looking for a job at a startup, AngelList can be a great resource.
4. Reddit: Reddit is a social news aggregation site that has several subreddits dedicated to different professions. These subreddits can be a great way to connect with other professionals and learn about new trends in your field.
In addition to professional networking platforms, there are also casual social media platforms where professionals can connect and share information. Find out more about these by reading the blog post above.
Can ChatGPT write resumes?
Yes, ChatGPT can write résumés. As a large language model (LLM) chatbot developed by OpenAI, it can generate text, translate languages, and produce various types of creative content. This means you can use it to write résumés by providing a prompt or guidelines to tell the AI what you want, and then waiting for it to generate results. However, it's important to remember that while ChatGPT serves as a valuable resource for starting the résumé writing process, it's recommended to have a human touch for finalizing and personalizing the document.
How can I unblock TikTok?
If you want to access TikTok and other social media platforms from anywhere, consider investing in a high-quality VPN like ExpressVPN. Simply:
1. Download and install the ExpressVPN app onto your device.
2. Open the VPN app and select a location in a country where TikTok is not blocked.
Connect to the VPN.
3. Open TikTok and start using it as you normally would.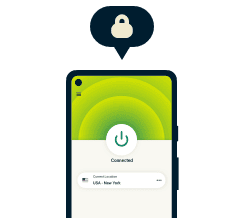 Protect your online privacy and security
30-day money-back guarantee