Every year, a new crop of social media apps sprout up, in an attempt to compete with heavyweights like Instagram and Twitter. While most new apps tend to fizzle into obscurity, a few exceptions live past the hype. The time-sensitive BeReal, for example, is a breath of fresh air when compared to Instagram and its sea of overly edited content.
Elon Musk's takeover of Twitter has also led to an influx of alternatives as technical and privacy concerns continue to mount for users. One such app, Mastodon, amassed over a million Twitter converts when the Tesla CEO expressed interest in the microblogging site.
Read on to meet the social media apps giving long-standing favorites a run for their money.
Jump to…
1. BeReal
Who should try it? People who love their friends, not curated content
Price

Free

Year launched

2020

Number of users

73.5 million worldwide

Available on

Download BeReal for

Android

and

iOS
What is BeReal?
The premise of BeReal surrounds authenticity—a rejection of the "Instagram version" of our lives.
Here's how it works: Once a day, you receive a notification from the app, giving you two minutes to photograph yourself and your surroundings, whatever you might be doing. The app captures two photos: a selfie and a front-facing photo. Then check out what your friends are doing, all communicated with one snap, with photos disappearing after 24 hours.
The app is all about capturing things happening in the moment and as they are, with no filters available in the app. Users cannot upload photos natively from their devices, only what they've taken on the spot, as a way of blocking edited photos.
Launched in 2020 with one of the co-founders coming from GoPro, BeReal gained a healthy following thanks to its paid ambassador (aka influencer) program in North America. The app also came at a time when heavily edited content was falling out of fashion.
As of February 2023, BeReal had over 10 million people accessing the app daily. TikTok has launched a similar feature, called "post to view," where users must capture content within a designated time, with Instagram also testing one, in the form of Candid Stories.
2. Bondee
Who should try it? Bored teenagers
Price

Free

Year launched

2023

Number of users

Unclear. Over 5 million downloads on Google Play

Available on

Download Bondee for

Android

and

iOS
What is Bondee?
Bondee is an online messaging app that uses avatars.
When Bondee first launched in Asia, it wasn't entirely clear what the app was meant to be or what it was about. At first glance, Bondee seemed fun. Users could connect with up to 50 friends, design their virtual surroundings, pick their avatars, and customize their appearances with trendy clothes and accessories—then go hang out with their friends. They could also express themselves through status updates, make friends, and send private messages to one another.
However, that's pretty much all there is to it.
In some ways, Bondee is a bite-sized and accessible version of the Metaverse, where people can go and interact with their friends in a virtual universe using a smartphone.
When it first launched in January, the app took the top spot in the social networking category of the Apple App Store in countries like Singapore, Malaysia, Thailand, and the Philippines. Its initial success couldn't be sustained, however. A month later, Bondee toppled off the charts across Asia.
It remains to be seen whether Bondee will introduce features that capture long-term loyalty or transform into an entirely new app.
3. Mastodon
Who should try it? People who hate censorship
Price

Free

Year launched

2016

Number of users

4.5 million accounts

Available on

Download Mastodon for

Android

and

iOS
What is Mastodon?
Mastodon is like a decentralized version of Twitter, meaning it's not run by a company but controlled by many users. Mastodon has many individual servers organized around different topics and interests. Users can join various servers, and each server has different owners, similar to the moderators on Reddit.
Mastodon exploded in popularity in the wake of Elon Musk's Twitter takeover. The app's monthly active users practically doubled by the end of 2022 as people abandoned Twitter amid the turmoil. It also helps that Mastodon, developed by a German non-profit, does not show advertisements and does not have content algorithms or monetization features, appealing to privacy-conscious users.
4. Post.News
Who should try it? People who want to discuss heavyweight topics but not with trolls and extremists
Price

Free. However, some news publishers and writers might put their content behind a paywall.

Year launched

2022

Number of users

At least 309,000 activated accounts in 2022.

Available on

Access Post News on its official website

post.news

.
What is Post
Former Waze CEO Noam Bardin created Post, yet another alternative to Twitter. The anti-censorship platform lets you write whatever you want and discuss news of all persuasions without algorithms to favor one side or another of any argument. It claims to want to "give the voice back to the sidelined majority" rather than cater to extremists. You can pay for individual articles from premium news providers and tip creators of content you enjoyed. This is a monetary method of encouraging high-quality content.
The platform, which is still in beta, has a long way to go before it can fully replace Twitter. Currently, users are being let in slowly to not overload the platform's operation and server capabilities. Although Post received funding from A16z, a venture capital firm that contributed 400 million USD to Elon's Twitter buyout, its CEO shared that no one from Twitter is involved in Post.
5. Shuffles by Pinterest
Who should try it? Design enthusiasts and crafters
| | |
| --- | --- |
| | |
| Price | Free |
| Year launched | 2022 |
| Number of users | Unclear. More than 600,000 downloads |
| Available on | Download Shuffles for iOS |
What is Shuffles?
Shuffles is a collage-making app created by Pinterest that lets you easily cut out objects from images and paste them together, add effects like animations, then share your work for others to comment on or remix. The app launched in July 2022 to a limited audience but was opened up to everyone in November.
As Shuffles lets users create animated collages with effects and music, it's been compared to Canva, a graphic design tool. The utility of Shuffles ranges from making images just for fun, to creating a mood board for design projects, to promoting a business via links on the pictures.
6. MeWe
Who should try it? People who enjoy Facebook but not the data collection or ads
Price

Free, with a Premium tier for 4.99 USD per month

Year launched

2016

Number of users

20 million

Available on

Download MeWe for

iOS

and

Android
What is MeWe?
MeWe aims to be the anti-Facebook version of Facebook, offering a full-featured service with many of the same bells and whistles as mainstream social media (newsfeeds for close friends only, fan pages, disappearing content, etc.) but minus the data collection, ads, and newsfeeds manipulated to favor certain messages. It's able to do this by collecting fees for premium accounts and various enhancements like extra storage or video calls.
MeWe's founder was one of the first people to start social networks, back in the 1990s, and was dismayed by what social networking had become in the form of Facebook—no longer a place for family and friends to connect and stay in touch, but a data-gathering operation to facilitate selling goods to users. MeWe attempts to bring back the original intention of social media, with its users as the customer, not the product.
7. YouTube Shorts
Who should try it? People who love TikTok but are sick of the geopolitical drama
Price

Free

Year launched

2021

Number of users

Unclear. Google claims Shorts receives more than 50 billion daily views.

Available on

Download YouTube for

Android

and

iOS
What is YouTube Shorts?
Shorts is YouTube's short-form video section and a direct competitor of TikTok. Videos on Shorts are generally filmed vertically and are a minute long at most. Users can add on-screen captions, add licensed music, and edit videos directly on the platform. Like TikTok, users of Shorts can also respond to comments on their videos with additional videos.
The YouTube Shorts Fund, amounting to 100 million USD, was introduced in 2021 as a monetization scheme for creators. Those who created videos with the most engagement each month were rewarded with money while they provided feedback on ways to improve the product.
Unlike other social media platforms on this list, Shorts doesn't have its own app. Instead, it lives within the YouTube app, which makes it easier for those already on YouTube to adopt the feature.
The main differences between TikTok and Shorts' features are the videos' duration and the number of filters available. While TikTok has a 15-second limit on videos shot natively on the app, users can work around this limit by uploading videos that are up to 10 minutes long from their galleries. Shorts, however, limits videos to 60 seconds regardless of whether they've been shot natively or uploaded from a gallery.
Those concerned about the privacy and security issues surrounding TikTok—and who fear TikTok might be banned from the U.S. altogether—might also want to consider using Shorts instead. Many TikTok creators are also cutting and uploading their videos on Shorts to engage with more audiences. There is likely more money to be made on YouTube Shorts, as creators will likely get to share video ad revenue, which is how YouTubers have been making money for years.
FAQ: About new social media apps
What is the most popular social media platform?
Meta's Facebook is the market leader, with over 2.9 billion monthly active users. Among the biggest social media platforms, Facebook is also the oldest, having been around since 2004.
Is BeReal safe?
Yes, BeReal is relatively private and safe, as your content will only be shared with people you've approved, and photos disappear from the app after 24 hours. However, as with any social media app, you should always take precautions before taking photos or videos that could reveal your location or other identifying information. It's also advisable to read the terms and conditions of any app or service before signing up so you're fully aware of the data you'll be giving away.
Can I download the Mastodon app?
Yes, you can download the Mastodon app on Android and iOS app stores. Mastodon is a decentralized and open-sourced social network where users can interact with each other in independent communities.
Is Mastodon safe?
As the various Mastodon communities are independently managed and moderated, each admin sets their policies, which could differ from one community to another. It's also difficult to ensure strong security under this kind of setup.
However, many users who choose Mastodon over a mainstream site do so for less personal data collection, which the platform certainly does provide.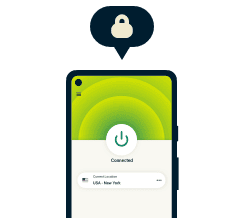 Privacy should be a choice. Choose ExpressVPN.
30-day money-back guarantee