Need a belated, last-minute Christmas present on the fly? Why not give the gift of cryptocurrencies this Christmas—specifically, Bitcoin.
Bitcoin doesn't exist in physical form. The cryptocurrency is a decentralized digital currency that exists as numbers in a distributed ledger called a blockchain.
Nonetheless, everyone is talking about them. Following a surge in prices in 2021, cryptocurrencies like Bitcoin, as well as NFTs, have dominated headlines throughout the year. So this holiday season is your chance to onboard your friends and family into the cryptoverse.
Read more: ExpressVPN's Bitcoin glossary: Terms surrounding Blockchain and crypto
It's much easier now to gift Bitcoin and other cryptocurrencies than in the early days of Bitcoin. You don't even have to gift a whole Bitcoin (currently valued at around 50,000 USD)—you can send just a fraction of one, say, 50 USD worth. 
So why not give Bitcoin as a gift? This guide tells you how.
How to create a Bitcoin wallet to gift someone crypto
If the person you want to gift crypto to already has a Bitcoin wallet, and you know the address of this wallet, gifting Bitcoin is easy. You simply need to send the Bitcoin from your own wallet to the address given to you. Done.
But in many cases, your friend or family won't have a Bitcoin wallet, and so you'll have to create one for them.
1. Create a Bitcoin wallet 
Look for a Bitcoin wallet that might suit them—if they have an Android phone, you might choose from our list of best Android wallets. If they use iOS, we have a list for that too. If they use a PC, or you do not know their platform, you may opt for an Electrum wallet or Bitpay. Just make sure you do your research or you or your friend could be cheated out of your crypto.
These software wallets will create the Bitcoin private key for you. Name the new wallet after the person you're gifting crypto to and generate the backup seed phrase, which they'll need to access and recover the funds. 
This seed, typically 12 or 13 words, can be written on and gifted in a great greeting card! Just remember to stress the importance of keeping the seed phrase in a safe place, and never show it to anyone. Your seed phrase is the only way to access the Bitcoin wallet.
2. Explain how Bitcoin works and how to redeem the Bitcoin gift
While the above steps are helpful for friends and family who have no clue about crypto, in general, it's not best practice to generate Bitcoin private keys on behalf of someone else. It is a security risk and requires people to put trust in each other's information security, which is unnecessary and increases the attack surface for anybody trying to steal your money.
Instead, the person receiving your gift should create their own wallet on a platform they like and trust, then redeem your Bitcoin, and transfer them to a wallet of their own.
To do that, you may need to write up the steps necessary to redeem the Bitcoin, which may look something like this:
Download the Bitcoin wallet app they intend to use.

Create a new wallet and back up their new seed phrase.

Download the wallet you used to create the gift.

Restore the gifted wallet from backup.

Transfer the Bitcoins to the newly created wallet in an app of their choice.
One thing to point out is that some wallets like Electrum can only store Bitcoin, while others like Bitpay can store multiple cryptocurrencies. If you want to gift cryptocurrency other than Bitcoin—like Ethereum or Solana—just remember to choose the right kind of software wallet and follow the same steps as above.
Create a Bitcoin gift card on a crypto exchange
Many popular crypto exchanges like Coinbase and Binance allow you to easily create, send, and redeem crypto gift cards.
If you already have an account on one of these apps, follows the steps below to create and send crypto gift cards this Christmas:
How to create and send Coinbase gift cards
You can gift Bitcoin and other crypto even if the person doesn't have a Coinbase account. 
Sign in to your

Coinbase

account.

In the menu, select

send a gift

under the menu. 

Enter the email address of the person you want to send crypto to. 

Choose which cryptocurrency you want to gift. The recipient will get instructions on how to set up a Coinbase account and redeem the crypto.
How to create and send Binance gift cards
You can send Binance gift cards to both Binance and non-Binance users via email or a unique digital code. However, you can only create gift cards using the mobile app.
Sign in to the

Binance app

on your device. 

Tap the

Profile

icon on the top-left corner to open the sidebar. 

Tap

Gift Card > Send > Create a new card. Enter the cryptocurrency (for example, Bitcoin) and the amount you want to send.
 Tap Create. Your crypto gift card is ready to send via email or text message. 
Should you give a gift with conditions?
Admittedly, many of your friends and family may think Bitcoin and other cryptocurrencies are worthless, a tulip mania, or a bubble due to collapse shortly.
Often, when Bitcoins are given as a gift—especially when it's a small amount—the beneficiary forgets about it or keeps the seed phrase in an insecure place (like their email inbox, Dropbox, or an online note-keeping service).
However, when the price of Bitcoin goes up, they will remember your generous gift only to discover it to be lost, or stolen. The disappointment and frustration will probably turn your gift into a stressful experience that you wish you had not made.
Instead, it's a good idea to create 'conditions' for the gift. For example, you might tell your friend or family member that they only have 2-12 months to redeem their crypto, after which you will take them back. And their loss (bah humbug)!
If you do threaten to recall the Bitcoin, it's very important to explain how keys work, and how you can 'take back' the Bitcoin you gifted. Otherwise, it may seem very strange to gift an uncensorable, irreversible cryptocurrency and be able to take it back.
Use Bitcoin to buy a real gift!
If you want to talk about Bitcoin, but also want to gift something real, consider buying something with Bitcoin.
But you can still casually mention that you bought it with Bitcoin, of course. If your friends or family want to talk about it, they will surely ask you about your experiences, all without the pressure of having to deal with the technology and the risks directly.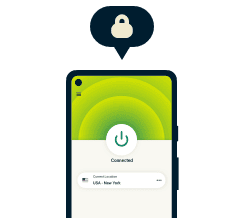 Privacy should be a choice. Choose ExpressVPN.
30-day money-back guarantee