The rising cost of event tickets becoming a barrier to entry for the average fan


.

Men's Wimbledon Final revealed as highest-priced sports ticket of the year


.

Resale ticket prices soar by 428% for the Women's FA cup final


.

Eurovision 2023 live show tickets see an 813% resale markup, leaving fans scrambling


.

Resale tickets for Trevor Noah's Off The Record London are being resold for 278% more than face value 

---
It's no secret that attending a live event can be expensive—but for some diehard supporters, the cost is worth it to see their favorite performers up close and personal. Just ask the Taylor Swift fans who were willing to shell out thousands of dollars for a chance to catch the songbird's long-awaited Eras Tour.
[A VPN helps keep your data safe when buying tickets online.]
Eager fans rushed to snag tickets on Ticketmaster, but demand was so high that the website crashed, leaving thousands of fans disappointed. To add insult to injury, resellers on sites like StubHub were offering the same tickets for as much as 3,000 USD. 
Similarly, concert-goers trying to buy tickets for Drake's It's All a Blur tour said they were "fighting for their lives" after facing high prices on the resale site SeatGeek, with some tickets costing up to 5,000 USD (they were initially advertised as starting from 69 USD on Ticketmaster). 
With artists like Beyoncé, Harry Styles, Elton John, Coldplay, and Ed Sheeran going on long-awaited tours in 2023, the surge in demand is leading to concert tickets selling out in seconds—only for them to be resold at exorbitant prices. 
And it's not just musical events that are affected. Ticket prices to see comedians like Trevor Noah and Ricky Gervais live on stage, as well as sporting events such as Wimbledon and the Formula 1 Grand Prix, are at an all-time high. 
To shed light on the issue, ExpressVPN conducted an analysis of ticket prices for some of this year's biggest events in three categories: sports, musicians, and comedians. We looked at the original ticket prices and compared them to their resale prices on Ticketmaster, Viagogo, and StubHub to find out which have the highest percentage markups. In fact, we focused on the lowest resale prices we found, but they were still outrageously high.
Our findings: Some fans can expect to pay over 2,000% more than the original price for tickets to this year's most in-demand events!
The problem with ticket scalping
Ticket scalping is the practice of buying tickets to a concert, show, or sporting event with the intention of reselling them at a higher price. While it's illegal in some places to resell tickets above a certain price if you don't have a business license for that kind of trade, in other states and countries, it isn't.
Ticket scalping has long been a contentious issue in the world of live events. Not only is it unfair to fans who are unable to purchase tickets at face value, but it rewards those who need to do nothing except buy lots of tickets before anyone else can. The event organizers also don't get any of the extra amounts being paid for entry.
Online ticket marketplaces have contributed to an increase in both scalpers and fans buying a significant number of tickets and reselling them. As a result, demand for a show is driven up, and the overall event prices are inflated. This creates a vicious cycle as the increased ticket prices attract more scalpers to the market, perpetuating the problem. Unfortunately, fans are frequently forced to pay exorbitant prices for tickets that should have been available at a much lower cost.
Men's Wimbledon Final tops the list for highest sports ticket markup
The Wimbledon Men's Final is the most sought-after event on the tennis calendar, with players like Novak Djokovic, Nick Kyrgios, and Rafael Nadal all vying for the top spot. And, if you're a die-hard tennis fan who wants to see history in the making, be prepared to dig deep into your pockets. The resale market for the Wimbledon Men's Final is notoriously expensive. However, prices for this year's event (set to take place on July 16, 2023, in London) are astronomical.
While the face value for tickets is 255 GBP (310 USD), with fans having to queue in person to get them, we found that the lowest resale price starts at a whopping 5,870 GBP (7,150 USD)—which is an increase of 2,202%. This means that fans who want to attend this year's tournament will have to pay a small fortune more than the original ticket price to secure their spot in the stands.
Women's football is becoming more popular
The Women's FA Cup Final is the second most in-demand sporting event of 2023, with a staggering 429% increase in resale ticket prices, costing 79.26 GBP (96 USD) a ticket compared with their original face value price of 15 GBP (18 USD). The Ryder Cup Final, a famous golf tournament, and rugby's Heineken Champions Cup follow closely behind, with resale prices increasing by 301% and 292%, respectively.
Formula 1 fans can also expect to cough up a fair share of their hard-earned cash if they want to catch their favorite drivers in action. Tickets to the Monaco, Abu Dhabi, and British Grand Prix are being resold between 260% and 50% higher than their original prices. 
In the U.S., basketball fans aren't exempt, with tickets to the NBA All-Star Game—held on February 20, 2023, at Salt Lake City—costing some fans 628 USD compared with their listed face value price of 400 USD. 
While some teams and event organizers have taken steps to combat ticket scalping and price gouging, the problem persists, leaving many fans feeling frustrated and priced out of the events they love.
Want to watch Coldplay? Brace yourself for the highest music ticket markup
After two years of pandemic cancellations, interruptions, and delays, live music events are back in a big way. As a result, artists and music festival organizers are battling to keep up with the surge of fans wanting tickets. 
From Coldplay and Taylor Swift to SZA and Ed Sheeran, the cost of attending concerts has always been pretty steep for general admission tickets. However, the resale of coveted tickets is leaving many fans empty-handed as they struggle to afford them.
For example, tickets to the London leg of Harry Styles's upcoming global Love On Tour retail for 51 GBP (62 USD). However, their lowest resale price is already sitting at 143 GBP (175 USD), with their highest being an eye-watering 9,307 GBP (11,335 USD).
Similarly, fans in Manchester who want to see Coldplay's Music of Spheres world tour are facing a 904% surge in ticket prices. And concert-goers who want to see Taylor Swift live in L.A. in August can expect to pay 700% more for tickets (390 USD instead of their original price of 49 USD). This is followed by concerts from SZA (568%), Ed Sheeran (410%), and Elton John (290%), which have also seen significant ticket resale price increases. 
Fans of Eurovision 2023 will also have to start saving if they want to catch their nation battle it out live in Liverpool, when the singing contest kicks off on May 9. Tickets for the three-live-show event went on sale for 380 GBP (466 USD) but are now being resold at an 813% markup of 3,469 GBP (4,258 USD).
Trevor Noah fans aren't laughing at ticket resale prices
As the popularity of stand-up comedy continues to soar, so does the price of tickets to see the world's most famous comedians. While it's not uncommon to pay a premium price for tickets to see a live performance as they're more exclusive and intimate than concerts, the markups on resale tickets have reached unprecedented heights.
According to our research, fans are paying more than double the face value of their tickets just to secure a seat in the audience. Tickets to Trevor Noah's Off The Record London show, for example, currently boast the largest percentage increase of 279%, with resale tickets starting at 157 GBP (190 USD)—up from 41.50 GBP (50 USD). This means that fans are paying three times the face value of their tickets just to see the South African funnyman perform live.
Ricky Gervais and Kevin Hart aren't far behind, with markups of 230% and 207% for their L.A. and Manchester shows, respectively. 
While there will always be die-hard fans willing to pay top dollar to see their favorite stars, as the cost of tickets continues to rise, the price of admission is becoming a serious barrier to entry for the average fan.
What can be done about price gouging? 
Here are a few of the ways that event organizers have been combatting scalping and ticket price gouging:
Price bots 
Similar to what Uber does for ride-hailing services, event organizers could use price bots to adjust ticket prices based on demand. This would give event promoters more control over ticket pricing and potentially reduce the incentive for scalpers to buy and resell tickets at inflated rates. 
Low ticket prices
Another approach to deter scalpers would be to make ticket prices clear and transparent upfront, similar to Kid Rock's $20 Best Night Ever tours. Because the tickets, sold for 20 USD, were affordable and accessible to the general public, scalpers had no incentive to buy tickets in bulk and resell them at a higher price. Scalpers also couldn't justify charging a higher fee for the tickets when the face value price was already included in the event's name. 
ID check-ins 
The Glastonbury music festival has begun printing pictures of the ticket purchaser on every ticket, requiring ticket holders to essentially "check in" before entering the venue. A similar system was used at this year's Clockenflap music festival in Hong Kong, where attendees needed to show some form of identification to prove that their tickets were bought by them. 
Fan incentives 
After the Ticketmaster controversy plaguing her tour, Taylor Swift announced that fans can "boost" their place in the virtual ticketing queue by participating in a range of Swift-related activities, such as watching music videos and purchasing her music. 
8 tips for buying event tickets online 
Follow these tips to get tickets at their original prices, and to stay safe when buying event tickets online:

Sign up for pre-sale alerts:

Join the mailing list or follow the social media accounts of your favorite artists or teams to get notifications about pre-sale opportunities. This can give you the chance to buy tickets before they go on sale to the general public.

Be prepared:

Have all of your information ready, including payment information and any necessary passwords or codes, before the tickets go on sale. This can save you time and increase your chances of getting the tickets you want.

Use multiple devices:

Try using multiple devices, such as a laptop, phone, and tablet, to access the ticket sale website simultaneously. This can increase your chances of getting through and securing your tickets before they sell out.

Use a reputable ticketing website:

Purchase tickets directly from the venue's website or box office, or stick to well-known and trusted ticketing websites to reduce the risk of fraud. Look for websites that have good customer reviews, clear refund policies, and secure payment methods. Only buy tickets from official sources or resellers that have a good reputation and guarantee the authenticity of their tickets.

Opt for ethical ticket resale marketplaces:

If the tickets to your favorite show are sold out, it's best to avoid third-party resale sites where scalpers and ticket holders can resell them for inflated prices. Instead, consider using non-profit fan-to-fan ticket services platforms like Scarlet Mist and Twickets, which are ethical ticket resale marketplaces. These platforms allow fans to sell tickets at face value or lower, making it easier for other fans to buy tickets without having to pay exorbitant prices.

Use a credit card:

When buying tickets online, use a credit card instead of a debit card or cash. This can help protect you from fraud or unauthorized charges—credit cards often offer better fraud protection and easier chargebacks.

Use a VPN:

A VPN can help keep you safe when buying event tickets online by encrypting your internet traffic. This ensures that sensitive information you enter, such as your credit card number and address, isn't visible to snoops or other third parties.

Be cautious of links and emails:

Be cautious of event emails or links that ask you to provide personal information or log in to an account—they could be impersonating the ticket seller to phish for your details. Always double-check the URL and sender before entering any personal or financial information.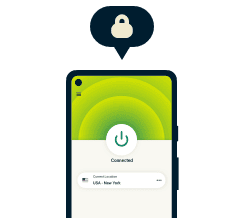 Stay protected while shopping online
30-day money-back guarantee