How to watch WWE events online
Streaming the most exciting WWE events only takes a few simple steps:
Connect to a secure server location that matches the region of the broadcaster you want to watch, such as U.S. server for WWE Network.

Tune in and enjoy the event!
Live stream the best WWE events in 2023
WWE Network
Country: U.S.
Price: 10 USD/month and up
World Wrestling Entertainment (WWE) is the creator and operator of the online video streaming service known as The WWE Network, which debuted in 2011. In 2014 WWE launched its new streaming service, which is available in the United States as well as in the United Kingdom, Canada, Australia, New Zealand, Hong Kong, Singapore, and France.
Fox and the USA Network
Country: U.S.
While the WWE may be the greatest thing since, well, the WWF, finding live streams can be difficult. Canadians and Brits trying to stream the WWE probably feel a lot like Edge and Christian after a TLC match with The Hardy Boyz. Ouch.
With a VPN, you can watch every WWE SmackDown (Friday nights at 8 p.m. Eastern Time U.S.) match on Fox and catch Monday Night Raw (at 8 p.m. Eastern Time U.S). on the USA Network. You can watch the Fox and USA Network stream using a variety of free trials on Fubo (65 USD/month), YouTube TV (73 USD/month and up), Sling TV Blue (10 USD/month and up), DirecTV Now (70 USD/month), or Hulu + Live TV (70 USD/month). Various free trials are available (DirecTV Now and Sling TV do not offer a free trial).
Note: You may need a valid U.S. credit/debit card to subscribe to YouTube TV, Sling TV, Fubo, Hulu + Live TV, or DirecTV Now. You can still subscribe to YouTube TV via Google Play, even if you don't have a U.S. credit/debit card.
Learn more about watching Fubo, YouTube TV, Sling TV, Hulu + Live TV, and DirecTV Now with ExpressVPN.
Peacock TV
Country: U.S.
Price: 5 USD/month
Peacock is the new official WWE broadcaster in the U.S. You can stream every live WWE PPV event including WrestleMania, WWE shows, Clash at the castle, and more. A seven-day free trial is available.
Note: You may need a U.S. credit/debit card or PayPal account to subscribe to Peacock.
2023 WWE calendar
| | | |
| --- | --- | --- |
| Show | Date | Location |
| Royal Rumble 2023 | January 28, 2023 | San Antonio, TX |
| WWE Elimination Chamber | February 18, 2023 | Montreal, CAN |
| WWE WrestleMania 39 | April 1-2, 2023 | Inglewood, CA |
| WWE Money in the Bank | July 1, 2023 | London, UK |
Whatcha gonna do when ExpressVPN runs wild on you?
Be it Raw, Smackdown, or NXT TakeOver: New York, WWE is always appointment TV. Monday Night Raw has been around for decades and today boasts more than 1,300 original episodes. And like the Nature Boy Ric Flair, it's still goin' strong.
Let us know how a VPN helped you watch WWE in the comments section below. If you have any questions, live chat is available 24 hours a day, seven days a week.
And that's the bottom line, 'cause ExpressVPN said so!
ExpressVPN is a VPN service not intended to be used as a means of copyright circumvention. Please read the ExpressVPN Terms of Service and your content provider's Terms of Use for more details.
FAQ for streaming sports
Can I stream sports on my computer?
Can I stream sports on my phone or tablet?
How can I stream on my TV with a VPN?
In brief there are five different ways to stream sports on your TV with ExpressVPN:
-With the native app for a smart TV, Android TV device, or other streaming device
-By streaming on your computer and connecting to the TV with an HDMI cable
-By mirroring or casting wirelessly to your TV or streaming device from your computer or mobile device
-By connecting to an ExpressVPN-enabled router, which allows for unlimited devices and makes it super simple to connect to different server locations simultaneously
-With MediaStreamer, ExpressVPN's solution for devices that cannot install a VPN, such as Apple TV or gaming consoles. MediaStreamer only needs to be set up once, although it does not provide the full security benefits of a VPN. (Note that by connecting your Apple TV or gaming console to a router, you can get the best of both worlds!)
For more information on all the ways to get ExpressVPN on your big-screen TV, click below, or just contact a 24/7 Support agent for step-by-step instructions.
I connected to the suggested VPN server location but I can't log in to the streaming service!
No worries! Server load changes rapidly (especially when lots of people are trying to watch certain events), but that's exactly why ExpressVPN has high-speed servers all over the world. If you're trying to access a site in the U.S. or Germany, for instance, try connecting to a different server location in those countries.
If you're trying to connect to a country with one server location, the first step is to check your location settings. If you're on a mobile device, disconnect from the VPN, turn off location services, then connect to the VPN again. On both Windows and Mac computers, you can turn off Location Services within the Privacy & Security settings menu.
For more help, you can always talk to a member of our Support Team, available 24/7 by live chat.
I connected to the VPN but my internet speed is slow
If your internet speed is slow or your streaming seems to lag, there are a few possible reasons:
-The distance of your selected VPN server location from your physical location
-Your connection type (wired connections are more reliable than wireless connections)
-Suboptimal interconnectivity between the VPN and your ISP
-Slow internet connection speed at your location
-Your device type and processing power
Try each of the following steps to troubleshoot:
-Download the latest version of ExpressVPN
-Connect to a different VPN server location
-Change your VPN protocol
If you try each of the above and are still experiencing issues with your streaming speed, contact the ExpressVPN Support Team 24/7 and someone will be with you in seconds.
What other streaming services can I watch with ExpressVPN?
ExpressVPN works seamlessly with all the most popular streaming apps from around the world. Using a VPN for streaming ensures you watch securely in blazing-fast HD with unlimited bandwidth, free from ISP throttling (which can sometimes slow down speeds). If you want to watch your favorite team from anywhere—even while traveling or on unsecured networks like public Wi-Fi—ExpressVPN is a great way to enhance your sports streaming experience.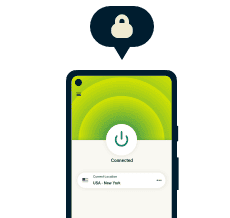 Need step-by-step streaming help?
24-HOUR LIVE CHAT SUPPORT