Since the founding of ExpressVPN in 2009, it's been gratifying to watch our user numbers grow; the steady rise is the best feedback that we're doing something right. Recently we hit a new milestone, surpassing 4 million active subscribers.
For us, it's an occasion worth celebrating. At this very moment, there are more than 4 million people who can use our service to increase their privacy and access the full internet. That's 4 million who can go online with less worry and greater enjoyment.
We celebrate our customers. But who are they? We know your names, we know you come from 180 countries around the world—but not much else. We have an idea of why you use our VPN (through market research), but we take pride in knowing next to nothing about individual users.
All we know is they have the option to browse, stream, game, shop, and communicate online more safely, and that achieving this security is as easy as tapping a button. If you're one of our subscribers, we thank you for choosing us, and we'll keep working to make our products even better for your protection.
What does 4 million look like? 
It can be hard to wrap our minds around a number as large as 4 million. Here are some more fun facts to provide context—or further boggle your mind.
Croatia has a population of about 4 million, as do the cities of Los Angeles, Berlin, and Taipei.
About 4 million babies are born in the EU each year. The U.S. figure is lower but not far off.
It takes about 4 million drops of water to fill an average bathtub. This is only if you fill it to the brim though, which generally does not happen.
In 2009, more than 4 million dominoes were toppled in one go, setting a world record. This happened on Domino Day, an annual festival organized from 1998 to 2009, where teams worked together in an attempt to achieve such a feat.
Korean boy band BTS received 4 million "likes" on their first TikTok post in just 13 hours. The band's album Map of the Soul is also the best-selling album in South Korea, with over 4 million units sold.
There are about 4 million airplane parts in an Airbus A380, the largest passenger aircraft. The figure is comparable for other large commercial jets.
Sagittarius A*, a supermassive black hole at the center of the Milky Way, is 4 million times the mass of the sun. In our sky, it is located in the direction of the Sagittarius constellation.
About 4 million people visit the U.S.'s Yosemite National Park each year. The numbers have fallen significantly since 2020 due to restrictions related to Covid-19.
Keep on keeping on
Naturally, we have our sights set on the next million, as we focus on keeping every aspect of our products best in class. That includes maintaining what we consider to be the most secure VPN out there (with a $100,000 bug bounty that's yet to be claimed), ensuring our users stream smoothly, adding useful new features, even making our own hardware, while keeping everything easy to use.
We couldn't say it enough to our subscribers: Thank you for trusting us with your cybersecurity and being a part of our success.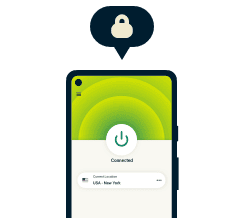 Protect your privacy with the best VPN
30-day money-back guarantee