Denne siden er for brukere som ser en Tilkoblingsgrense nådd-advarsel.
Med ett enkelt abonnement, kan du koble fem enheter til ExpressVPN samtidig, uavhengig av plattform (inkludert virtuelle maskiner). Kort sagt:
Du kan installere ExpressVPN på så mange enheter du vil, men bare fem enheter kan være tilkoblet på en gang.
Hvis du når grensen og vil koble til en enhet til, koble fra en annen enhet som du ikke bruker. Klikk eller trykk på den grønne VPN PÅ-knappen for å koble fra.
Hvis du får en «Tilkoblingsgrense nådd»-advarsel, men bare har fem eller færre enheter tilkoblet, kontakt ExpressVPN kundestøtteteam for umiddelbar hjelp.
Eksempler på mulige enhetskombinasjoner
Ett ExpressVPN-abonnement kan brukes på:
fem datamaskiner, eller
to iPhoner, to iPader og en MacBook, eller
to datamaskiner, en Kindle Fire, en iPhone og en ruter, eller
hvilken som helst annen liknende kombinasjon uavhengig av enhetstype.
---
Hva om jeg trenger å koble til mer enn 5 enheter?
Hvis du ønsker å bruke ExpressVPN på mer enn fem enheter samtidig, kan du: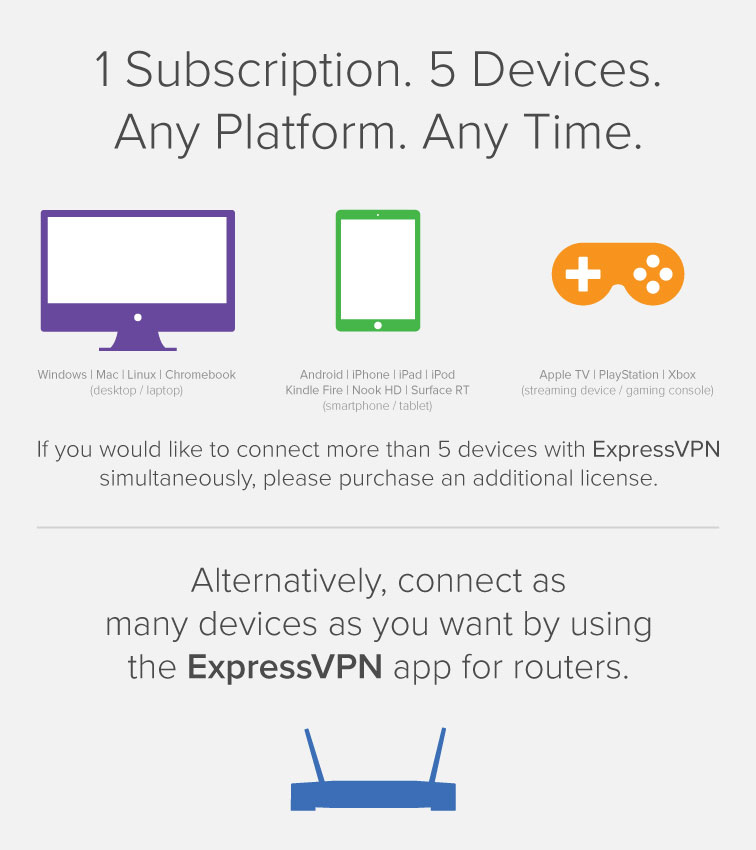 Få mest mulig ut av ExpressVPN-abonnementet ditt
Dra nytte av ExpressVPN-abonnementet ditt ved å installere ExpressVPNs apper på alle datamaskinene og enhetene dine. Se instruksjoner for å: