Digital nomads: Living the dream
You're walking barefoot along the beach, relishing the fresh ocean air in your hair and the morning sun on your skin. You find the most perfect seashell and put it in your pocket.
You head back to your beachside abode, pour yourself a steaming mug of coffee, and open up your laptop.
The waves lapping against the shore provide the perfect soundtrack while you respond to emails and write your next blog post.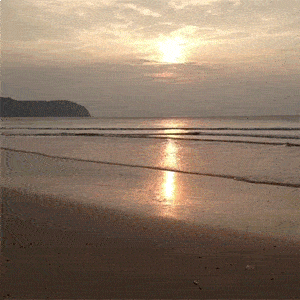 This is your job. You're a digital nomad, and life is sweet.
What is a digital nomad?
The internet has revolutionized the way we work today, and savvy individuals are escaping desk cubicles to work in warmer climates (with cheaper rent!). These people — whether they're self-employed or working remotely — are digital nomads.
"Digital Nomads: Goodbye commute, hello world": oDesk's video captures the freedom and adventure of life as a digital nomad.
Whether they write travel blogs, freelance as software developers, or run their own online marketing businesses, digital nomads strike an enviable balance between work and play. They enjoy the freedom and flexibility to travel while earning a living — all on their own terms.
Given these perks, it's no wonder that the digital nomad community has boomed in recent years, with many using resources like Nomad List, a website and online community for location-free workers to scout out new cities and adventures.
But life as a digital nomad isn't always a walk on the beach — particularly if your digital security is vulnerable.
Don't take risks with your digital security.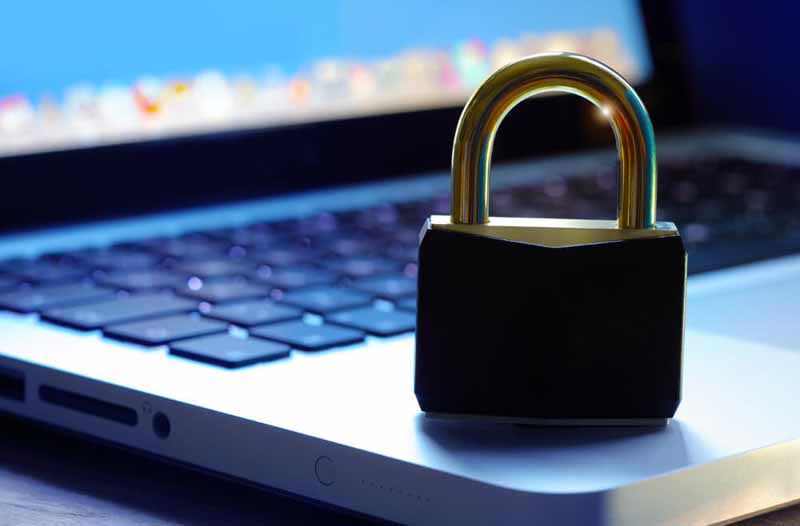 Just because you're not sitting in an office cubicle doesn't mean that you can go lax on your internet security. In fact, digital nomads are, in many ways, at greater risk of cyber security threats than office workers.
Digital nomads lack the normal protections — or constraints — that one finds in a corporate office, such as corporate firewalls, enterprise security software, and even physical safeguards like office security guards and cameras. Worse still, digital nomads often rely on public Wi-Fi, a petri dish for all kinds of malicious security breaches, especially man-in-the-middle attacks.
With all their work, personal information, and financial details on their laptops, smartphones, or tablets, there's a whole lot at stake for digital nomads when it comes to their data and internet activity. That's why it's so crucial to take security matters into your own hands.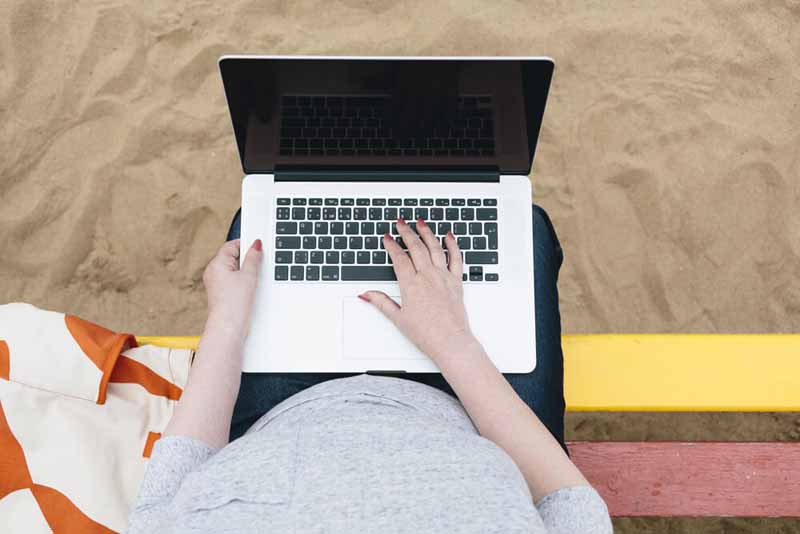 Test your cyber security savvy
Are you a Cybersecurity Superstar? Answer these questions with a "yes" or "no", tally up your responses, and find out!
Do you update your software regularly?
Do you encrypt all of your data?
Do you secure your devices with anti-theft devices?
Do you use good passwords?
Is your device set on Airplane Mode when you're not using the internet?
Do you only connect to trusted networks?
Do you use your data plan instead of connecting to unknown networks?
Do you know the difference between encrypted and unencrypted websites?
Do you use a VPN?
Do you avoid using public computers? If not, do you take all necessary precautions to protect yourself?
Is your WordPress up to date with the latest security plugins?
If you answered YES to all of these questions:
You are a CYBERSECURITY SUPERSTAR.
Your digital setup is an impenetrable fortress.
Meow! Well done!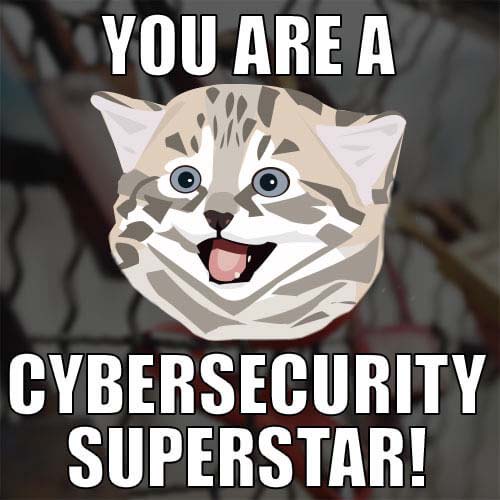 If you answered NO to any of the questions:
Your digital setup is vulnerable to hackers, spies,
and other malicious entities.
Hiss. Time to up your cybersecurity game!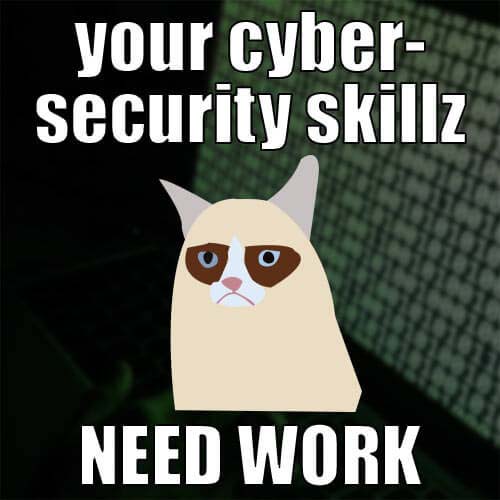 The good news? All the important research has been for you. All you have to do is implement the following tips, and then you can be the cybersecurity superstar you were born to be!
11 tips for digital nomads to safeguard their digital privacy & security
Update your software regularly

You know those pesky notifications that pop up on your screen every now and then, prompting you to install software updates? Don't dismiss them. Running software updates is essential to the security and health of your machine. These updates fix security vulnerabilities like the Shellshock Bash Bug and Apple's SSL gotofail security flaw, and also optimize the performance of your computer or mobile device.

Encrypt everything on your device.

Encrypt your computer, phone, tablet, thumb drives, cloud storage, everything. Encrypting your data makes it unreadable to everybody except for you and the individuals you intend to share your files with. Most operating systems come with encryption functionality — there's FileVault for Mac users, and Microsoft BitLocker for Windows. Take advantage of these tools.

Most encryption methods require a password to encrypt and decrypt your files. Make sure you choose a good password to keep your data secure (see #5).

Password-protect your laptop, phone, and tablet.

If you don't use a password and a casual thief gets their hands on your device, you're giving them unfettered access to everything on your machine — emails, photo albums, call logs, message history, social media accounts, website admin panels, bank accounts… You might as well be handing your house keys and wallet over to a complete stranger.

Setting a password on your lock screen is the least you can do to ensure the security of your personal data. If you don't have a passcode set, WHAT ARE YOU WAITING FOR? Set one now! (Bonus for iPhone users: simply setting a passcode activates data encryption for your iPhone.)

Secure your devices with anti-theft services.

In the event that an evil thief successfully snatches your laptop (the outrage!), or you happen to lose your phone (doh!), anti-theft tracking services can lock outsiders out of your files and protect your data by remotely erasing the contents of your device.

If you have an Apple device, take advantage of Apple's Find my iPhone, iPad and Mac. Third-party services like Orbicule Undercover and Prey are also highly effective at locating your things and nabbing thieves. These services track down your gear by using your device's GPS coordinates and built-in camera to zero in on the bad guys (say "cheese," evildoers!).

Choose better passwords and use 2-step verification.

If your password resembles any of the worst passwords on the internet ("123456"? "password"? Seriously?), you need to change it… pronto. How about downloading a password manager to generate and manage unique, uncrackable passwords for each of your accounts?

Yes, you heard right — a unique, uncrackable password for each account. When you're juggling many logins across multiple platforms, it's incredibly tempting to use the same password for everything. Don't make things so easy for hackers! Set a unique password for each of your accounts with ExpressVPN's Random Password Generator.

If your service provider offers 2-step verification, USE IT. This is a two-step login process that adds an extra layer of security to your online accounts. In the first step, you enter your password. In the second step, a code is sent to your smartphone as a text or voice message, which you then submit to complete the login process.

This code can only be used once, which means that even if a hacker has your password and a code that you've already used, they won't be able to access your account because the code has expired.

Many services like Apple ID, Google, PayPal, Twitter, and Yahoo! Mail offer two-step verification. It's also a good idea to print out some backup codes, when available — these come in handy if you misplace your phone or if your authenticator app is unavailable.

Set your device to airplane mode if you're not using the internet.

Don't make yourself vulnerable to an attack over a Wi-Fi network when you don't need to be connected to anything at all!

Only connect to trusted Wi-Fi networks

Ask the staff at your hotel for the name of the hotel's official Wi-Fi network. It's remarkably easy for a hacker to set up a bogus network using the hotel's name — once you're connected to it, they can steal all your data. Yikes!

But even if you're connected to the hotels' official wireless network, you're still not completely safe. Your best bet for protecting yourself is to use a VPN while you use Wi-Fi (see more below).

When in doubt, use your phone's data plan to connect to the internet

If you are suspicious of the public Wi-Fi networks available to you, consider setting up tethering (also known as a personal hotspot on iOS devices) to connect your computers and other devices to the internet through your phone's data connection. For the most part, cellular networks are secure. Just make sure your data plan is generous enough to support whatever you plan to do on your laptop so you don't faint when you see your phone bill!

Even if the wireless network is legitimate, surf only on encrypted sites.

Encrypted sites support HTTPS, or Hypertext Transfer Protocol Secure, to guarantee secure communication over a network. This means that if anybody's listening in on the network, your activity is encrypted so that hackers can't read it. You can tell if the site you're browsing on is encrypted by looking for the "https" at the beginning of the URL in the address bar (as opposed to "http"), along with a padlock. Sites like Google, Facebook, Twitter, and LinkedIn all use https.

Use a VPN

A VPN encrypts your internet traffic so that it's unreadable to third parties. It hides your IP address and location by giving you an anonymous one, so hackers and spies can't figure out where you are. It also allows you to access websites and services that might be blocked in your location — whether you're trying to check Twitter or Facebook. Why not try out ExpressVPN? It comes with a nifty a 30-Day Money-Back Guarantee. 😉  Check out this ExpressVPN review to read testimonials from ExpressVPN users all over the world.

Avoid using public computers. If you must use them, stay vigilant.

As a digital nomad, you undoubtedly use a whole arsenal of devices to access the internet. Still, there may be times when you must use a public computer to send an important email, print a boarding pass, edit a blog post online, or check your bank account. For those rare instances when you're forced to use a public computer, use these tips to keep yourself secure:

When you're on a public machine, always browse incognito. When you browse in a regular window, your browser stores all sorts of data — cookies, browsing and download history, even forms and passwords. When you browse incognito, on the other hand, your browser doesn't track or store anything. But remember that browsing incognito does not conceal your activity from the internet service provider, or prevent anybody looking over your shoulder from seeing what you're up to.
Don't log in to anything on a public computer. You never know if your machine has been bugged with a keylogger, which is a piece of software that can log all your keystrokes — giving malicious entities your login credentials and access to all of your online accounts. And you never know if someone has a camera pointed at the keyboard recording your every keystroke…

If you must log in on a public computer, use two-step verification. See #5 above.
Use a USB stick when printing documents. If you must print something from a public computer, save the files to a USB stick and plug that into the public computer. This way you don't need to log in to your email on a public computer and risk somebody logging your login credentials — and gaining access to everything in your inbox.
Never do anything money-related on a public computer. Stay out of your bank, credit card, PayPal, and Amazon Payment accounts when you're on a shared machine. It's just not worth the risk! Fraudsters can use keyloggers to record your keystrokes, steal your login credentials, and gain unlimited access to your financial accounts.

Secure your WordPress site.

If your blog is powered by WordPress, be sure to run updates for WordPress and any plugins you're using. WordPress frequently pushes out updates with patches to fix security vulnerabilities.

Also, make sure that you're making regular backups (services like WPEngine create automatic backups) to stay protected if your WordPress installation falls prey to a malicious attack.

Top plugins for WordPress

Here's a list of the top security plugins that every digital nomad should use with their WordPress.
Now go be a cybersecurity superstar!
Thankfully, you don't need to be a computer whiz to optimize your digital security. With a little bit of work, your digital setup will be insanely difficult for hackers to breach and you will be a CYBERSECURITY SUPERSTAR!
Now that you have some peace of mind, you can focus your energy on doing what you love.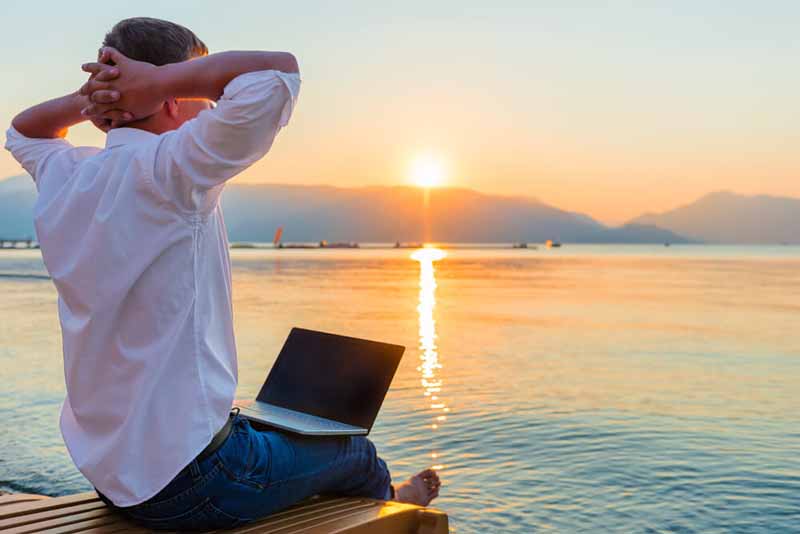 If you found this article useful, please feel free to share it with your friends, family, and fellow digital nomads roaming this glorious planet and all of its coffee shops, airports, libraries, hostels, and hotels.
And if you're looking to become a master of online anonymity, don't miss out on ExpressVPN's internet privacy guides!
Not all who wander are lost.
—J. R. R. Tolkien
Features images: (1) nadezhda1906 / Dollar Photo Club, (2) J. Jones / ExpressVPN, (3) Mikael Damkier / Dollar Photo Club, (4) kuzmafoto / Dollar Photo Club, (5) J. Jones / ExpressVPN, (6) J. Jones / ExpressVPN, (7) Gajus / Dollar Photo Club, (8) Maxim_Kazmin / Dollar Photo Club, (9) iampixels / Dollar Photo Club, (10) LoloStock / Dollar Photo Club, (11) maewjpho / Dollar Photo Club, (12) Alejandro Escamilla / Unsplash, (13) yuliufu / Dollar Photo Club, (14) Masson / Dollar Photo Club, (15) kosmos111 / Dollar Photo Club