Denne side er for brugere der ser en Forbindelsesgrænse Nået advarsel.
Med et enkelt abonnement, kan du oprette forbindelse fra fem enheder til ExpressVPN på samme tid, uanset platform (inklusiv virtuelle maskiner). Kort sagt:
Du kan installere ExpressVPN på ethvert antal enheder, men kun fem enheder kan være forbundet på en gang.
Hvis du når grænsen og gerne vil have endnu en enhed forbundet, så afbryd forbindelsen til en anden enhed som du ikke bruger. Klik på den grønne VPN ON knap for at afbryde forbindelsen.
Hvis du får en "Forbindelsesgrænse Nået" advarsel, men kun har fem eller færre enheder forbundet, såkontakt ExpressVPN Support Teamet for øjeblikkelig assistance.
Eksempler på mulige enhedskombinationer
Et ExpressVPN abonnement kan bruges på:
fem computere, eller
to iPhones, to iPads og en MacBook, eller
to computere, en Kindle Fire, en iPhone og en router, eller
enhver anden lignende kombination uanset enhedstype.
---
Hvad hvis jeg har brug for at forbinde mere end 5 enheder?
Hvis du gerne vil bruge ExpressVPN med mere end fem enheder på samme tid, så kan du:
købe yderligere abonnementer, eller
sætte en VPN router op og forbinde lige så mange enheder til den som du vil.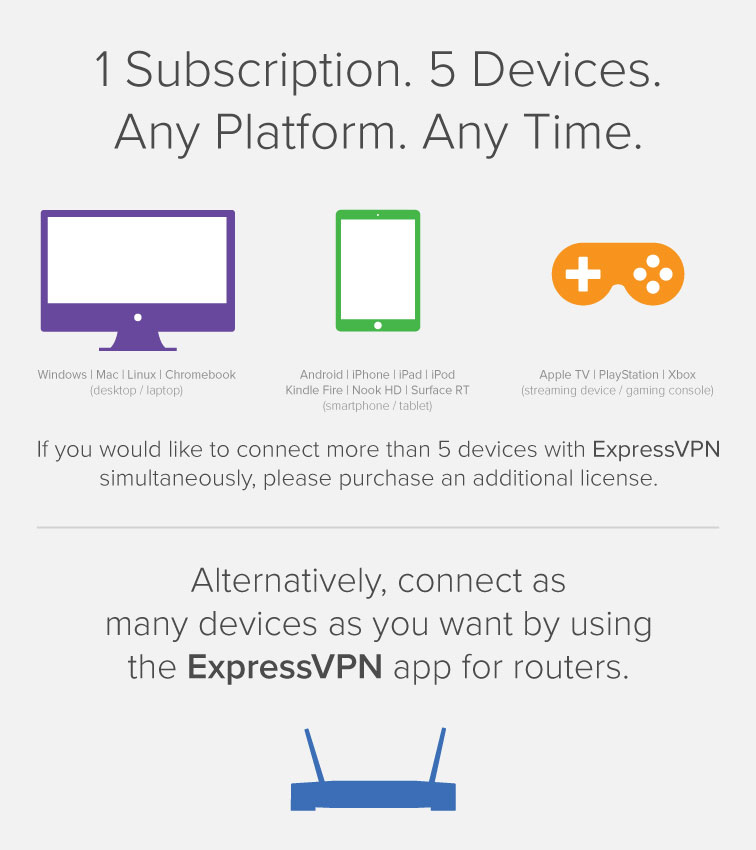 Få mest muligt ud af dit ExpressVPN abonnement
Få mest muligt ud af dit ExpressVPN abonnement ved at installere ExpressVPN's apps på alle dine computere og enheder. Se instruktioner for: