Stream the British Open on Sky Sports (UK)
Sky Sports in the UK is streaming  the Open on their Sky Sports channel as well as their Sky Sports app. To watch with a VPN, simply: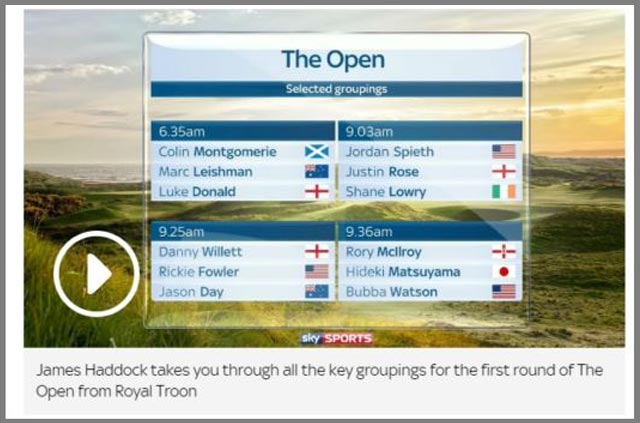 Connect to a UK  ExpressVPN server.
Visit http://www.skysports.com/watch/ and search for the British Open. If you don't already have a package, you may need to subscribe.
Enjoy!
Watch the Open 2018 Live online on NBC and The Golf Channel (USA)
There are a few different broadcasters this year, but NBC and the Golf Channel are the two biggest.
Just follow these steps to watch the Open 2016 on NBC:
Connect to a U.S. ExpressVPN server.
Visit http://www.nbcsports.com/live-extra and choose the British Open. There's no need to sign in. (You can also visit http://stream.golfchannel.com.)
Start streaming!
Don't forget to check the latest listings to see how coverage is split between regular NBC and The Golf Channel.
After all, you don't want to go through all the trouble of trying to watch only to realize you've missed the tournament!
Where is the 2018 British Open venue?
The British Open Championship has some serious heritage. The 2018 edition will be the 147th Open, and will be played at the Carnoustie Championship Course.
When are the British Open 2018 dates?
The Open will take place from July 19th to July 22nd.
As always, the field of 156 players will include past champions, last year's top 10 and the world top 50. The field will be cut to 70 players after Day 2.
Don't miss a second by using your VPN to stream with security!
Who will triumph this time?
Jordan Spieth is one of the hottest names in the sport, but 2013 winner Rory McIlroy remains a good bet. Or maybe a legend like Ernie Els will rise to the Open challenge?
Tell us who you think will win in the comments.
And if you want to watch the 2018 British Open with some added privacy and security, set up your VPN now so you can stream today!