How to watch The Great British Bake Off 2022
Last updated:
Season 13 of the hugely popular The Great British Bake Off (or GBBO) is set to return this month! Whether you're catching up on previous seasons or tuning in live, here are all the ways to watch Bake Off online!
When does The Great British Bake Off 2022 start?
The thirteenth season—or series, as they say in Britain—will begin airing on Tuesday, September 13, at 8 p.m. BST on Channel 4. Twelve contestants, four judges, one prize. Formerly broadcast by BBC Two and BBC One, Bake Off is now aired by Channel 4 in the United Kingdom.
Different countries have different viewing options, so how you watch the show will depend on where you are in the world. There are a couple of easy ways to get your GBBO fix: via Channel 4's free on-demand streaming service All4, on Swiss TV platform Zattoo, or via Netflix in the United States three days after the UK premiere, starting Friday, September 16.
Watch The Great British Bake Off live online for free on Channel 4
Price: Free
UK viewers can watch The Great British Bake Off straight from the Channel 4 website, All4. Simply visit the show's page on the Channel 4 website at 8 p.m. BST on Tuesdays and click to play each episode. It's totally free to watch if you don't mind sitting through ads, though you'll need to register for an account and provide a valid UK postcode (e.g. LL32 8PR, NN3 2BZ).
Bonus: If you prefer to binge the season in delicious chunks, you can also watch already-aired season 13 episodes on the Channel 4 website, so you don't have to worry about missing any of the oh-so cozy drama!
How to stream Great British Bake Off with Zattoo
Price: €13,99/month and up
Swiss-based streaming service Zattoo is a TV-watcher's dream, offering broadcasts of over 200 channels—including Channel 4, of course! Besides Switzerland, Zattoo is also available in Austria and Germany. To access Channel 4 on Zattoo, you'll need to subscribe to their Premium tier (which includes a 30-day free trial), then simply head to their Channel 4 page at 8 p.m. BST on Tuesdays to stream Bake Off.
Watch Bake Off on Netflix
Price: 9.99 USD/month and up
Fans of the popular baking competition can also watch Bake Off (which is known as The Great British Baking Show in the U.S.) on Netflix, or binge previous seasons with the original hosts, Sue Perkins and Mel Giedroyc, and the beloved judge Mary Berry. Just search for the show on Netflix from September 16 onwards to enjoy all the confection action. Note that new episodes drop on Fridays, and that Season 13 will be called "Collection 10" stateside.
Who hosts The Great British Bake Off?
Since the switch from BBC One to Channel 4, the show was initially hosted by beloved entertainers Sandi Toksvig and Noel Fielding, along with established judge Paul Hollywood and food writer and restaurateur Prue Leith. In 2020, Matt Lucas of Little Britain fame joined as a judge to replace Sandi Toksvig. 
Just like last year, Bake Off 2022 will see Paul Hollywood and Prue Leith returning as judges, with Matt Lucas and Noel Fielding continuing as co-hosts. While the newer seasons may not have nearly as many baking double entendres as in years past, Bake Off never fails to sprinkle a few pastry puns into the mix.
Who are the 2022 Great British Bake Off contestants?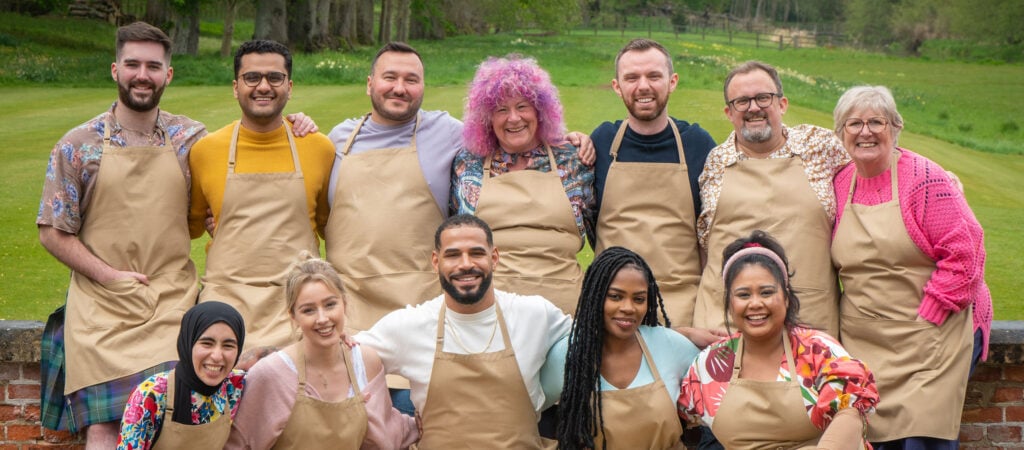 Bake Off stars come from a wide array of backgrounds, and this year's batch is no exception. Here's a quick peek at the 12 bakers who will be gracing the tent in the coming weeks:
Abdul, 29, electronics engineer from London — Raised in Saudi Arabia, Abdul has a penchant for salsa dancing, space, and spices. His technical thinking precision also serves him well in the chemistry of baking, and matcha is among his favorite flavors.
Carole, 59, supermarket cashier from Dorset — Horticulture enthusiast Carole hosts the segment "Compost Carole" on a local radio show, and her passion for gardening is reflected in her vibrant bakes. Favorite flavors: Fruity and punchy.
Dawn, 60, IT manager from Bedfordshire — A grandmother/step-gran to four, Dawn is a creative at heart who prides herself on meticulous attention to detail with intricate bakes. Her favorite flavors are lemon, salted caramel, and anything nutty.
James, 25, nuclear scientist from Cumbria — "Horror" and "baking" might seem like a strange mix, but James makes it work with his trademark "child-friendly horror" style. Favorite flavors: Anything autumnal (think mixed spice and apples).
Janusz, 34, personal assistant to head teacher — Originally from Poland, Janusz loves incorporating Polish ingredients into British cuisine and has a "cartoon-like" and "camp" baking style. Favorite flavors: Ginger and chocolate.
Kevin, 33, music teacher from Lanarkshire — Kevin first began baking at the age of 17. His kitchen ethos: Use top-quality seasonal ingredients and focus on technique refinement. He adores using fruits, herbs, nuts, and spices in interesting combinations.
Maisam, 18, student and sales assistant from Greater Manchester — This ambitious baker hails from Libya and has been baking since she was 13. Maisam incorporates plenty of Mediterranean ingredients into her recipes, such as olives and sesame seeds.
Maxy, 29, architectural assistant from London — Swedish-born Maxy has a strong artistic sense, which she draws on to create beautiful bakes. Her favorite flavors are heavily influenced by her Scandinavian heritage: Cardamom, saffron, and cinnamon. 
Rebs, 23, master's student from County Antrim in Northern Ireland — Rebs grew up surrounded by bakes, from helping her mum in the kitchen to her grandmother's lemon meringue pies. She loves cooking with Middle Eastern ingredients; a nod to her boyfriend Jack's Turkish background.
Sandro, 30, nanny from London — Sandro began baking when he was 21 as a form of therapy after his father's passing. Though he had to flee the Angola war with his mum when he was two, Sandro is proud of his heritage and weaves Angolan-inspired flavors into his baking.
Syabira, 32, cardiovascular research associate from London — Syabira started baking after making a cake that reminded her of the treats from her home country Malaysia. She loves injecting Malaysian twists into British staples, such as chicken rendang cornish pastries.
Will, 45, former charity director from London — This baker's journey started early; at just two years old, Will was already helping his mother transform pastry trimmings into jam tarts. He loves paprika, salted caramel, and using yeast in his bakes (even outside of bread!).
Try your hand at making your own pastries and cakes with Bake Off recipes!
Biscuits, crumpets, cupcakes, and pastries. Who would've thought a show about baking could be so popular? While it's hard to pick a favorite moment (or dish), there's always room for some great British TV.
Looking to recreate some showstoppers of your own? You're in luck! The Great British Bake Off's official site has a list of all the recipes from the show. Give them a go!
ExpressVPN is a VPN service not intended to be used as a means of copyright circumvention. Please read the ExpressVPN Terms of Service and your content provider's Terms of Use for more details.