VPN para Crackle
How to watch Crackle with a VPN
Not many people have heard of Crackle, which is a shame, considering how great it is.
Crackle is a free, over-the-top streaming service that lets you watch movies, TV shows, and original series online, with apps for desktops and mobile devices. Use a VPN to secure your connection and stream Crackle in HD.
You can even get faster streaming by preventing ISP throttling.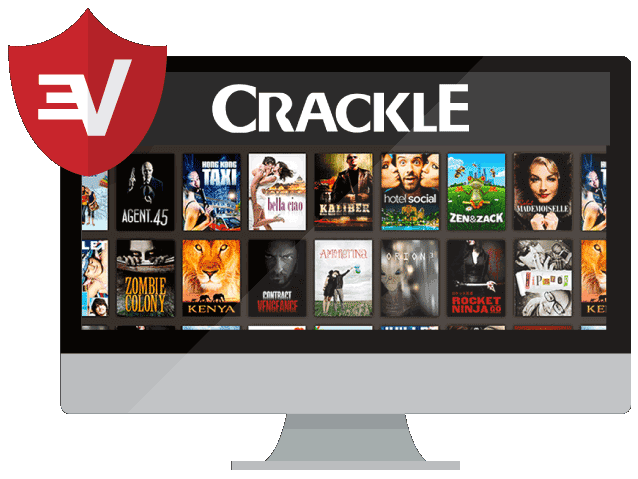 How to stream Crackle with a VPN in 3 easy steps
Paso 1
Sign up for ExpressVPN and its blazing-fast service.
Paso 2
Connect to an ExpressVPN server location in the U.S.
Paso 3
Log in to your Crackle account and start streaming.
Use the Speed Test for the fastest Crackle streams
Don't let slow speeds get in the way of your Crackle streaming experience. With ExpressVPN's Speed Test, you can save time by connecting to the VPN locations offering the fastest streams.
Just run the Speed Test on your Windows or Mac to test the latency and download speed of an ExpressVPN location, then choose the U.S. location with the highest Speed Index.
Learn more about the ExpressVPN Speed Test.
Save time. Stream easier.
FAQ: Stream Crackle with a VPN
Is Crackle free?
Yes. Crackle is completely free to watch. Simply sign up for a Crackle account and you're all set. The platform makes money from ads, so you'll see an occasional ad.
Does ExpressVPN come with a Crackle account?
ExpressVPN does not come with a Crackle account. But registration is simple and easy, and you can use ExpressVPN to secure your connection and stream in HD.
Will using a VPN affect the video quality?
Usually, no. All VPNs have the potential to slow down your connection, but ExpressVPN is extremely fast and most users don't see any buffering issues.
In some cases, using a VPN to watch Crackle can actually improve your video quality, especially if your ISP has been throttling bandwidth on streaming services.
What else can I do with ExpressVPN?
From encrypting your network to finding better deals online, there are tons of things you can do with your VPN. Check out this Get Started page for more ways to use ExpressVPN.