Whether you're shopping online or in-store, it's more important than ever to stay safe. Scoring killer deals are great but aren't worth it if you're trading a discount for an injury or scam.
While consumers have begun to expect that their online shopping habits are being tracked or monitored, technology hidden in physical stores can also collect sensitive data by snooping on their smart devices.
Check out our tips and stay vigilant while shopping.
[Stay up to date with the latest in privacy and security. Sign up for the ExpressVPN blog newsletter.]
Shopping safely online
Stick to trusted retailers
Always make sure to research a website before making a purchase. Sticking to retailers that you've shopped with before is a great start. What if you're shopping at an online store that's new to you? Do some digging into their reputation through consumer reviews on Trustpilot, Yelp, and Google.
Check site security
Keep an eye out for SSL encryption on a retailer's website. You can do that by checking if the website address starts with https (rather than http) and whether or not there's a padlock icon to the left of the URL in the browser's address bar.
It's important to note that https encryption works whether or not you're connected to the VPN. But, a VPN and https encryption paired together will keep you highly secure.
Read more: Why HTTPS vs. VPN makes no sense
Protect your personal information
Be extra careful about what information you provide on a website. If in doubt, give out the absolute bare minimum information required to make a purchase.
Stay protected on public Wi-Fi
Making purchases on public Wi-Fi networks without a VPN is risky! If you don't have a VPN, avoid online shopping in places like hotels, airports, public hotspots, buses, and cafes. By doing so, you can prevent your personal and financial information from being intercepted by hackers.
Create strong passwords
When creating online accounts, ensure that you use strong and unique passwords in addition to two-factor authentication.  Make it as hard as possible for someone to access your account.
Use online payment services
Where available, use a secure payment gateway like PayPal, Stripe, or Venmo. Linking your credit card, rather than your debit card, to an online payment service also helps to provide an extra layer of defense to accessing your money.
Be wary of fraudulent deals
If you find a deal that's too good to be true, it probably is. If a product is noticeably cheaper compared to other websites, there's a high chance it's a counterfeit. 
Monitor your statements
By enabling automatic payment notifications on your online banking or payment services, you can be notified as soon as a payment is made—genuine or not.   
Use a VPN
A VPN, or virtual private network, will route your online traffic through a secure tunnel. In addition to providing protection from snooping and interference, downloading a VPN for online shopping can also potentially save you money. As it turns out, prices on online stores and services can vary across locations. 
It's also important to avoid using free VPNs, as you can leave yourself open to subpar security, limited server choices, reduced speeds, and no support. 
Shopping safely in store
Adhere to health and safety protocols
Nobody likes shopping in crowded places, but sometimes it's inevitable. With notable instances of violence and stampedes during sales in past years, it might seem like online shopping is a safer and more rewarding option.
Avoid ATMs
Take money out of your account beforehand if you're shopping with cash, and make sure you have enough on you. ATMs in crowded shopping areas are a plum target for skimmers and other scams. Having said that, on uneventful days it's best to use an ATM during the day with a few people around.  
Bluetooth beacons
Bluetooth beacons are Internet-of-Things devices that pair with smartphones and can monitor your movements and collect information on your shopping habits, proximity to products, and geolocation. This can be avoided by keeping your Bluetooth off or only paired to devices that you trust.
Ultrasonic tracking 
Audio waves, unheard by most humans, can be picked up by smartphones and used to track you. Be wary about what apps you provide with microphone permissions, not only to deter ultrasonic tracking but also to ensure that your conversations aren't being recorded nor mined for keywords.
Stay in contact
If you're with company, try and stick together—or at least, make sure you know each other's whereabouts. If you have children with you, make sure to keep them by your side at all times and let them know to immediately approach mall or security staff, or another parent, if they find themselves alone. It's also handy to have your kids memorize your phone number, just in case.
Protect personal items
Keep bags, wallets, and purses secure. If you can swing it, get yourself an anti-theft backpack—preferably one with a zip that opens from the inside rather than outside. Take the absolute bare minimum items needed when shopping outside (we recommend privacy-conscious accessories like a Faraday Bag and RFID-blocking wallet). Don't leave your items unattended.
***
Happy shopping!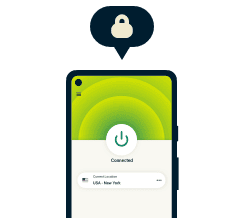 Protect your online privacy and security
30-day money-back guarantee